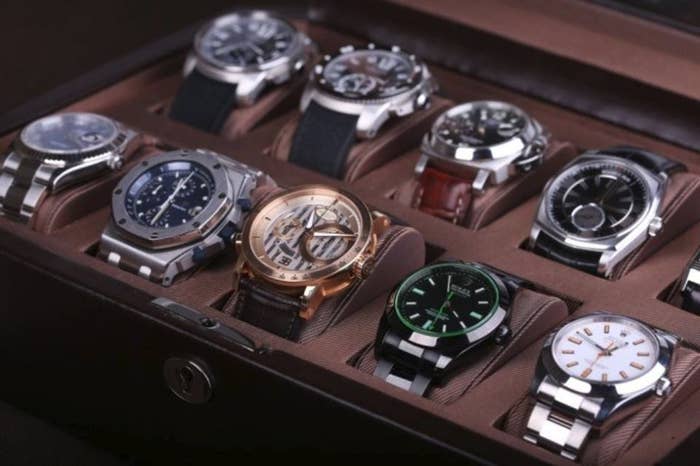 3 Versatile luxury timepieces
1. Audemars Piguet's Royal Oak Chronograph
"To break the rules, you must first master them", says the company's advertisement for its Royal Oak ad. When you say AP, people immediately think of an iconic octagonal bezel mounted on a steel case that has a tapisserie-like dial. Unlike other brands that have recently started to switch to more consumer-friendly materials, Audemars Piguet unveiled their trademark Royal Oak in 1972 as one of the first luxury timepieces made of steel. Their radically modern design disrupted watchmaking conventions in an industry that was considered to be fairly conservative. Many thought it ugly, but its commercial success now speaks for itself.
The wristwatch's designer, Gérald Genta, was actually tasked with creating an unconventional watch that could be worn at all occasions. As can be noticed in Royal Oak's construction, much of the inspiration came from the way that divers' helmets looked back in the day. Despite it being a favourite with the rap community, the brand is just as successful with collectors. In a business where many are struggling to make ends meet, Audemars Piguet consistently outpaces its competitors and reports organizational growth. Without a doubt, their success is based on their iconic model Royal Oak, as well as their proclivity for reinventing themselves and their approach.
2. Rolex' "Pepsi" GMT-Master II
Boasting a tradition that goes as far back as 1955, the series all-but-disappeared from the market between 2005 and 2014. The stainless-steel release of the "Pepsi" GMT-Master II was one of Baselworld's 2018 most-talked about men's watch. Although only the second-made Rolex GMT-Master II with a "Pepsi" bezel on a jubilee bracelet, Rolex' 2018 issue quickly turned into the new wristwatch of the year. Up until last year, the bracelet could only be found on recent Datejust models, and it was a trademark of vintage GMT-Masters. You can only imagine the hype, publicity, and social media attention around the event.
The initial GMT-Master was intended for Pan Am pilots to easily keep track of time zones as transatlantic flights became increasingly frequent. This can be achieved with the help of the fourth hand and the 24-hour bezel. Despite Pan Am's demise, the GMT-Master II went on to become one of the archetypal Rolex models and continues to carry this reputation to this day. This timepiece is to Rolex what Royal Oak is for Audemars Piguet. Technically, it does qualify as a more affordable and marketable release, but nobody, not even collectors, seem to care, which makes it likely that its value will continue to rise as these issues turn into vintage ones.
3. Omega Seamaster Professional Diver 300M
Unsurprisingly, the Omega Seamaster line, and particularly the Diver 300M, is one of the best-selling watches in the U.K. according to reports from Chrono24. The Seamaster's debut took place a bit earlier than that of the GMT-Master II, in the year 1948, when Omega was celebrating its 100th anniversary. Although waterproof only up to 60 metres (about 200 ft.), the original issue was intended as a robust choice of dress watch for active individuals – people who often had to switch from a formal to a semi-formal and informal environment on a daily basis.
The company's reputation as a manufacturer of precise mechanical timepieces, as well as the brand recognition they received when the Speedmaster became the first watch to be worn on the Moon greatly helped their cause. The Seamaster Diver 300M made its debut in 1993, close to three decades and two generations of Seamaster later. On the wrist of British actors Pierce Brosnan and Daniel Craig while the two were starring in the James Bond movies, the Omega Seamaster became what it is today: a choice symbol of British male fashion.
Style speaks for itself
Although many are apprehensive at selecting the appropriate choice of dress and colours on certain occasions, the ones who usually end up being best in show are the people who care the least about appearance. When it comes to luxury timepieces, these three models are invariably some of the most recognizable and versatile accessories a man can have in their wardrobe. More importantly, they reflect the kind of 21st century male identity that everyone seems to aspire to: a free-spirited, determined, and reliable individual who can easily traverse a diversity of settings, yet still manage to be true to what he is.
Whether in the shape of a Royal Oak, Seamaster Diver, or GMT-Master II, a luxury watch has the ability to compliment even the most avid of collectors. My advice, both for you and for whoever would wear them, is not to allow such figures of international horology to wear you. Regardless of how expensive or iconic, a wristwatch is an accessory and it only adds to the image of the wearer if it is treated as such. If aptly worn, they will suit any style, regardless of how formal or, conversely, how controversial they may be.