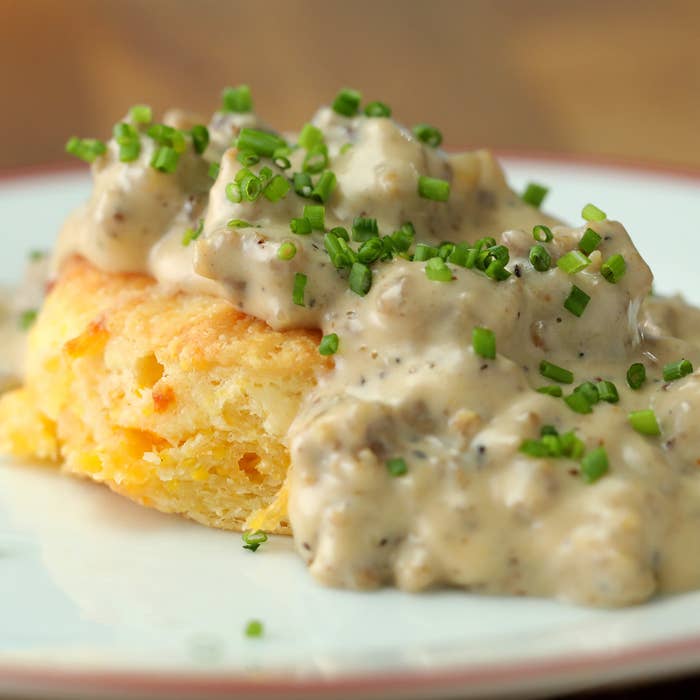 INGREDIENTS
Biscuits
½ cup buttermilk
1 egg
1 ½ cups flour
½ cup grits
1 tablespoon baking powder
1 ½ teaspoons salt
12 tablespoons cold butter, cut into small cubes
1 cup shredded cheddar cheese
¼ cup melted butter
Gravy
1 pound country pork sausage, broken into small pieces
1 teaspoon finely chopped sage
1 ½ teaspoon salt
1 ½ teaspoons black pepper
⅓ cup flour
3 cups milk
A few dashes hot sauce
Chopped chives, for garnish
PREPARATION
1. Preheat oven to 425ºF.
2. Biscuits: Whisk together buttermilk and egg, and set aside.
3. Place flour, grits, baking powder, and salt in a food processor. Process for 10 seconds
until mixed. Add in cold butter and pulse a few times until butter in broken down into
small pebble-sized pieces.
4. Pour mixture into a large bowl. Fold in shredded cheddar cheese. Fold in buttermilk.
5. Transfer mixture to a flour-covered surface. Knead until the dough sticks together.
6. Shape mixture into a 1 inch-thick disc. Use a biscuit cutter to cut out the biscuits.
Re-shape the scraps into a smaller disc and continue to cut out biscuits until there is no
more dough.
7. Brush an 8-inch cast iron skillet with melted butter. Place biscuits in the skillet in a single
layer with the biscuits touching each other. Brush the tops with melted butter.
8. Bake for 20 minutes, or until puffed and golden brown. Remove from oven.
9. Gravy: Heat a pan over medium heat. Add sausage in a single layer. Add sage, salt, and
pepper. Allow sausage to brown on the bottom. Stir sausage and cook until all the pink
has been cooked out.