10 Reasons Why "Mamma Mia!" Is The Movie Of The Vaccinated Summer
After over a year of quarantine, no movie captures the spirit of this summer quite like this 2008 ABBA jukebox musical.
We hope you love the shows and movies we recommend! Just so you know, BuzzFeed may collect a share of revenue or other compensation from the links on this page. Oh and FYI: Platform, prices, and other availability details are accurate as of time of posting.
It's officially the summer of vaccination, as we leave our 15-month quarantine behind and perhaps travel somewhere where travel restrictions have been lifted. It's an exciting time but also a bit confusing, as the idea of going out into the world again after so long can feel a bit intimidating. Luckily, if you are in need of some motivation to fully live your best life in the post-pandemic summer, there's no better option than Mamma Mia!, which is exclusively streaming on Peacock.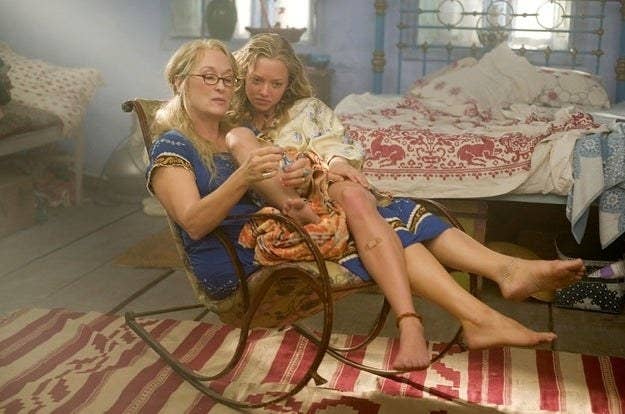 First, a brief refresher on the plot of Mamma Mia!
Sophie (Amanda Seyfried) is set to marry her boyfriend, Sky (Dominic Cooper), when she discovers the diary of her mom, Donna (Meryl Streep). Sophie learns that the summer before she was born, her mom slept ("dot dot dot-ed") with three men. And so she decides to secretly invite all three of them to the wedding in the hopes of discovering who her dad is so that he can walk her down the aisle. Naturally, shenanigans ensue.
Now that we got that out of the way, here are 10 reasons why the 2008 ABBA jukebox musical perfectly captures the spirit of vaccinated summer.
1.
It's got great music (obviously).
2.
It will inspire you to log off.
Other than one passing mention, the internet may as well not exist in the Mamma Mia! universe. And the same goes for most technology in general, as you don't see Donna texting her BFFs to figure out why the hell her three old flings have suddenly shown up at her door the week of her daughter's wedding. This makes sense, as the original stage musical is over two decades old, and even in 2008, our relationship with technology was much healthier. After spending the last 15 months spending way too much time staring at our different screens in order to kill time, it's a delight to see everyone too busy singing their feelings to waste eight hours a day doomscrolling. (Granted, watching Mamma Mia! on Peacock will unfortunately require you to log on.)  
3.
The cast is stacked (and more relevant than ever).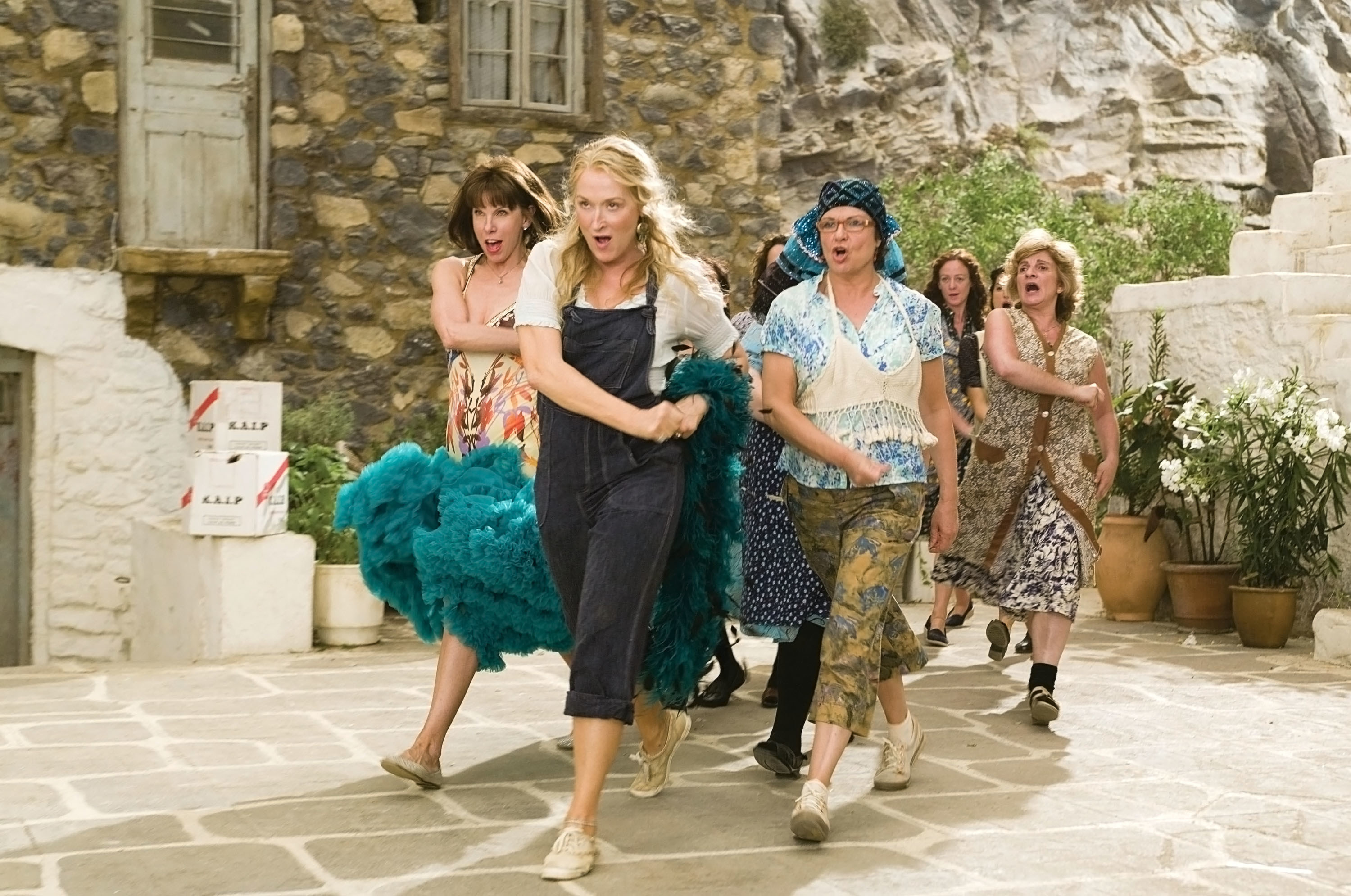 4.
It's a great reminder to enjoy your life.
5.
It'll help you plan your next vacation.
After summer vacations were canceled last summer, we could all use some help planning our first proper post-vax vacation. And Mamma Mia! can help lend some inspiration. Because have you seen this movie? It's gorgeous! Since its release back in 2008, the movie has inspired people to head to Greece to enjoy the gorgeous scenery shown throughout the fictional Greek island of Kalokairi (it was actually filmed on location at the small island of Skopelo). Earlier this month, Goldie Hawn even lived out her Mamma Mia! fantasy, posting a video of her dancing to "Dancing Queen" on a beach in Skiathos. Even if a trip to Greece is outside your budget (or restricted due to COVID), you can still use the movie as a source of inspiration for whatever trip you do end up booking.
6.
It teaches us that everyone deserves a Hot Girl Summer.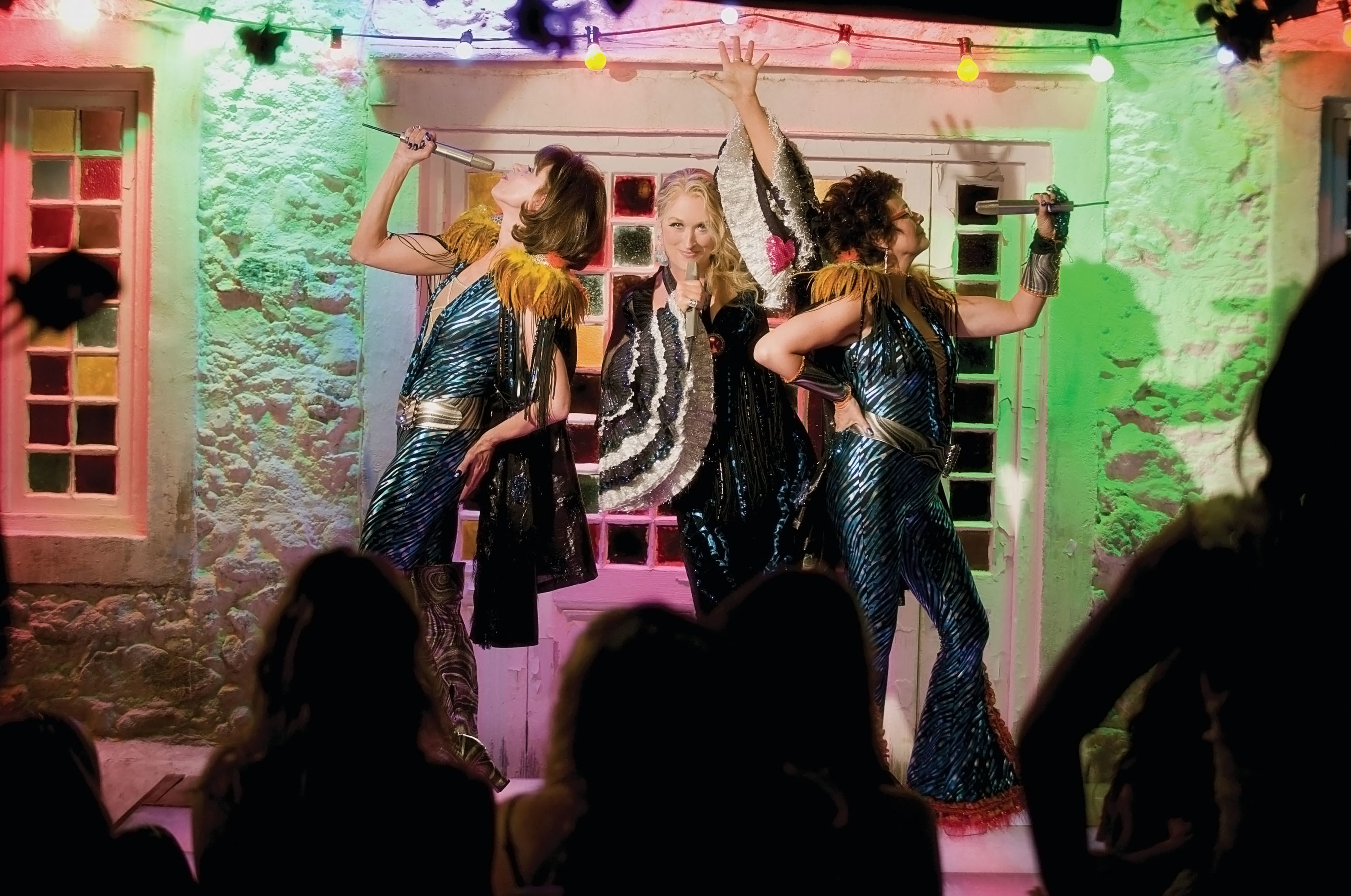 7.
It's the perfect form of escapism.
Mamma Mia! is not trying to tell a realistic story that feels grounded in reality. It's offering a fun escape into a world where everyone sings ABBA and everyone's "problems" are pretty inconsequential. Sure, there are hints of class politics examined through Donna's lack of money, but that's mostly used as justification to let her sing "Money, Money, Money." Like most musicals, Mamma Mia! is mostly interested in leaving you entertained, and after the year we've all had, this light and breezy tone is more than welcome. So leave your worries behind for a couple of hours and enjoy the show.
8.
It will prepare you for summer loving.
9.
It's a great lesson in starting over.
A lot of us were full of enthusiasm when the summer began, but instead of living it up, we find ourselves staying in our rooms and thinking about how awful the pandemic was. At the start of Mamma Mia!, Donna is in a similar (though slightly less traumatic) boat, as her previous heartbreak has caused her to close herself off to romance. But by the end credits, she has learned to open up her heart to true love again, and that's what all of us need to do as we leave the pandemic in the rearview mirror. It's okay if you did absolutely nothing but eat Pop Tarts in bed and cry during the pandemic. That's in the past, and it's not too late to dance, jive, and have the time of your life.
10.
You can dive into the ever-expanding Mamma Mia! cinematic universe.