This post has not been vetted or endorsed by BuzzFeed's editorial staff. BuzzFeed Community is a place where anyone can create a post or quiz.
Try making your own!
Press Release 6/8/2021
Response to the allegations by CT State Police
BLM860 Press Release RE: Body Bag Protest
June 8, 2021 FOR IMMEDIATE RELEASE
Hartford Connecticut: With the public arrests of our allies Erin and Olivia, we are coming forward to denounce the retaliatory behavior of Connecticut State Police regarding the "Body Bag Protest" arrests. The media releases from state police are an attempt to smear a successful protest which resulted in the city of Hartford hiring more inspectors and creating a new housing policy that targets absent landlords.

BLM860 is united in calling for the full story to come out which includes:
1. Capital Police Watching attentively as protesters placed the bags at the capital around before 12pm during a press conference
2. Capital police watching attentively as protesters arranged the signs
3. Capital police watching as the women as they spectated at a press conference and watched them drive away a short time later to make other drop offs.

Capitol police have shown little interest in protecting progressive protesters in possible retaliation for our support in the police accountability bill by allowing "back the blue" supporters to carry guns on state grounds and flash them at protesters, by failing to arrest the attacker of Keren Prescott until the media walked over to protesters and then followed police inside and by allowing an assault to occur on November 7th on capital grounds which resulted in the victim retaliating and police not only arresting only one person, but withholding medical treatment which resulted in a trip to the hospital. We can back all of these allegations with video evidence and paperwork if needed.

We are calling for the immediate dismissal of all charges due to the implied consent by officers who watched and did nothing until later in the day and for police to cease and desist harassment. These actions further bolster our resolve to continue to push for the strengthening of the police accountability bill, to mandate civilian review boards with subpoena power and to protest even harder as we are now all vaccinated with the pandemic coming to an end.
Protesters Holding Signs At A Press Conference With the "Body Bag" on April 1,2021 in plain site of a press conference and police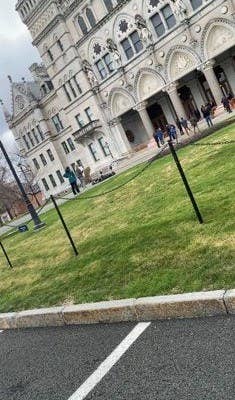 Hartford City Hall