I'm in the middle of a weekly video chat with my parents when my father, typically a man of few words, has a lot to say. He's in an uncontrollable fit of laughter, wiping tears from his eyes. I've just explained to him that I'm writing a sponsored piece for BuzzFeed that involves me building something with power tools…
Yep, the notion of me constructing a piece of furniture for my apartment with the use of power tools has my father fighting for breath.

And I can't say I blame him. Prior to about a month ago, when I volunteered to try out BLACK+DECKER's 20V MAX* cordless range of power tools in the hopes of fulfilling my dreams of becoming a DIY master, I had never held a power tool before. Ever.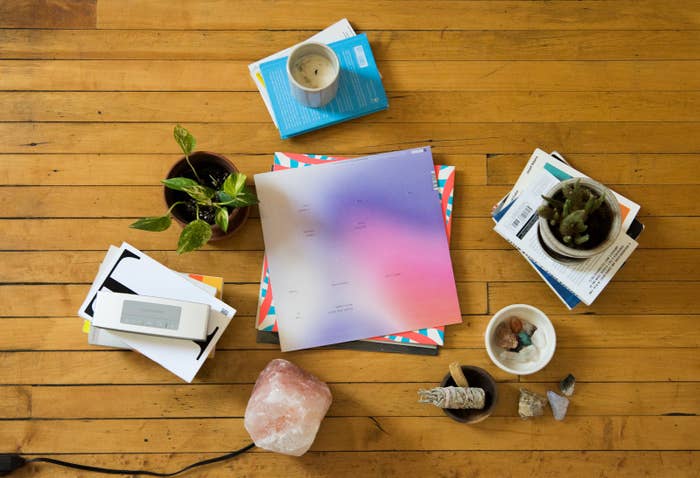 Now believe it or not, though my knowledge of DIY gadgetry was somewhat limited, I have, in fact, always been someone who's aspired to have their home resemble a DIY haven. Living in a confined space in New York, I've found it's hard to find interior pieces that can display my household knickknacks in a way that doesn't take up too much room or cost 10 arms and a leg. So when the opportunity arose for me to create something from scratch to store my tchotchkes on and prove my giggling dad wrong, I figured it was finally time to address my power-tool aversion.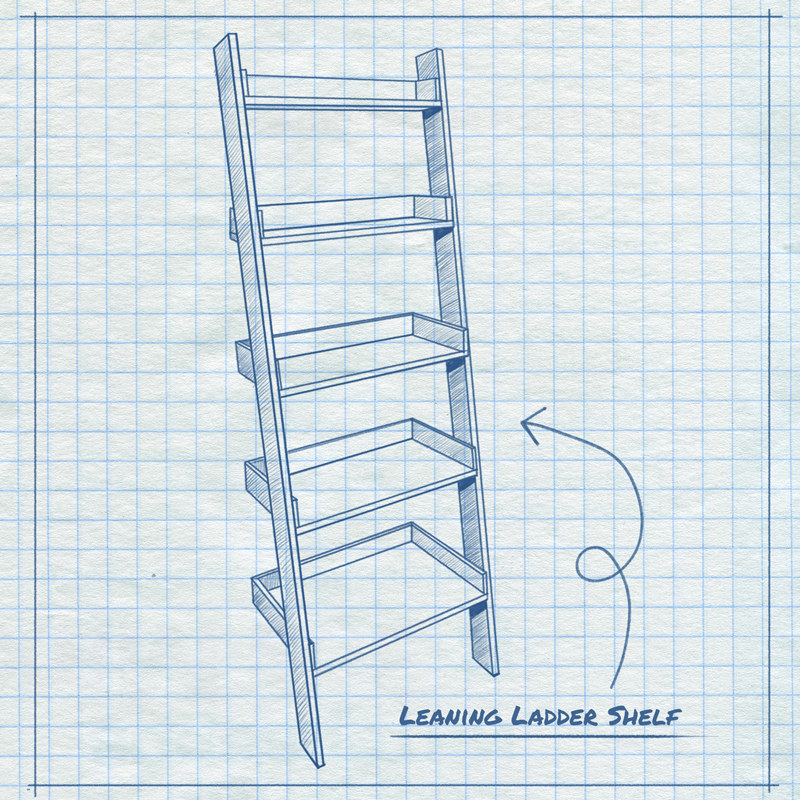 After falling down a cyber rabbit hole of interior inspo, I finally saw the light and set my sights on a space-saving storage piece. I found something that not only looked cute but also fit my needs: a leaning ladder shelf! Sure, I could've dipped my toe into DIY with a less intensive project, but you know what? I figured I had to *ladder* up to something big. (Disclaimer: There may be a few more terrible puns to come!)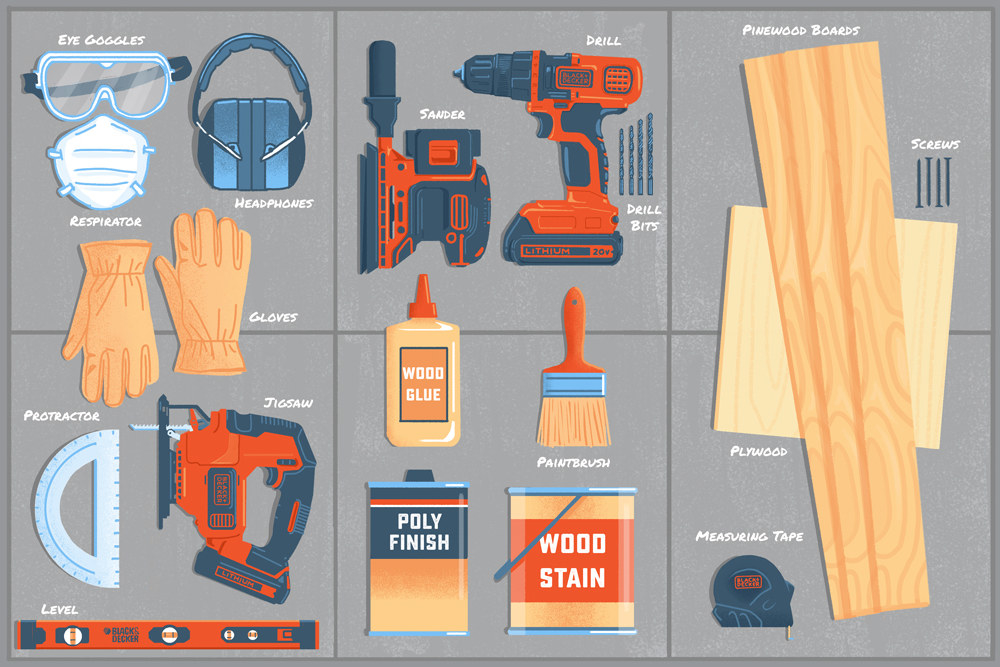 So the time had come. It was a blazing hot Saturday, and I was out on my patio...in overalls…with a plank of pinewood and jigsaw in hand. If you had asked me a few weeks ago how I'd be spending this sunny, 90-degree weekend, I wouldn't have told you it'd be like THIS.

OK, wow, I'm really doing this, huh?! I thought to my already sweaty self as my trepidations started to set in. I began by marking up the necessary measurements on the wood to fit my ideals, then I set up my ~mise en place~; somehow, seeing how compact each of the cordless tools were laid out before me eased my worries, and I immediately felt less intimidated.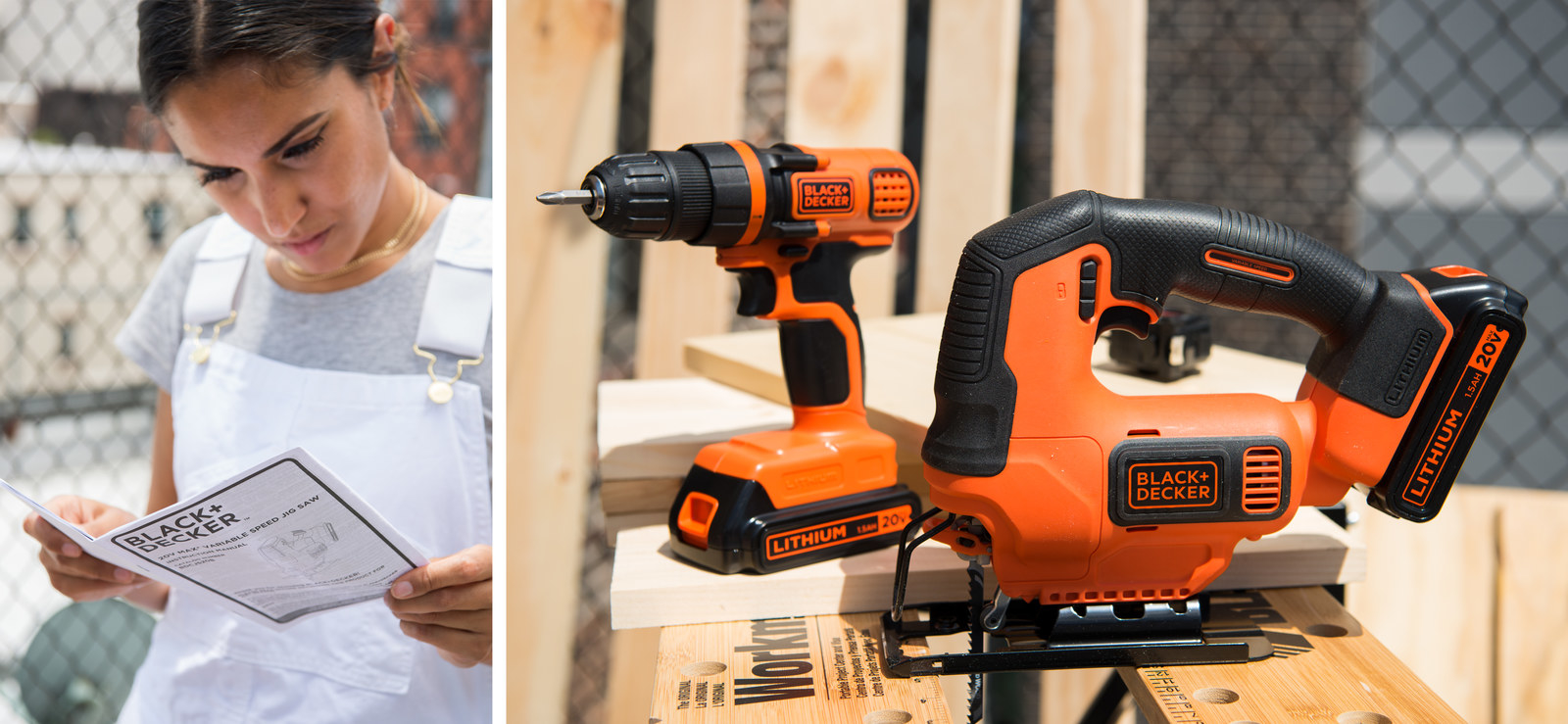 After I breezed through the manual, I realized the jigsaw was super easy to use: The blade popped right in and just a lock/unlock function was required for use. "Oh my god, whoa! I'm sawing through wood!" I said as Sarah, my photographer extraordinaire, chuckled at my animated responses. First cut: done.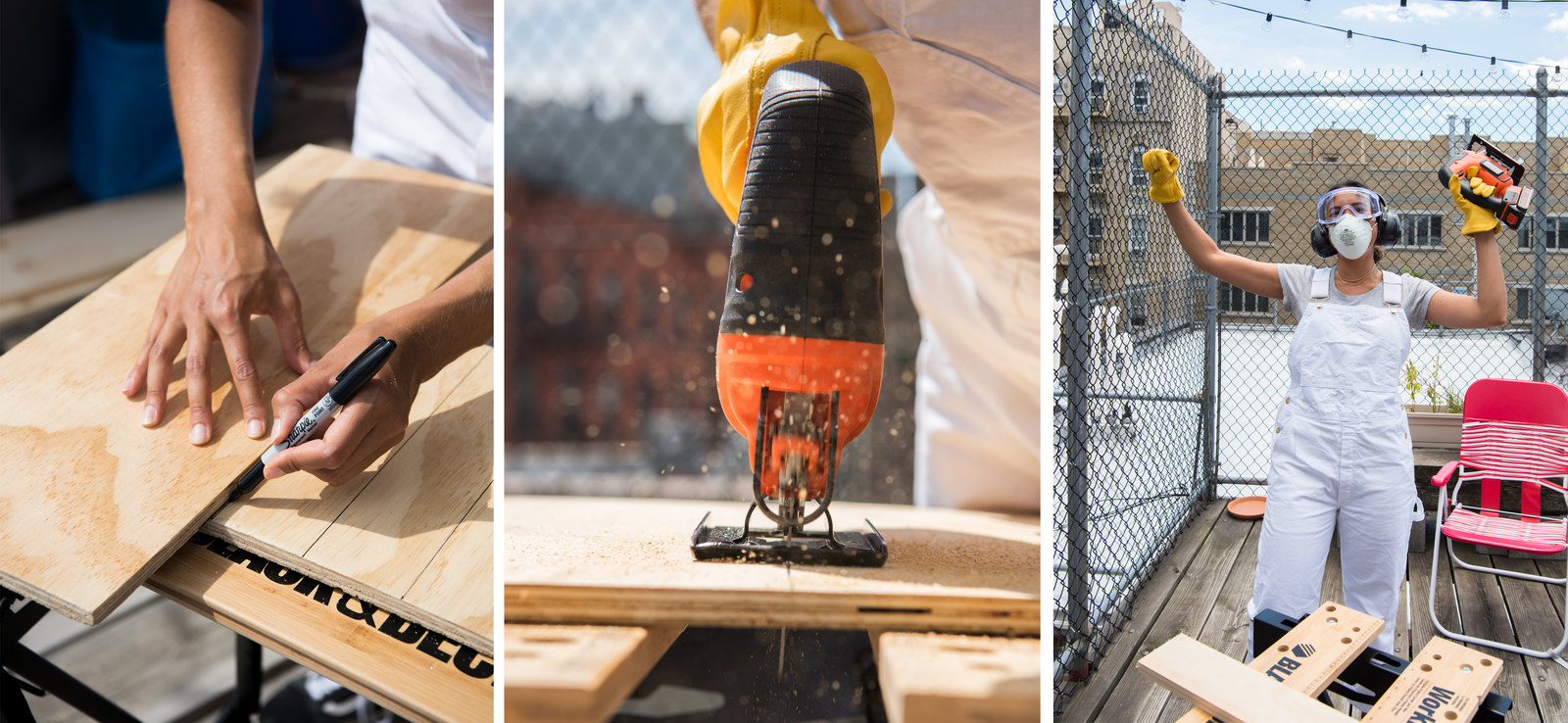 Multiple cuts and about 40 minutes later, I realized how involved this project was going to be, but with every cut, I felt like I was becoming more and more of a master with a handheld saw. To ensure my ladder had the leaning aspect, I cut each supporting side at the bottom at a 10-degree angle. After that, I had all my sides, shelves, and trims cut. Next, I began gluing down the back trims for each shelf.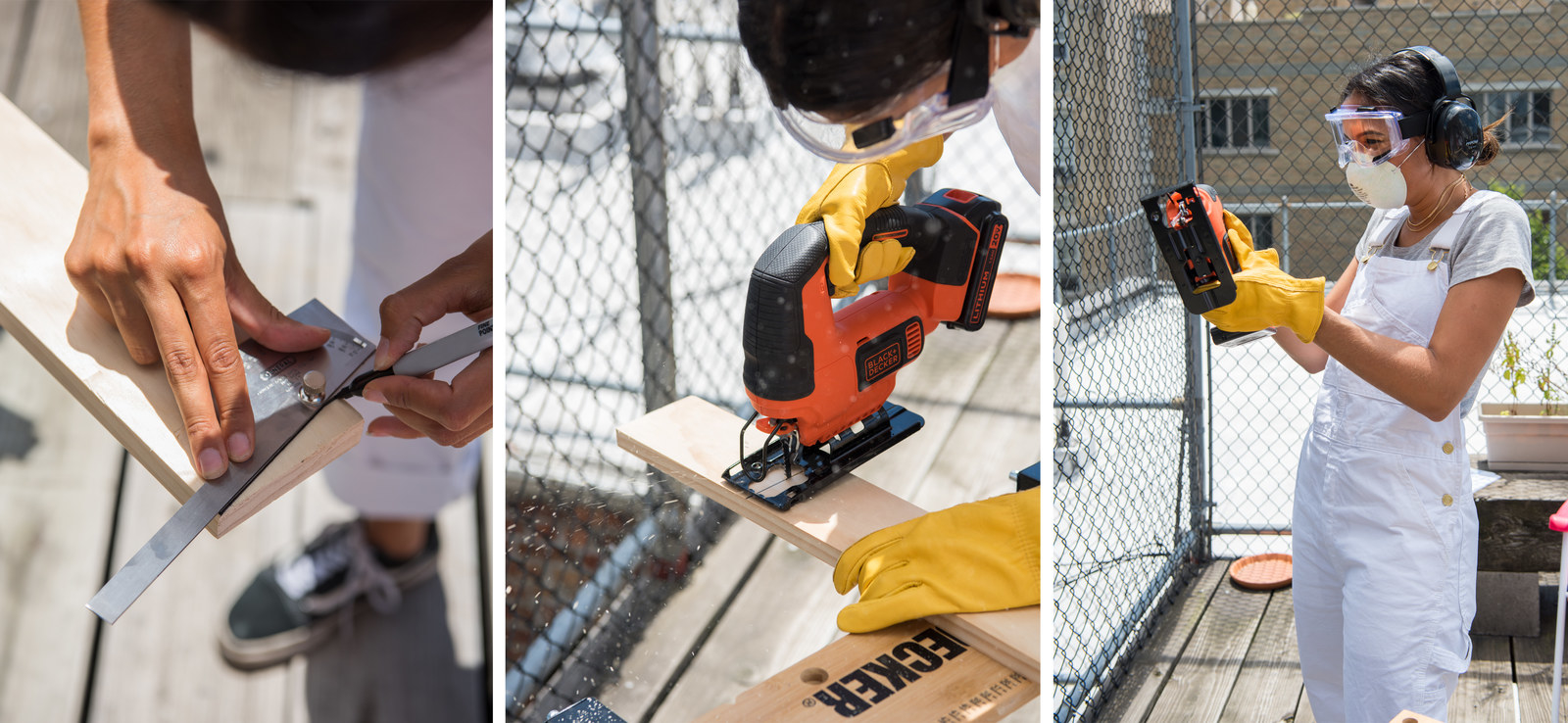 Once those were all constructed, I dusted my hands off and took a step back to look at what I had achieved. I actually made shelves! Day one was a success! I was feeling accomplished and, more importantly, strong. (Who's laughing now, Dad?)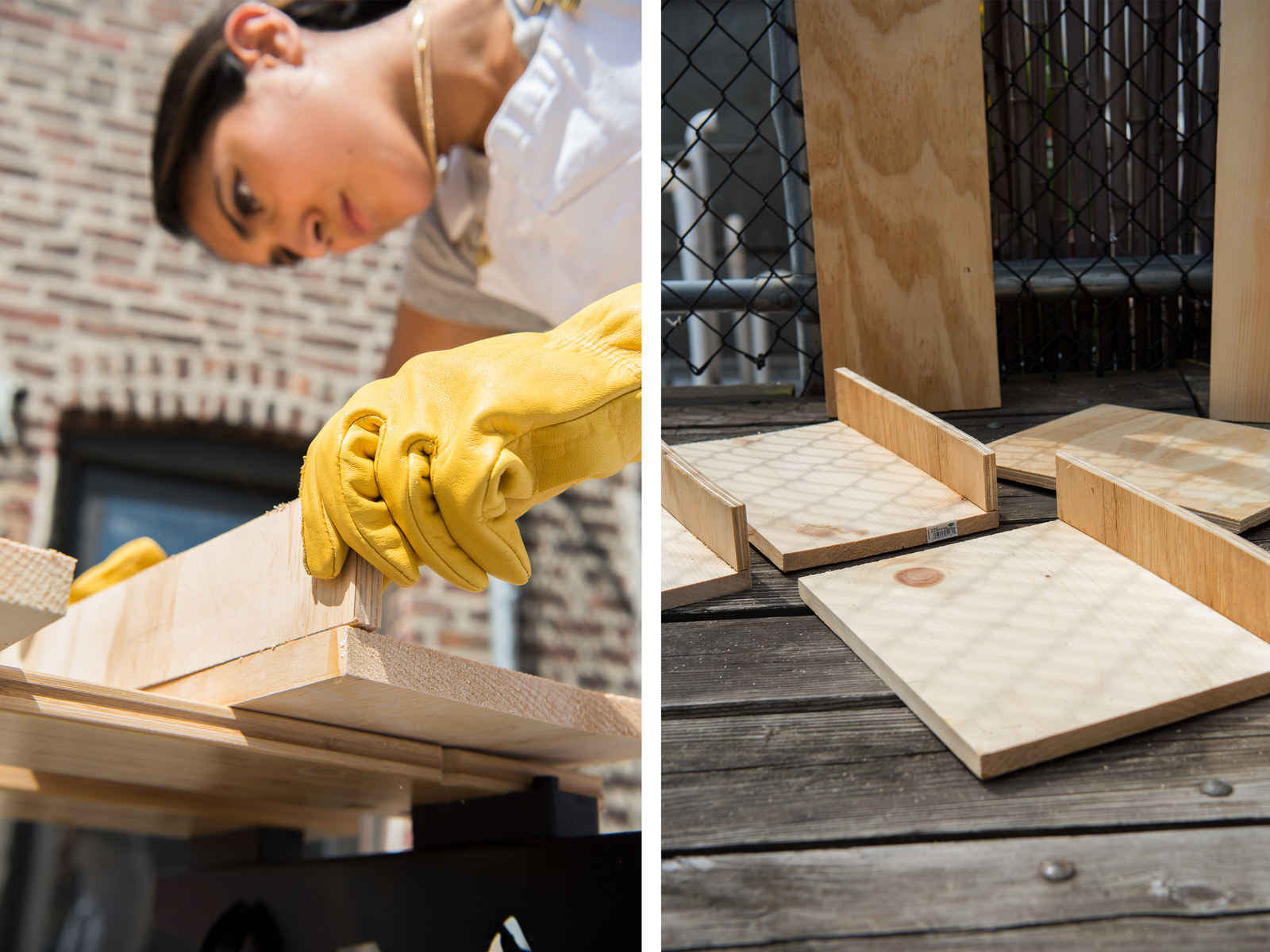 (Did you think I forgot my promise of more dreadful puns? Never!)
With the shelves ready to go, this new day was all about assembling and completing the job. This also meant new tools. Enter: the sander!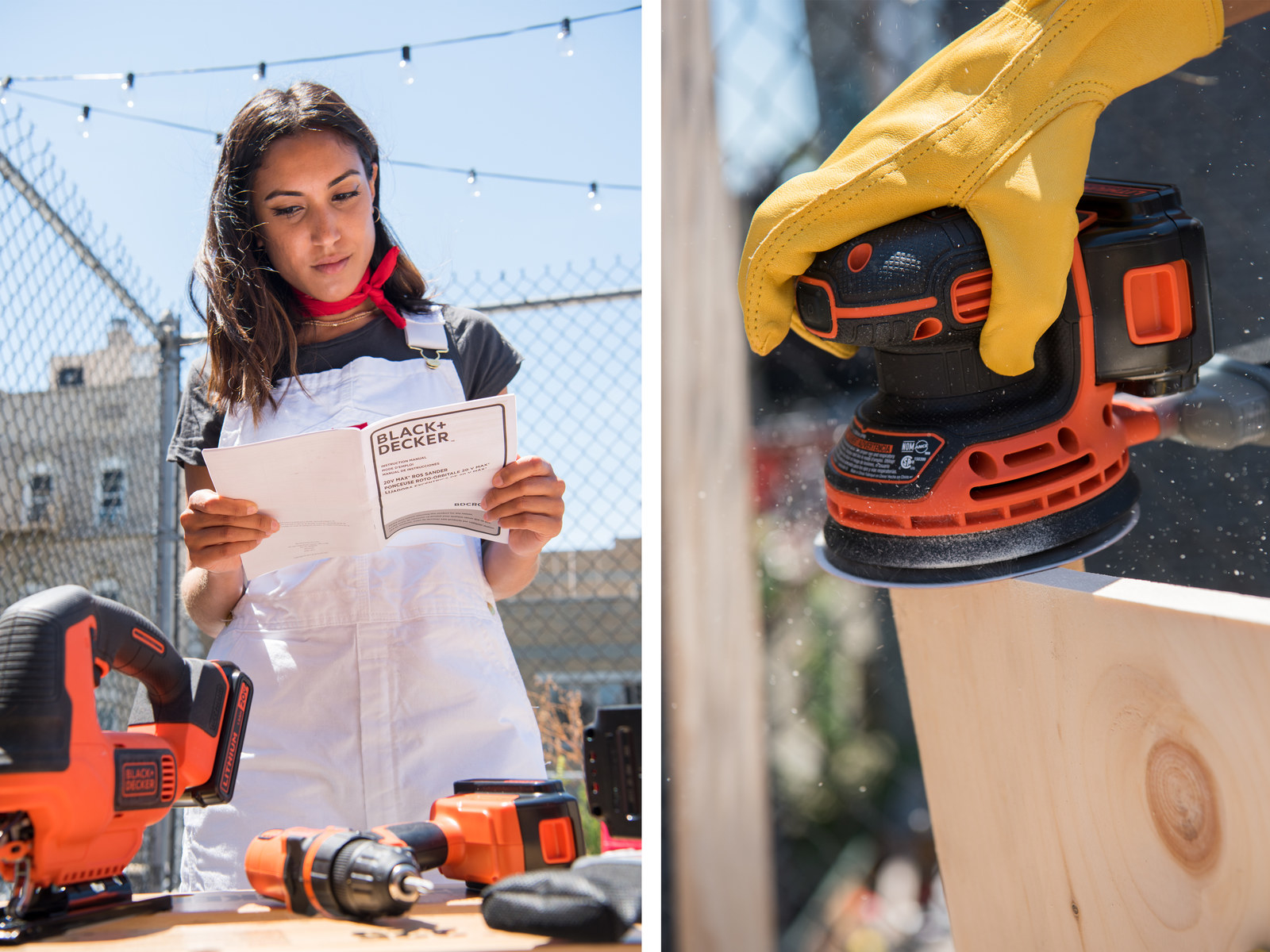 After I familiarized myself with the handheld device, I was ready to smooth out all my rough edges. Once again, the setup was swift with a quick Velcro sanding pad attachment and simple on/off button to get going. "Sanders are so nifty!" I said as, again, Sarah giggled behind the camera. Super fast with super-smooth results. I was flying and felt more confident than ever. By this point, you could say I was feeling empowered by the tools. Heh heh.
OK, moving on!

Next up: the drill. Although this was the ~handiest~ of all the tools, with its multifunctional purpose and appeal, it was also the most daunting to me. My main concern with this part of the project was making sure the screws cleared the wood so that they would attach each of the shelves securely. When I saw how thick the pinewood was, I realized the torque setting on the drill would require the maximum level of 10. (Do you hear me right now? Who am I?!) Once everything was measured up, I drilled some holes. (I drilled through wood and made holes, people!) Then it was assembly time.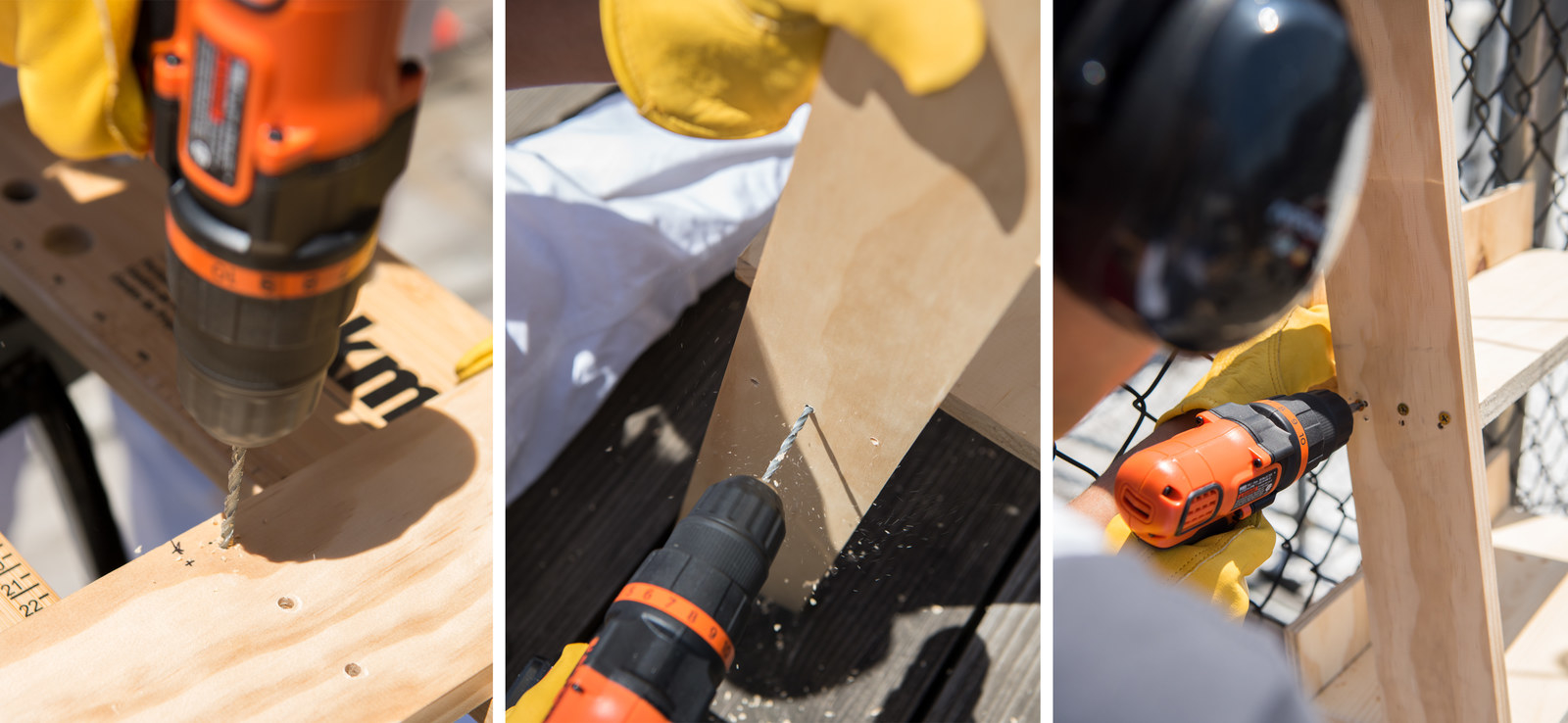 Shelves in hand, I started to use the secondary function of the drill. "Oh, wow, I've actually put screws in wood!" I said, but before Sarah could even react, it became clear I'd gotten ahead of myself as I finally faced my first road block of the project: I mistakenly attached the shelves at an incorrect angle. All I can say is thank goodness for the "reverse" function; I was able to right my wrong with the flick of a switch. Reverse mode on: out came the screws. Back to regular mode with drill bit in: new holes made. Boom. Now let's try this again. Once the shelves were correctly attached, I took to my level to double-check them. By some miracle, they were, in fact, LEVEL! I couldn't stop smiling. I had done it! I had built and assembled something that actually looked like, well, something!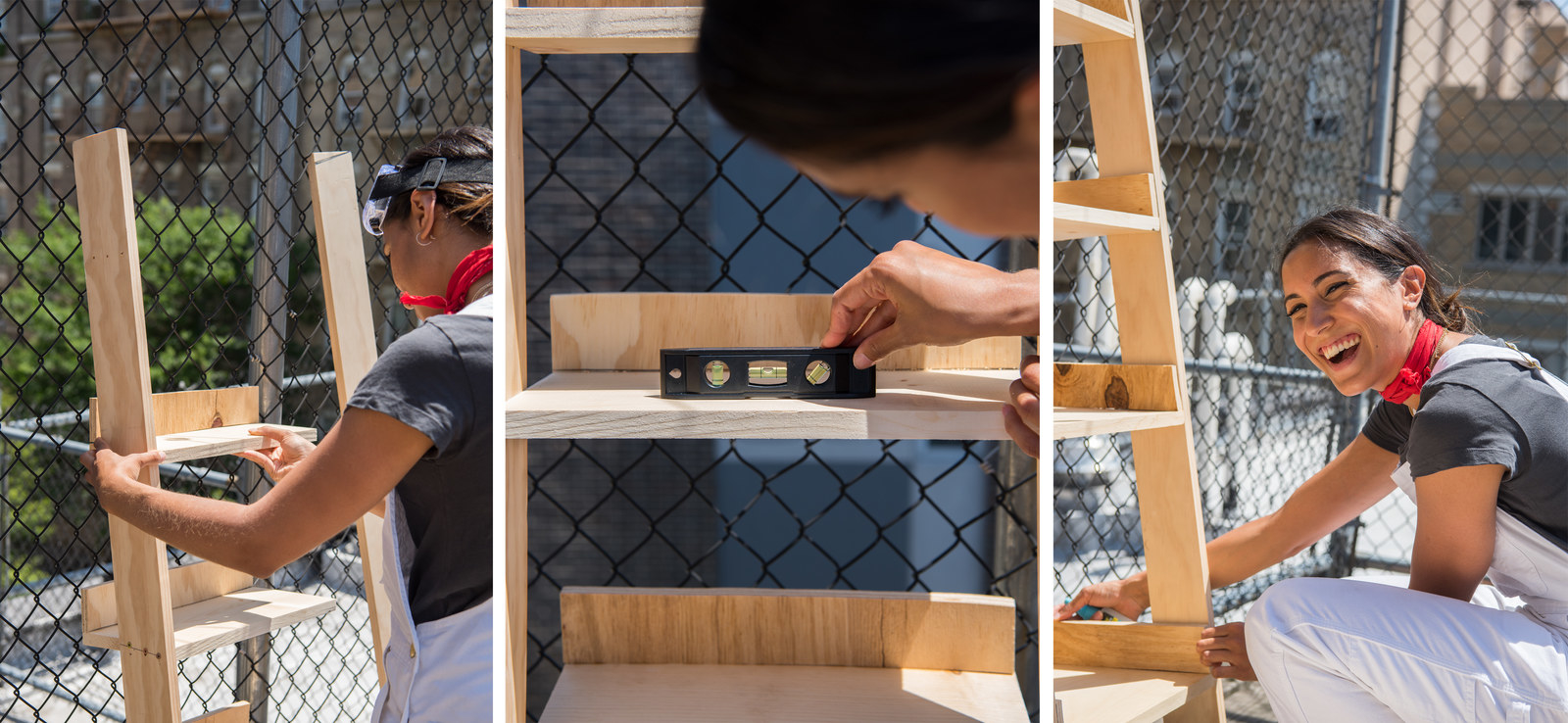 The final and most relaxing step of the process was the staining. It somehow looks professional! I thought to myself as I added color to the shelves of my dreams and hard work. I then let the stain dry a bit before adding the final touch with some clear finish to protect my new prized possession.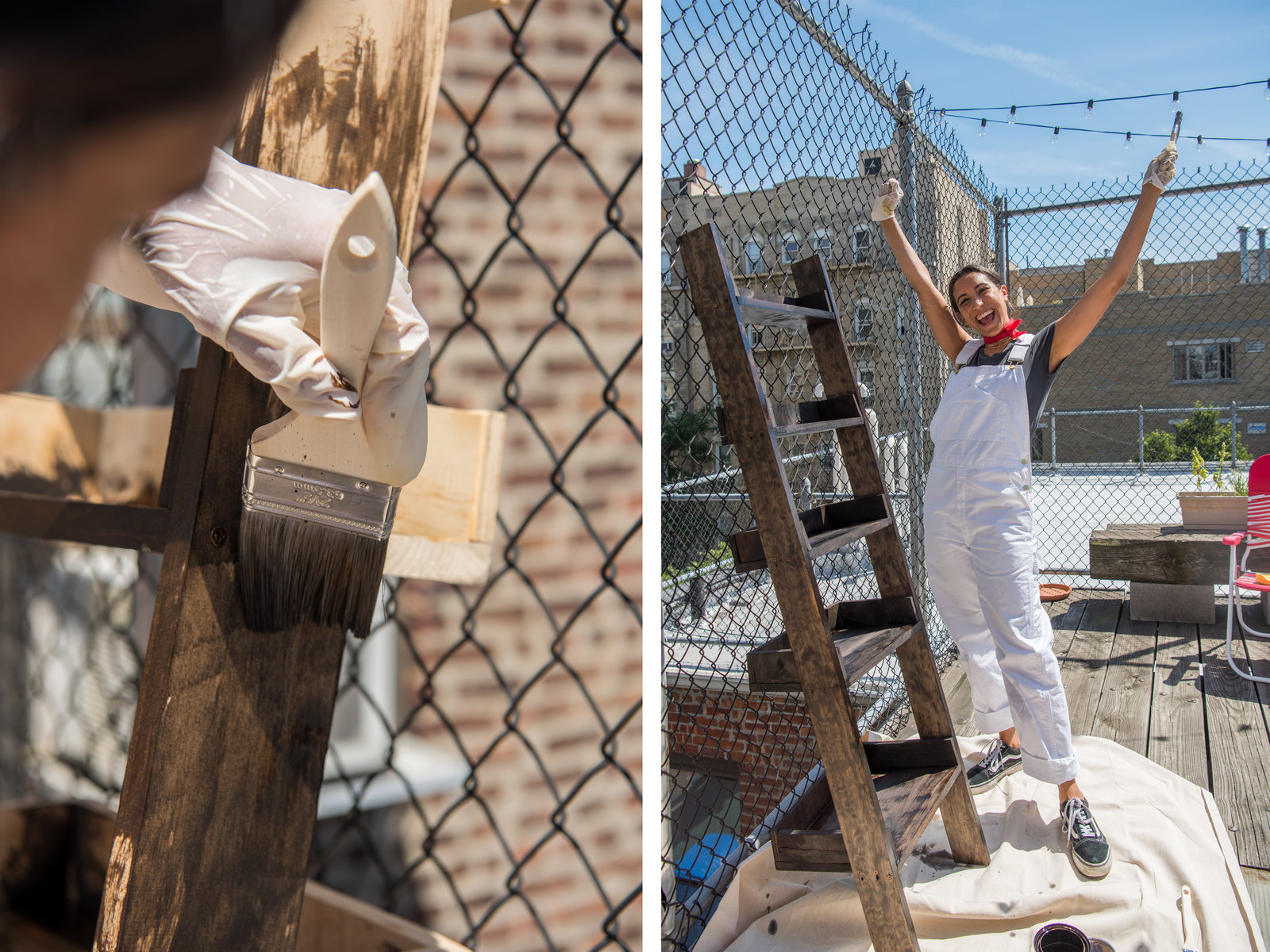 I threw my hands in the air, collapsed forward, and let out a sigh of relief. The sun set on day two, and my first ever DIY project was complete.
Fast-forward to the next week and the next installment of my weekly video chat with the fam, this time featuring the brand-new addition to my home. "Wow." My dad gleamed as I turned my phone's camera to face my made-from-scratch shelves. "My daughter made that? I'm very impressed. Get 'carpenter' down on that résumé!" Not sure about that, Dad. But, honestly, after all my bits and bobs found their place on the rustic piece, I couldn't contain my elation. I was just as proud as he was of what I had achieved.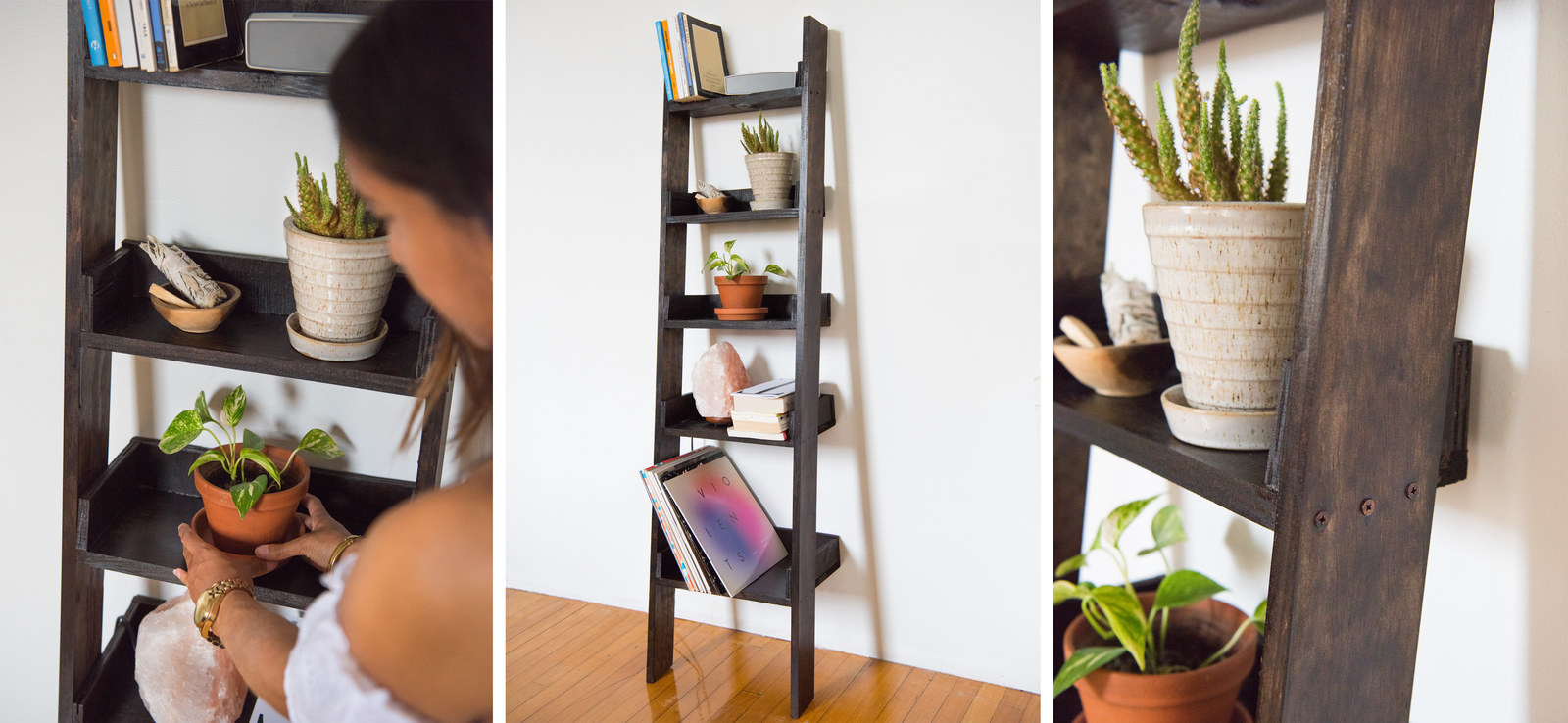 I set out on this do-it-myself journey to abolish my apprehensions about power tools and prove to myself that *this* handywoman can absolutely handle powerful tools and feel badass while doing so. This whole experience inspired me to go forth and continue to take on household handywork because I now know I can comfortably use these tools that once seemed so daunting. I might not be a total pro, but, hey, I won't be throwing those overalls away or calling up any ol' handyperson soon.
*Maximum initial battery voltage (measured without a workload) is 20 volts. Nominal voltage is 18.

Photography by Sarah Stone & design by Dan Blaushild / BuzzFeed
Whether you're just starting out on your path to using power tools or you have a handle on how to use them on the fly, find the tools to tackle life's projects with BLACK+DECKER.