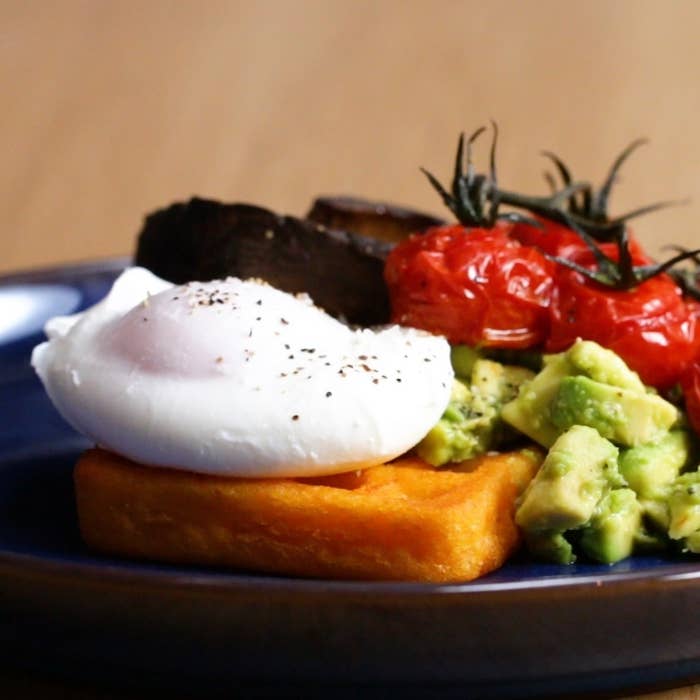 Serves: 2
Ingredients
2 Bird's Eye Sweet Potato Waffles
2 portobello mushrooms
12 on the vine cherry tomatoes
Salt, to taste
Pepper, to taste
2 tablespoons olive oil
1 ripe avocado
1 lemon
2 medium eggs
Preparation
1. Preheat your oven to 200°C/Gas mark 6.
2. Line a baking tray with foil and place the waffles on top.
3. Add the mushrooms and cherry tomatoes next to the waffles then drizzle with olive oil and a sprinkle of salt and pepper.
4. Place in the oven for 15 minutes, turning the waffles over halfway.
5. Meanwhile, put a large saucepan of water on to heat up and bring to a simmer.
6. Slice and de-stone the avocado. Dice and place into a bowl. Lightly mash
with a fork so it remains chunky. Season with salt and lemon juice to
taste.
7. When the water is simmering and there are 5 minutes left to go for the
waffles, crack one egg into a small bowl then lower it into the water.
Repeat with the second egg.
8. Poach the eggs for 3–4 minutes, remove with a slotted spoon and lay them
onto some kitchen towel.
9. Take the tray out of the oven. Plate up the waffles, top with the
guacamole, mushroom, and tomatoes. Finally, add the poached egg and
season with salt and pepper.
10. Serve and enjoy!