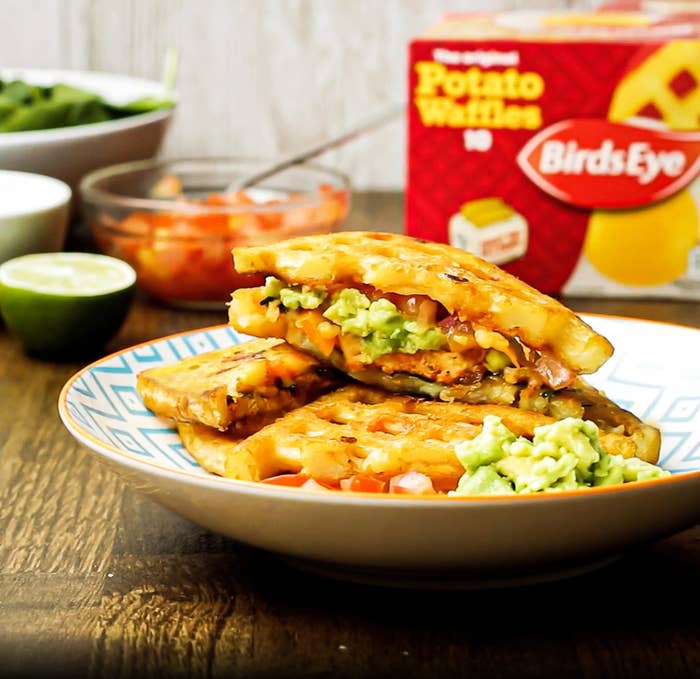 4 small chicken breasts, sliced into flat pieces
1 orange pepper, sliced thinly
2 teaspoons oil
2 teaspoons cajun/fajita seasoning
Handful spinach leaves
Handful grated mozzarella cheese
Optional:
4 teaspoons mild salsa
1 avocado, chopped and mashed lightly
1 lime
1 small pot sour cream
½ teaspoon onion powder
½ teaspoon garlic powder
2 teaspoons finely chopped parsley
1 large tomato, finely chopped
1. Start with your Birds Eye Potato Waffles and toast them either in the toaster for 4–5 minutes or under the grill according to packet instructions.
2. Heat your grill to a medium heat. On a baking tray, add your sliced chicken breast, the sliced pepper, along with 2 teaspoons oil and your fajita seasoning.
3. Mix until well coated. Grill for 3 minutes each side until cooked through.
4. As the waffles should be a little cooler by now, set out 2 waffles and add a handful of spinach to each. Follow with 1 teaspoon of salsa per waffle and divide the cooked pepper slices between each.
5. Top with the sliced chicken and finish with a good handful of mozzarella on each, and then add another waffle on top of each, as a lid to your waffle-dia.
6. Fry the waffle-dia for 2 minutes on each side. Or, if you have a toaster maker or sandwich press grill, add each waffle-dia and cook for 3–4 minutes until the waffles are a little more golden and the cheese has melted. Press down gently to help it along. (You can also cook them in a 200°C oven for 5–6 minutes if you prefer.)

7. While they are finishing, add your onion powder, garlic powder, and finely chopped parsley to the sour cream and mix well. Chop up your avocado and add a squeeze of lime and some salt and pepper for your speedy guac.

8. Serve each waffle-dia with a little portion of sour cream dip on the side, a good spoonful of guac, and a sprinkle of fresh tomato.