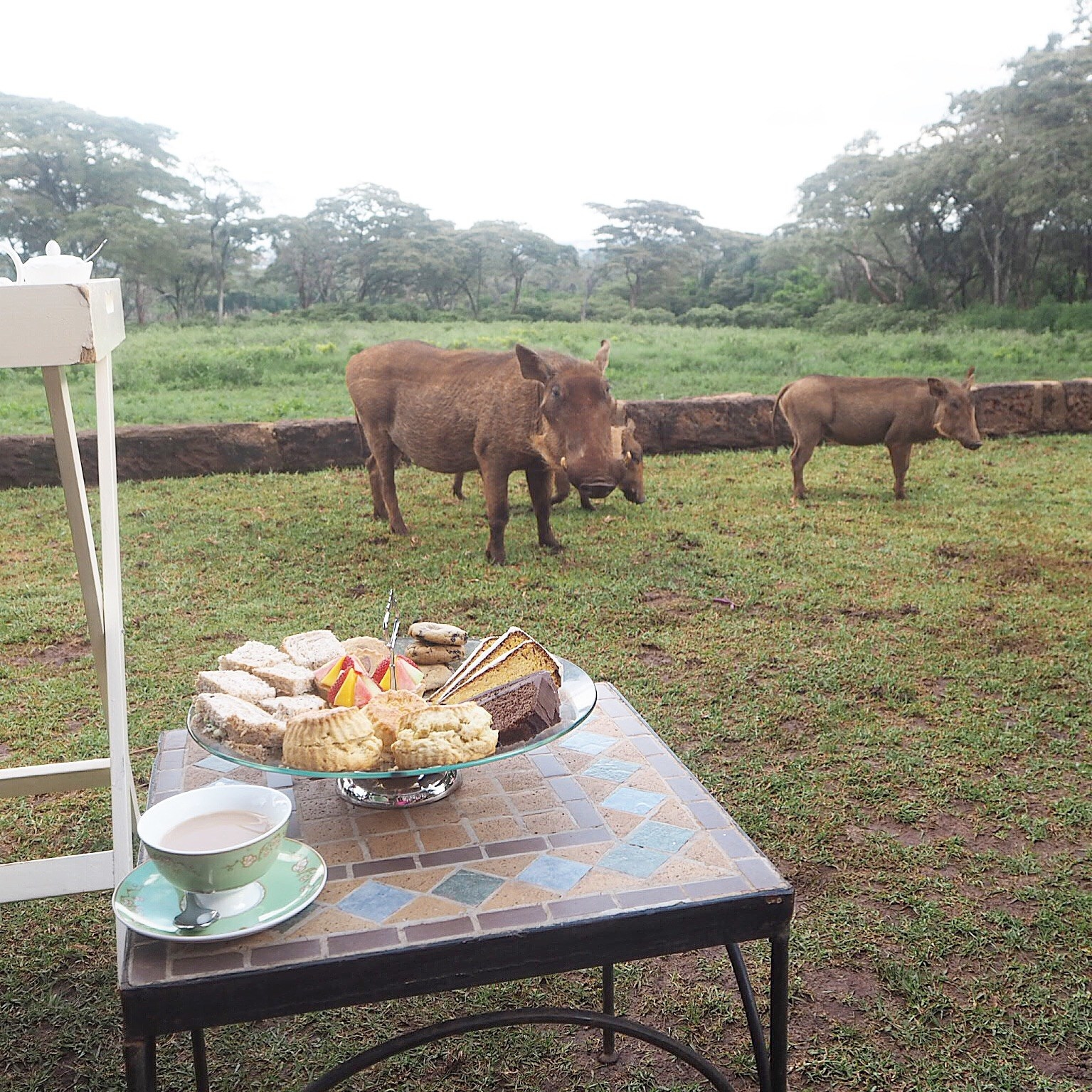 The Giraffe Manor, is located in Langata, and is one of Kenya's iconic boutique hotels with a 1930s historical charm, especially in the world of travel and wanderlust.
It is home to a very well known herd of Rothschild Giraffes. It is also the only hotel in the world where you can feed Giraffes from the windows of your room, or while you eat breakfast.
I finally ticked visiting the Giraffe Manor off my bucket list and enjoyed an amazing magical Afternoon Tea there.
It was truly an "Out of Africa" experience and definitely the best and most unique Afternoon Tea I have had.
Growing up in Kenya, I have been lucky enough to go on plenty of safaris but I have never been this close to Giraffes and Warthogs.
In close proximity to the Giraffe Centre, the Giraffes wander between both as well as on 12 acres of private land. They are an endangered species of Giraffe of which there are only around 100 in the wild. They are easily identified by the colouring of their coat which differs from other Giraffes.
The Giraffe Manor has 10 different rooms, all with different sizes and art deco interiors. Definitely one to visit at least once this lifetime.
The theme throughout the manor is Giraffes and love the little comfy areas like the one below which you can just imagine settling down in with a good book and a cup of tea.
We had our Afternoon Tea on the beautiful and tranquil lawn, where the Giraffes would soon wander to after they had finished eating treats at the Giraffe Centre.
While we were waiting for our tea, we were entertained by the resident Warthog family like the dashing one pictured below who caused us a lot of excitement but is so harmless.
Our tea arrived on a massive tray which was also Giraffe themed and which I wish I could take with me. We had Earl Grey and took in our surroundings while the Warthogs just grazed in close proximity. It was just out of this world.
We had a colourful assortment of sweet and savoury treats to enjoy as part of the afternoon tea which included delicious chocolate cake slices, carrot cake, scones, cookies, biscuits, fruit tarts and sandwiches. We could see the Giraffes in the distance being fed at the Giraffe Centre.
All around us was just natural beauty and that rich Kenyan soil which is just so lush. It truly felt like a dream come true as the location, venue and food just made me want to don a safari hat and pretend I was in the middle of the game reserve. This was close enough to it and truly an Out of Africa feel and a memory I will treasure forever.
As we devoured our tea and delicious food, it soon got to just after 5:30pm and the giraffes started wandering over. A warning in advance. There are lots of Giraffe photos coming up.
We had Kelly and Jock visiting us, and as a special treat, Kelly's one month baby Giraffe who was just so so so so cute, also joined them.
We even managed to get sneaky kisses from the Giraffes!
I would really recommend visiting the Giraffe Manor for a stay or for afternoon tea as it seriously a phenomenal, superb and unique experience. We didn't even want to leave!
For more information visit: http://www.thesafaricollection.com/properties/giraffe-manor
An afternoon tea costs USD $50 per person and runs from 4:30pm to 6:30pm. It is recommended to book well in advance.
This post was created by a member of BuzzFeed Community, where anyone can post awesome lists and creations.
Learn more
or
post your buzz!