Here's What It's Like To Be A Young Carer For Family Members
Two young people talk about how being carers for family members has changed their lives.
Sophie Dishman, 21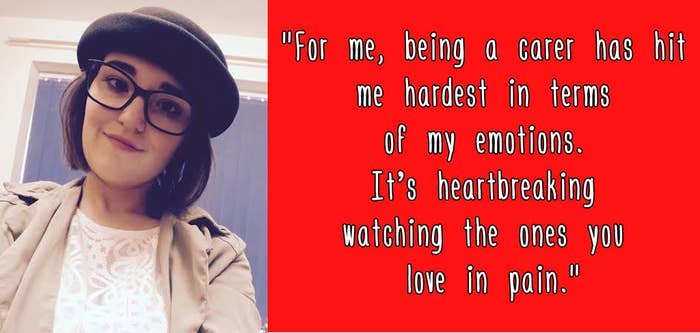 I'm a journalism student at university. But I am also a young adult carer. I've been a carer since I was 11 years old, and I'm 21 now. It all started when my grandma fell down the stairs in 2005. She suffered brain damage and was diagnosed with epilepsy and diabetes. I looked after her at weekends, a few hours at a time, while my granddad went out for food or to see friends, leaving me to care for my grandma.
I had to administer medication, do chores, make meals and more. Things got more complex as the years passed by and I grew older. Professionals involved didn't ask about me, even when I was there. Things in my family got more difficult, meaning I ended up caring for other members of my family. My granddad's health worsened and he developed dementia and other problems. In all honesty, he became a changed person overnight. When I visited him in the psychiatric hospital on my 21st birthday, I didn't recognise him, but I still say that I care for him. I call him up when I can, even if he won't remember the conversation or know who I am.
The impact on my daily life is intense, not least emotionally: I don't socialise outside of university and I don't do a lot of physical stuff any more, unless I go home for an extended amount of time. Mentally, it has affected me too. I have anxiety and OCD. So, for me, being a carer has hit me hardest in terms of my emotions. It's heartbreaking watching the ones you love in pain, getting angry and upset. It's difficult watching my granddad and grandma go through what they are going through. I often think, Why them? I never think Why me?, though, because I would care for them no matter what. They've cared for me, so I'm doing the same. It's normal for me, it's my "normal".
I worry a lot about my family. I live away from home so I'm not with them as much as I want to be. University was my dream, so I went for it. I don't regret it, but when I'm at university and they are at home, it hurts. I want to be there for them but they want me to pursue my dreams, and to be honest, I do too. It's one big contradiction. I sometimes cry at night, because I miss them and wonder what they are doing. In particular, I find myself thinking about my grandparents because they brought me up. They aren't the same people physically, but in my memory they are.
I think many people in society are confused by what carers do and who we are. Some confuse us with paid carers. We aren't paid to care for our loved ones. Some pity us, which is frustrating. When people see young children caring for their parents or siblings, the natural urge seems to be pity, but being a carer isn't always like that. It's depicted in that way in the media to pull at people's heartstrings. Being a carer has a lot of benefits: I'm more resilient and I'm more mature. I haven't had the other experiences many people my age have had, but I don't mind that.
I don't have any support from health and social care services with my caring role. I've been a carer for half of my life and I can do things on my own. A lot of things would make my life easier. I know that when carers are supported, we flourish. We need more awareness, because support and funding comes from that. It would make a huge difference to me and other carers.
Anonymous, 19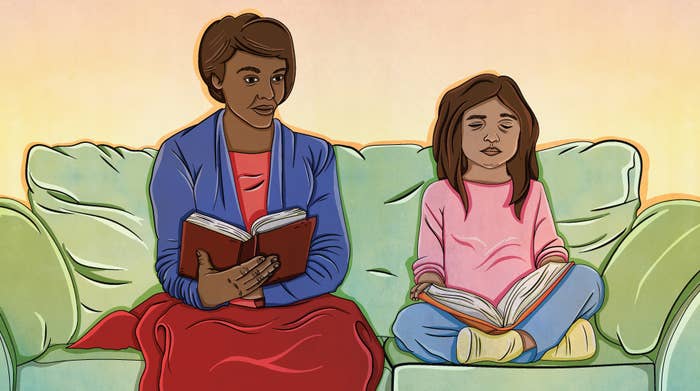 I'm a normal 19-year-old. I have hobbies and interests, as well as a full social life. I enjoy going to yoga regularly (and I even run marathons!). I go to gigs and hang out with my friends as much as possible. I'm currently in the last few weeks of a Level 3 childcare course at college and I'm on my way to being an A* student. I can't express how much I've loved that experience.
But here's the thing that makes my story less typical: I care for my both of my parents, the beautiful, amazing people who gave me life, and have done for years. Seeing my dad suffer multiple heart attacks and strokes since I was 11 (and having severe mobility issues thereafter), really broke my heart. Then, in late 2013, we got the terrible, gut-wrenching news about my mum: the big "C" had come along. And this was in addition to having arthritis, mobility issues, and diabetes. I refused to see them suffer like that, so I did anything and everything I could do to help, including researching their illnesses so I could learn more about them to help make my parents' life healthier. I stepped up, and grew up earlier than I ever expected to. It may not seem much to some people, or older people who do this every day in their own houses, but every day or week I go shopping, clean, and cook. I help my parents take personal care of themselves (that includes personal hygiene and getting dressed) and prepare and administer any medication as well as taking blood pressure and sugar levels. Ultimately though, my main aim every day is to make sure they wake up and go to bed with smiles on their faces!
From the beginning I felt the need to help them with anything they needed. I will never be able to describe how it made me feel to see them suffering, especially at the start of their illnesses. The emotional impact was huge. When it comes to my daily life, I still live a life just like a normal teenager – I just have less time to lay around and sleep in!
I am honoured to be able to care for my parents and to be able to give back to them, repaying them for everything they've given me in life. But I won't deny it is a struggle. I've won awards for my efforts: Lloyd's Pharmacy and CarersUK awarded me National Carer of the Year, and in 2014, I was named "Our Heroes" Adult Carer of the Year by Aspire and The Sentinel. Hell, I will never feel like I deserved them – I felt like my parents deserved them more. All I can say is that each day is a new day and each day, there will be a new battle – and I'm up for the fight. I do believe people understand my "situation" – if someone asks me a question about it I do my very best to be open and answer it honestly.
All in all, my life is happy and positive, and I try to express that in the energy around me, hoping other people can feel it too. I don't think there can be anything done to make life "easier" for anyone – but a smile and good friends and family go a long way.
So this is what matters: Please remember to be thoughtful and kind to everyone you meet – the most normal person walking down the street could have the most heartbreaking story behind them. It's how you deal with it personally that matters the most.
From me to you, to anyone else who is in the same position I am in, I say: Stay strong, folks, you can do this!