Mmmm...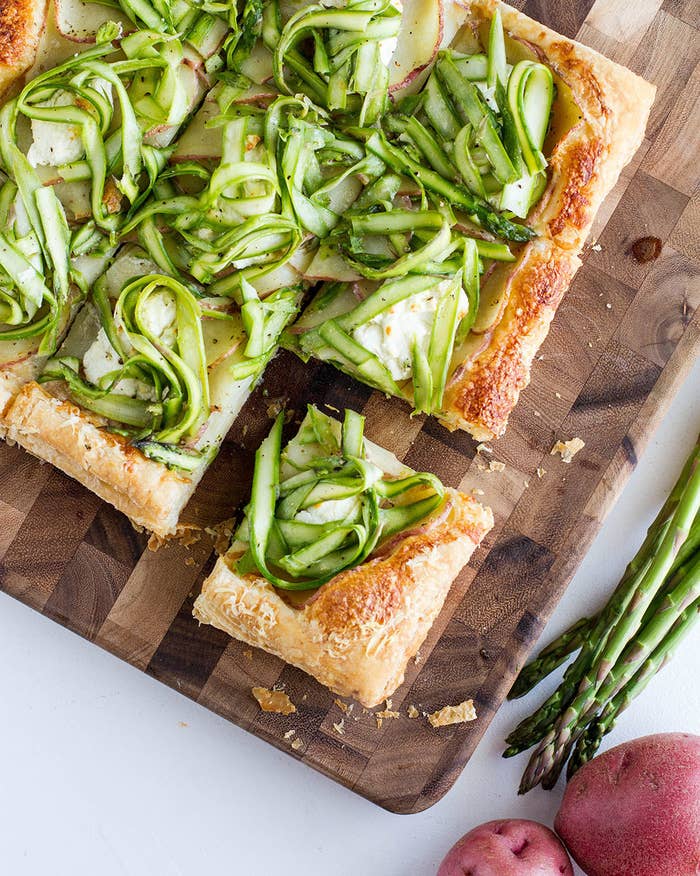 INGREDIENTS:
Serves: 9 Slices
4 red potatoes
3 cups of water ( enough to cover the potatoes)
1/2 cup heavy cream
1 teaspoon salt
1 teaspoon Italian seasoning
1/2 teaspoon ground black pepper
2 tablespoon melted butter
1 sheet puff pastry, defrosted
2 cups parmesan cheese
4 ounces goat cheese
1 bunch of asparagus
1 teaspoon salt
1 teaspoon ground black pepper
1 tablespoon olive oil
1 tablespoon lemon juice
PREPARATION:
1. Preheat oven to 400ºF/200ºC.
2. Thinly slice potatoes and soak in cold water for 10 minutes, just enough to cover the potatoes. Then pat dry.
3. In a medium bowl, mix heavy cream, salt, Italian seasoning, black pepper and melted butter and stir. Add potato slices and evenly coat every piece in the cream mixture.
4. Line baking tray with parchment paper and place one sheet of puff pastry. With a fork, evenly poke the entire sheet.
5. Place shredded or grated parmesan cheese on the puff pastry. Then layer each potato slice to cover the sheet, leaving 1/2 inch on all sides.
6. With 2 spoons, scoop small amounts of goat cheese on top of the potatoes. Season with a pinch of salt and pepper.
7. Bake for for 30 min. or until the crust is golden brown.
8. With a peeler hold the bottom of the asparagus and carefully peel from bottom to the tip. Peel twice on one side, then flip over to peel the other side. It will give you a even ribbon.
9. Put all the asparagus ribbons into a bowl and mix in salt, pepper, olive oil and lemon juice. Toss the ribbons until evenly coated.
10. Place the asparagus ribbons on top of the freshly baked potato tart, then slice and enjoy!