Peach Pockets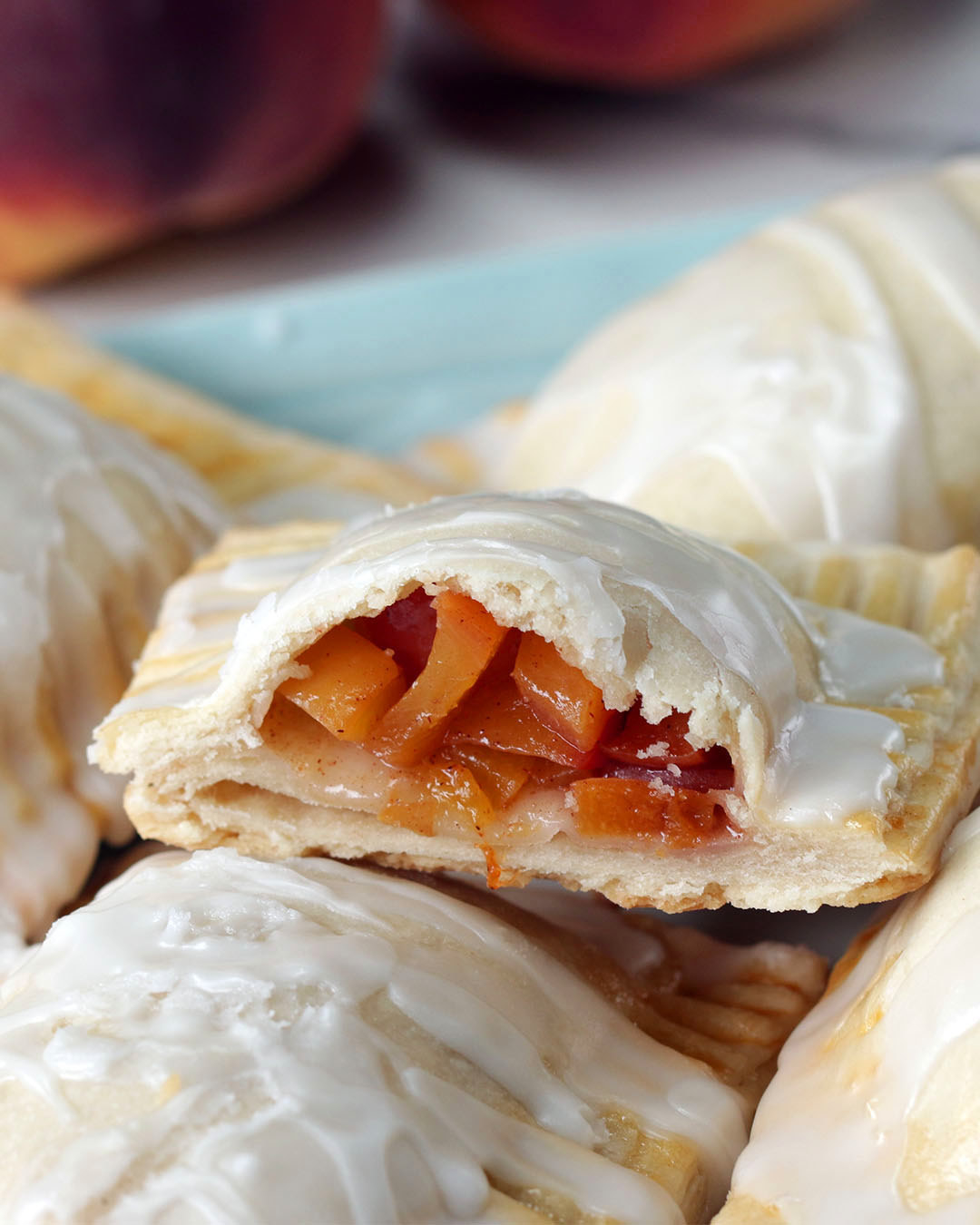 INGREDIENTS
Servings: 8-10
3 cups all-purpose flour
½ teaspoon salt
½ tablespoon sugar
⅔ cup coconut oil
¾ cup cold water
1½ tablespoons peach preserves
1 tablespoon butter
2 peaches, diced
2 teaspoons lemon juice
½ teaspoon cinnamon
1 egg
1 cup powdered sugar
2-4 tablespoons milk
PREPARATION
1. Preheat oven to 375°F (190°C).
2. In a large bowl, combine flour, salt, and sugar.
3. Add the coconut oil to the dry ingredients and mix together using a fork or your fingers.
4. Add the cold water to the dough, a little at a time, and continue to mix until dough forms a ball.
5. Cut dough into two equal parts and flatten them into 1-inch-thick disks. Wrap the disks in plastic wrap and chill for one hour.
6. Add the peach preserves and butter to a small microwave-safe bowl and heat in the microwave for about 20 seconds or until butter has melted. Stir to combine.
7. Dice the peaches and put them in a medium bowl.
8. Add the preserve mixture, lemon juice, and cinnamon to the peaches and mix until peaches are well-coated.
9. Remove one of the dough disks from the refrigerator.
10. Lightly flour your work surface, dough, and rolling pin.
11. Roll out the dough to form a large rectangle about ⅛-inch thick.
12. Cut the dough into an even number of small rectangles.
13. Beat the egg in a small bowl. Brush the edges of half of the rectangles with the egg wash.
14. Spoon one tablespoon of the peach mixture into the center of each brushed rectangle.
15. Place another rectangle of the same size over the one with the filling. Lightly press down.
16. Use a fork to seal the edges around each rectangle, then lightly poke the tops of each rectangle a few times. Brush the edges and tops of the dough with the egg wash.
17. Place the pockets on parchment-lined baking sheets and place in the freezer as you repeat the same process with the other dough disk.
18. Bake for 30-35 minutes or until dough is golden brown.
19. For the glaze, mix together powdered sugar and milk until smooth.
20. Drizzle peach pockets with glaze and serve.
21. Enjoy!
INSPIRED BY: http://www.azgrabaplate.com/fresh-peach-pie-pop-tarts/
Looks like there are no comments yet.
Be the first to comment!