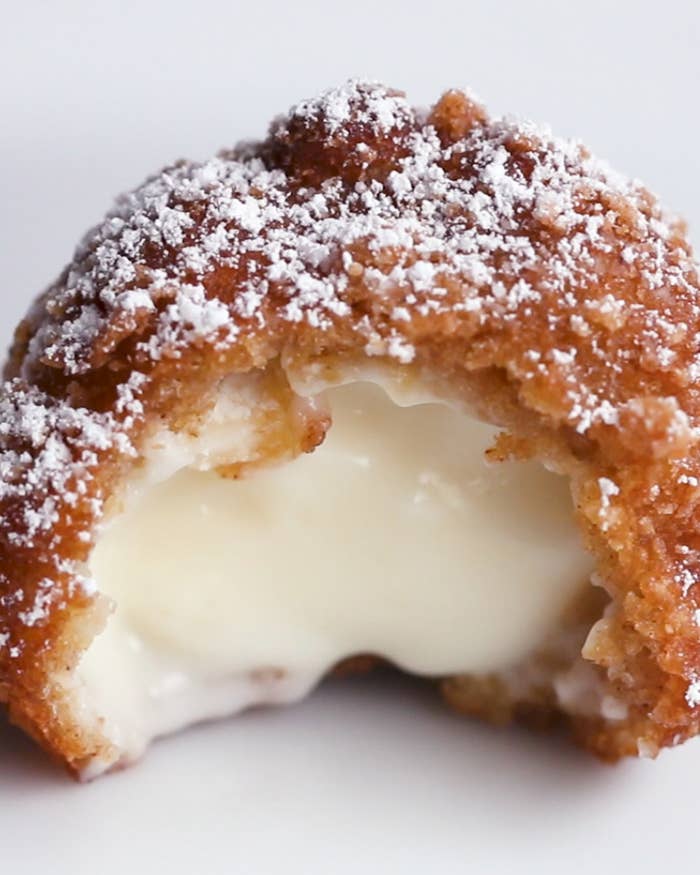 Ingredients:
for 45 bites
16 oz cream cheese, room temperature (455 g)
½ teaspoon vanilla extract
½ cup granulated sugar (100 g)
½ cup heavy cream (120 mL)
4 cups cinnamon crunch cereal (170 g)
1 cup all-purpose flour (125 g)
4 large eggs, beaten
4 cups canola oil, for frying (960 mL)
powdered sugar, for serving
Preparation:
1. In a large bowl, beat the cream cheese and vanilla with an electric hand mixer until smooth, then add the sugar and beat to incorporate.
2. Scrape down the sides of the bowl with a spatula, then add the heavy cream.
3. Beat on high speed for about 2 minutes, or until the batter is thick and smooth.
4. Freeze for 45 minutes.
5. Use a small ice cream scoop to scoop out balls of batter and place on a parchment paper-lined baking sheet. Freeze for 2 hours.
6. Add the cinnamon crunch cereal to a food processor and blend until super-fine crumbs form.
7. Place the cinnamon crunch crumbs, flour, and eggs in 3 separate shallow bowls.
8. Take a cheesecake ball and toss it in the flour. Tap off any excess flour, dip in the eggs, and then toss it in the cinnamon crunch crumbs. Dip it back in the egg again, then again in the cinnamon crunch crumbs.
9. Repeat with the remaining cheesecake balls, placing them back on the baking sheet. Return to the freezer while the oil heats up, about 15 minutes.
10. Heat the oil in a large pot until it reaches 350°F (180°C).
11. Fry the cheesecake balls, 4 at a time, until golden brown, about 1 minute.
12. Drain the cheesecake balls on a wire rack or paper towels.
13. Sprinkle powdered sugar over the cheesecake bites and serve warm.
14. Enjoy!