Taco Cheese Cups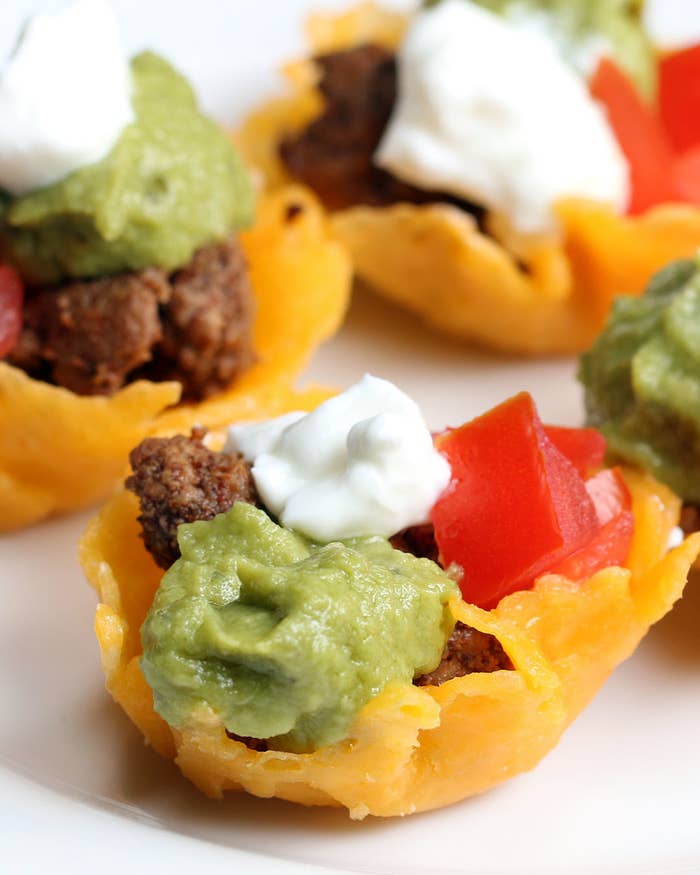 INGREDIENTS
2 cups shredded cheddar cheese
1 pound ground beef
½ teaspoon garlic powder or dried minced garlic
2 tablespoons cumin
2 tablespoons chili powder
¼ cup water
1 teaspoon salt
Tomatoes, to serve
Guacamole, to serve
Greek yogurt, to serve
PREPARATION
1.Preheat oven to 350˚F (180˚C).
2. Spoon 1 tablespoon piles of cheddar cheese 2 inches apart onto a parchment paper-lined baking sheet.
3. Bake for 5-7 minutes, or until edges of cheese piles are golden brown.
Cool for 1 minute.
4. Press cheese piles into mini muffin tin slots to form cups. Allow cheese to cool completely before removing.
5. Add ground beef and salt to a skillet over medium-high heat and cook until browned.
6. Drain grease from the meat.
7. Add garlic, cumin, chili powder, and water to skillet and stir until well-incorporated.
8. Distribute meat to cheese cups.
9. Garnish with tomatoes, guacamole, and Greek yogurt.
10. Enjoy!