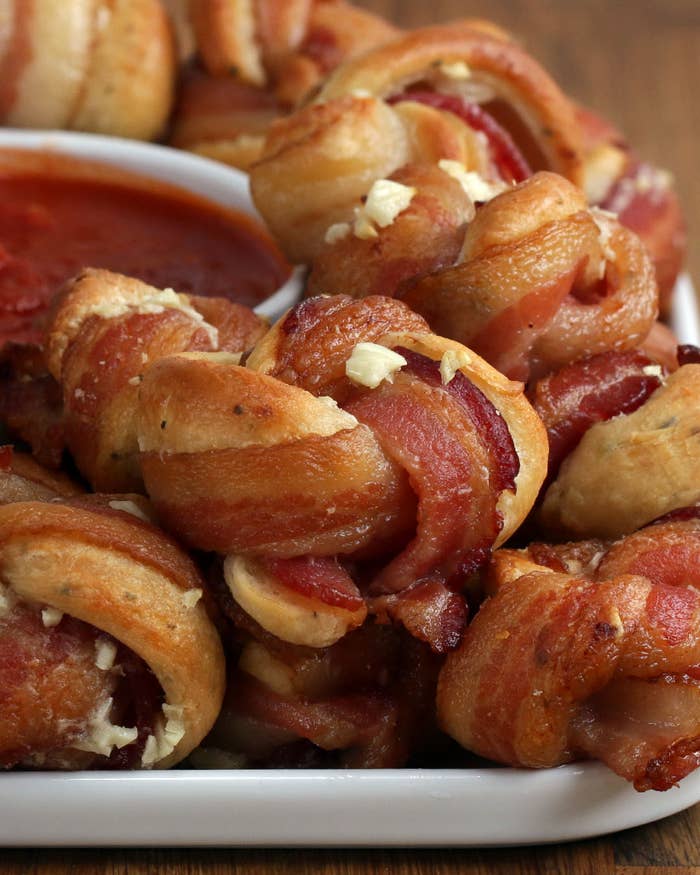 Ingredients:
for 30 servings
1 ⅓ cups warm water (320 mL)
1 ½ teaspoons active dry yeast
3 ½ cups all-purpose flour (400 g)
¼ cup grated parmesan cheese, plus 2 tsp, divided (30 g)
2 teaspoons sugar
1 teaspoon baking powder
1 teaspoon kosher salt
1 teaspoon dried basil
1 teaspoon dried oregano
3 tablespoons olive oil, divided
30 strips bacon
5 tablespoons unsalted butter, melted
4 cloves garlic, minced
1 tablespoon fresh parsley, chopped, for serving
marinara sauce, for serving
Preparation:
1. Add the warm water to a medium bowl. Sprinkle the yeast over the water and let sit for 5 minutes, or until mixture is frothy.
2. In a large bowl, whisk together the flour, Parmesan cheese, sugar, baking powder, salt, basil, and oregano.
3. Add 2 tablespoons of olive oil and the yeast-water mixture. Mix with a rubber spatula until a ball of dough forms.
4. Dump the dough out onto a clean surface and knead for about 5 minutes, until the dough is springy.
5. Grease the large bowl with the remaining tablespoon of olive oil. Place the dough in the bowl, cover with plastic wrap, and let rise in a warm place for 1 hour, or until doubled in size.
6. Preheat the oven to 425°F (220°C).
7. Sprinkle a bit of flour over the dough then dump onto a clean surface. Tear the dough into 30 separate pieces, then roll into 6-inch (15-cm) long strips.
8. Place a strip of bacon over each dough strip. Tie both together to form a knot.
9. Place the knots on a wire rack placed over a baking sheet.
10. Bake for 20 minutes, or until bread is golden brown and the bacon is crispy.
11. In a small bowl, mix together the butter, garlic, and remaining 2 teaspoons of Parmesan cheese.
12. Brush the knots with the butter mixture and bake for another 5 minutes.
13. Transfer to a serving plate. Garnish with chopped parsley.
14. Serve with marinara sauce alongside.
15. Enjoy!