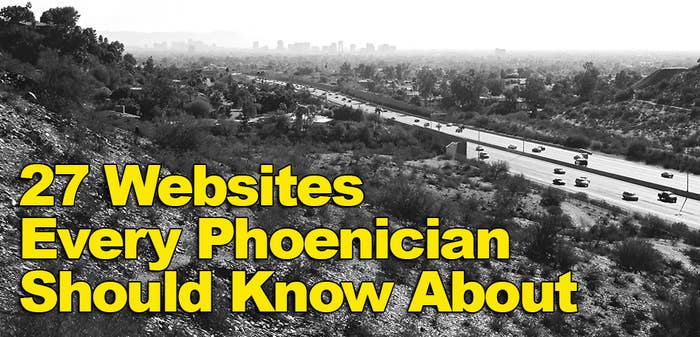 Community
From collaborative workspaces to small neighborhood businesses, Phoenix hosts plenty of opportunities to support the local community. If you have an interest in shaping the future of downtown, there's never been a better time to get involved.
1. ThisCouldBePHX.com — a community platform for revitalizing downtown
2. LocalFirstAZ.com — a directory of locally owned Arizona businesses
3. RooseveltRow.org — events and information regarding the Arts District
4. COHOOTS.com — shared office for locally driven business professionals

Events
Sure, it's obvious, but there's a ton of stuff you'll miss by neglecting the municipal calendars and, yes, even the tourism bureau. Plus, your neighbors in /r/Phoenix are always tagging activity ideas, so, honestly, you have no excuse for being bored.
5. DTPHX.org/calendar — a list of everything that's going on downtown
6. Everfest.com/Arizona/Phoenix-festivals — for the many annual festivals
7. VisitPhoenix.com/events — upcoming attractions from around the Valley
8. PhoenixConventionCenter.com/events — large-scale shows and expos
9. Reddit.com/r/Phoenix — the local subreddit, with 14,000 subscribers

Alternative News
While the Phoenix New Times is the leading alt weekly of the Valley, we couldn't help but highlight the award-winning college publications around the city as well — especially considering that the New Times was itself founded by students. 📰
10. PhoenixNewTimes.com — highly opinionated, this is your go-to alt weekly
11. StatePress.com — Arizona State University's student-run news organization
12. DowntownDevil.com — independent downtown coverage by ASU students

Music
The Valley is home to a number of great venues, each of which publishes their own calendars, but for a consolidated list of upcoming shows — both national and local acts — you can't go wrong by following the blogs and events pages below.
13. StatesidePresents.com — long-running concert promotion company
14. SilverPlatter.info — concert listings from around the Phoenix metro
15. PhoenixConcerts.net — unofficial calendar of upcoming shows
16. EchoCloud.tv — Phoenix-based music blog focused on local artists
17. YabYumWest.com — music and arts blog headquartered in Tempe


Culture and Lifestyle
Whatever makes up your cultural diet — films, sports, dancing, anything — you can find your recreational outlet in the Valley. You just have to know where to look, and the blogs below offer a great starting point to planning the week ahead.
21. ValleyHype.com — artist interviews, photo essays, reviews, and giveaways
22. PhoenixMag.com — the state's most popular city magazine
23. AZBigMedia.com — business and lifestyle features from around Arizona
24. DowntownPhoenixJournal.com — an insider's guide to local goings-on

Nature
Sometimes, the best part about living in Phoenix is exploring the parts outside of it — and the gardens, parks, trails, and mountains that frame the city are breathtaking. Just make sure you pack plenty of water along with your camera.
25. HikeArizona.com — an index of the state's many trails, written by hikers
26. Phoenix.gov/parks/trails — the City of Phoenix's guide to preserves
27. ArizonaHighways.com — travelogues and gorgeous photos from the region

Slow Wi-Fi? Geek Squad Agents at Best Buy will hook you up, no matter where you live in the Valley. 📶 🙌