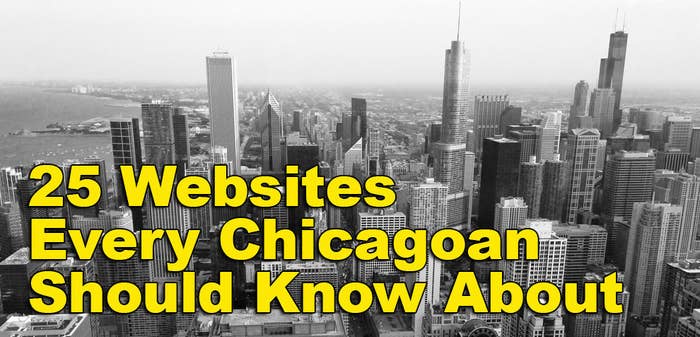 Events
Heck. We'll say it. Chicago is home to (among other things) the best musicians and comedians in the country. With so many talented artists in one city, it helps to rely on outside curation for a little perspective.
1. ComedyOfChicago.com — where to see the funniest people in Chicago
2. LiteraryChicago.com/calendar — bastion for bookworms seeking literary outings
3. TheatreInChicago.com — shines a spotlight on plays of various genres
4. ChooseChicago.com/things-to-do — broader guide to noteworthy activities
Alternative News
Chicago: where the trains are elevated and so is the ~consciousness~. Razor-sharp writers on the periphery cover everything from politics to pork buns in these offbeat media outlets.
1. ChicagoReader.com — innovative journalism across a far-reaching scope
2. NewCity.com — news, comics, horoscopes, and more
3. ChicagoMaroon.com — independent weekly paper run by students at the University of Chicago

Community
Locals keep their neighborhoods strong through grassroots involvement and awareness-building efforts, while long-time residents use blogs and forums to help the city stay connected.
1. ChicagoCommunityGardens.org — plant-friendly portal for those with green thumbs
2. LocalFirstChicago.org — network of small businesses and independent organizations
3. ChicagoCares.org — place to find out who needs a helping hand
4. ChicagoBikeBlog.com — bike-riding resource for two-wheeled commuters

Music
Maybe it's the shimmer of Lake Michigan or the stark silhouettes of iconic architectural masterpieces, but something about Chicago's beauty seems to inspire unparalleled music. 🎵🎵🎵
1. Reddit.com/r/ChicagoMusicScene — user-submitted guidance about upcoming shows and breaking news
2. ChicagoMusicGuide.com — one-stop shop for notable live performance info
3. Chicago-Music.org — support and suggestions regarding the local music scene

Food
Because there's so much beyond just hot dogs and deep dish. As the culinary scene in Chicago has grown, so has the amount of coverage about the city's wide range of dining experiences.
1. ChicagoGluttons.com — humorous posts delivered in a colloquial voice
2. ChicagoFoodTruckFinder.com — map of street grub vendors
3. ChicagoBeerGeeks.com — hub for those with a high beer IQ
4. AntiFoodie.com — approachable writing for those with less refined palates

Nature
Living in a city doesn't have to mean sacrificing fresh air. This is especially true of Chicago, which boasts a wealth of opportunities for outdoor exploration within a stone's throw of its skyscrapers.
1. LPZoo.org — updates about 35 acres of wildlife in Lincoln Park
2. ChicagoParkDistrict.com — information about park programs and facilities
3. AllTrails.com/US/Illinois/Chicago — ranking of nearby hiking trails

Culture and Lifestyle
Chicago's rich heritage and diversity means there's never a shortage of compelling extracurricular activities. And celebrating the city's quirks is simple thanks to sites that highlight its more niche characteristics.
1. TheChicagoLifestyle.com — helpful tips and unexpected feature stories
2. CedarAndRush.com — stylish city guide with a fashion bent
3. ChicagoParent.com — useful companion for those with little ones
4. RunGuides.com/Chicago/Runs — calendar of upcoming races in the metro area

Geek Squad Agents at Best Buy keep Wi-Fi up and running so Chicagoans can check out the best sites for insider information about the Windy City.