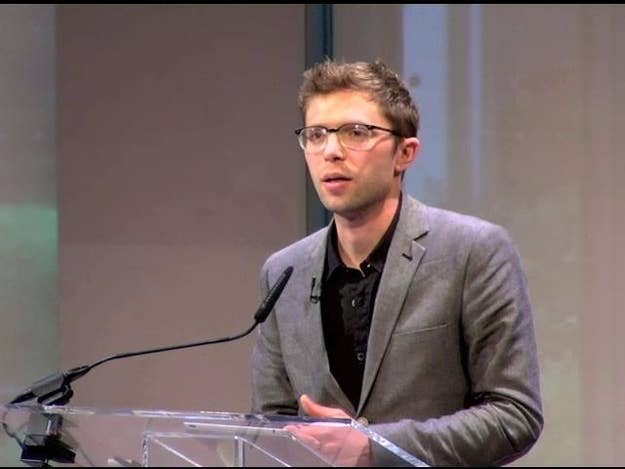 Jonah Lehrer, the New Yorker ideas writer forced out for fabricating Bob Dylan quotes in a nonfiction book, is set to re-emerge as a writer for Wired, where he spent several years and wrote the Frontal Cortex blog, a magazine spokesman confirmed Wednesday.
"Jonah was and remains on a features contract with Wired," spokesman Jon Hammond told BuzzFeed. "We chose to maintain our contract."
Lehrer, Hammond said, made "a horrible mistake" in fabricating quotes for his book, "Imagine," but Hammond said Wired continues to stand by a comment he made when Lehrer was first caught in a lesser journalistic sin, re-using writing he'd done for Wired in his new New Yorker blog.
The new scandal "does not diminish his work as a valued contributor to the magazine and website," said Hammond, who added that Lehrer's continuing contract with Wired, a Conde Nast sibling of the New Yorker, meant that "a couple of pieces that were already in the works" and that the magazine anticipates future contributions from him.
[UPDATE: In a statement later Wednesday, Wired said it hadn't yet decided on whether to run Lehrer's work.]
"We still value the work that he has done for us," Hammond said.
Wired editor Chris Anderson referred a question to Hammond and has not commented on the affair, but did retweet a reaction calling the situation "tragic."

Wired is also "continuing our process of vetting" Lehrer's past blog items, Hammond said; the magazine is satisfied his print pieces are original and stand up to fact-checking, he said. That process, another staffer said, is overseen in part by Wired senior editor Joanna Pearlstein.
"To date we have not come across anything that seems too troubling," he said.
Lehrer weathered an early scandal at the New Yorker when he was found to have borrowed from his own work; he resigned after the online Jewish magazine Tablet turned up fabricated Bob Dylan quotes.
Lehrer has told friends, a California source said, that his gravest mistake was in lying to cover up the false Dylan quotes, whose inclusion he has described as a sloppy, unconscious error. Lehrer's allies are also making the case privately that the New Yorker's reaction to Lehrer's mistakes was simply a failure of the older magazine to grasp online norms, something Hammond rejected as "silly and outrageous."
Lehrer also told friends he expects to resume writing for Wired.
Lehrer didn't respond to a Twitter direct message seeking comment.