Updated — 6 p.m. ET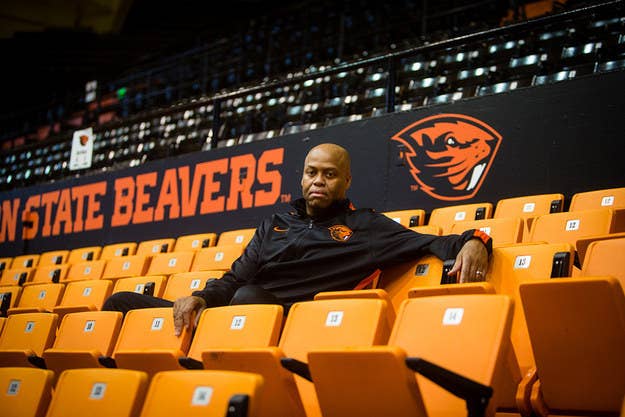 About a month ago, Oregon State athletic director Bob De Carolis issued a written statement affirming his support for embattled men's basketball coach Craig Robinson.
"I'm looking forward to watching Coach Robinson continue to build our program," De Carolis wrote in the statement. "I ask for your continued support of Beaver basketball."
By Thursday, De Carolis couldn't even promise his own support anymore. He went ahead and fired Robinson late last week, ending the high-profile tenure of the brother of first lady Michelle Obama.
The school's athletic department finally made the announcement Monday afternoon, and Athletic Director Bob De Carolis addressed a room full of reporters on campus later in the day.
"I thought at the time Craig deserved another chance," De Carolis said of that statement. " I decided on Thursday that my initial decision was wrong." De Carolis said he then called Robinson and informed him of his decision.
Robinson went 94-105 overall, and 39-69 in the PAC-12 Conference, during his six-year tenure. Most damning for Robinson: Oregon State finished better than eighth place in the league only once and never advanced to the NCAA tournament or even the lightly regarded National Invitation Tournament.
De Carolis confirmed Robinson had three years remaining on this contract, and will be owed about $4.2 million. The money will be paid out over the life of the contract, as if Robinson was still on staff. If Robinson gets another job that doesn't pay as much, Oregon State's contractual obligation will be to make up the difference.
BuzzFeed's Joel Anderson wrote of Robinson in March:
[Robinson's] vision includes living meaningful lives on and off the court, the sort of well-rounded experience that so many colleges claim to offer to their athletes. The 6-foot-7-inch Robinson is the embodiment of that ideal: He was a two-time Ivy League Player of the Year, a graduate of Princeton University and the University of Chicago Graduate School of Business. He was a successful businessman before he pursued a career as a college basketball coach.

Robinson lived up to expectations at Oregon State in all ways — except basketball. So Craig Robinson epitomizes an uncomfortable question: Is it enough for a coach to mentor boys into accomplished men in full, or does he also have to win?
The move comes more than a month after De Carolis met with Robinson following the Beavers' season-ending loss to Radford in a third-tier post-season tournament called the College Basketball Invitational. The athletic department, which had to pay $35,000 to enter the tournament, had offered free tickets to the first 1,000 students to show up at the game. The promotion was a flop; announced attendance was 1,351.
Compounding his troubles, Robinson apologized to De Carolis for a postgame joke. While leaving the podium, Robinson told reporters, "If I get fired, it's been nice knowing you guys."
De Carolis told The Oregonian, the state's largest daily newspaper, that "it was certainly an ill-advised joke. It was a bad joke at a bad time. Coach Robinson told me he realizes he put me in a bad spot with the comment, and that it was an emotional and tough night."
Still, it appeared as if Robinson's job was safe for at least another year. It was also thought cash-strapped Oregon State would have difficulty raising the money to fire him before his contract was up.
But Robinson had lost among some big-money boosters, who openly grumbled, and many ordinary fans: After the Radford loss, The Oregonian ran a story headlined, "Should Oregon State Beavers fire Craig Robinson?" Nearly two-thirds of the more than 4,000 voters chose this option: "Yes. He's had enough time to show what he can do … and it's underwhelming."
And things got worse over the next few weeks as three players with eligibility remaining decided to leave the program: Eric Moreland, a junior center who declared for the NBA draft; freshman guard Hallice Cooke, who decided to transfer; and junior guard Challe Barton, who will play professionally overseas.
Sources close to the program said David Grace, a former Robinson assistant now at UCLA, was one of the candidates being considered to replace Robinson. Grace told BuzzFeed that he'd been contacted by several boosters gauging his interest.
Grace has the support of several players who came in under Robinson, including last year's leading scorer and graduating senior Roberto Nelson. It was Grace, a former summer-league coach from Compton, Calif., who helped recruit Nelson — a Santa Barbara, Calif., native — to Corvallis.
Other potential candidates: Former UCLA head coach Ben Howland; Damon Stoudamire, a former NBA star and Portland native who's currently an assistant coach at Arizona; Wisconsin assistant Gary Close; Seattle Pacific head coach Ryan Looney; Boise State head coach Leon Rice; and Montana head coach Wayne Tinkle, among others.
De Carolis said the athletic department will handle the hiring process themselves instead of using a search firm, which is typical of many big Division I programs. He expected to have a much easier time drumming up candidates as opposed to last time, when Robinson took over a program that finished 6-25, including 0-18 in the league.
"I think it's a better job than last time," De Carolis said. "Craig has raised it to this current level."
Robinson didn't immediately return a message left on his cell phone Monday.
The dismissal was first reported by Sports Illustrated's Pete Thamel and later confirmed to BuzzFeed by several sources close to the athletic department.