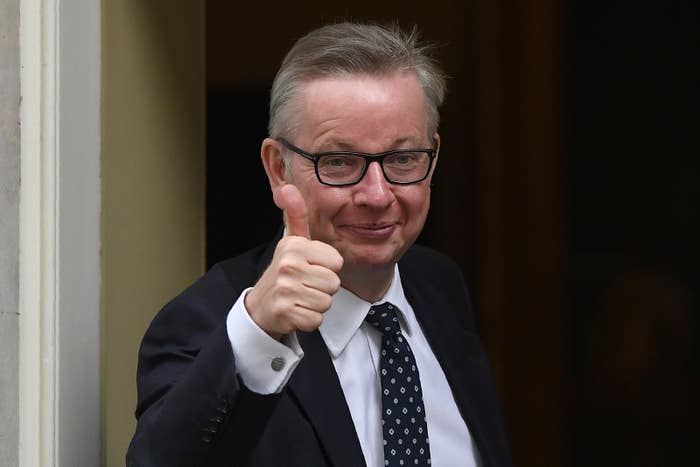 One of the leading architects of Brexit has suggested in an interview with BuzzFeed News that future world leaders will have to seek a middle path between Donald Trump's "raucous populism" and the pro-globalisation political consensus that preceded the upheavals of 2016 if they want to survive and prosper.

Michael Gove – who said he had never truly doubted that Brexit would make Britain a better place – also backed prime minister Theresa May's decision to align herself with Trump as being in the UK's national interest, and declared that while he does not agree with Trump's immigration restrictions against predominantly Muslim countries, he does not believe the US president is racist.
"It's always natural to have a binary divide and say are you the populist, or are you the elitist," said Gove, the Tory MP and former cabinet minister. "In fact, the best politician should recognise why people vote populism, recognise why the elite take this [pro-globalisation] view, and navigate skilfully between the two."
Gove, who declared during the EU referendum campaign that Britons had "had enough of experts", helped pave the way for Trump by playing a key role in the successful Leave campaign last summer. But he's among many in the UK struggling to figure out what to make of the new president in the wake of May's visit to Washington – a trip that went well, but which has subsequently been dominated by recriminations over Trump's harsh new immigration orders.
The former education secretary, who made a dramatic failed bid for the party leadership last summer, spoke to BuzzFeed News in his parliamentary office under a framed Mail on Sunday cover from last year declaring David Cameron's alleged complaint that "Gove is nuts, Boris is after my job". On the table were "Keep Calm I'm an MP" drinks coasters, while enormous piles of books – including UKIP donor Arron Banks's Bad Boys of Brexit – jostled for space with framed quotes and a poster of Winston Churchill.
"On the one hand you've got raucous populists," said Gove, referring to Trump and the Hungarian leader Viktor Orban, as he set out his view on the current state of world politics. "And on the other hand, you've got the smoothies that are most at home in Davos – the Mandelsons and the Junckers and the Blairs.

"And then in the middle there are politicians who recognise that since 2008, very possibly since the '90s, that there have been changes going on that have meant that there's a concern about the capacity of the elite to govern countries well. But at the same time as recognising that concern, also recognise that free trade, free markets, and much by what goes by the name of globalisation has brought prosperity, more sustained growth in the future.
"So what you've got to do is to be able to provide people with an understanding that you appreciate some of the difficulties that wrenching change can bring in their lives while at the same time not saying, 'Stop the world, I want to get off.'"
Gove, like his fellow Tory Brexiteer Boris Johnson, makes an unlikely populist. He's a former president of the Oxford Union who has lived in the heart of the British establishment. And the path between elitism and populism may prove a difficult path to trace.
He described as Trump's immigration announcement as "perplexing and not entirely reassuring".
"If you're going to do something big, it's not a great idea to drop this news bombshell on the world on a Friday afternoon and to expect your ports and airports and everyone else to implement it over the weekend," Gove said mildly. "That didn't strike me as the most adroit delivery of policy. But there had been all sorts of things Donald Trump has done in the past I've thought, Why on earth would anyone running for president do that? and it's worked for him!"
For all his enthusiasm for Brexit, Gove was sceptical of Trump, even as he went to New York to interview the US president for The Times.
"If I had been an American citizen, I would have voted for Hillary Clinton. And whatever else, it would have been a slightly less unpredictable journey for the world if Hillary Clinton had been the president rather than Trump," Gove said – though he stopped short of many of his British peers in not condemning Trump's recent move as racist.
"I think some of the language he's used I would never use and would deprecate, but I don't think he is, no," he said.
Meanwhile the rise of Trump's hardest-line nationalist advisers, led by Steve Bannon, has not been particularly reassuring to the British eye, though the White House chief strategist and former Breitbart chief cast himself in a recent interview as a familiar figure in British history – the 16th-century political fixer Thomas Cromwell.
"If he is comparing himself to Thomas Cromwell, then he is saying that his boss is Henry VIII," Gove mused. "And of course he's only on his third wife. So if he did say that, it's not necessarily complimentary. I suppose he could be saying that Trump is a figure as well as Henry VIII, to provoke a reformation, maybe he thinks that. I don't know if he takes a sympathetic or unsympathetic view of Thomas Cromwell. He's not a lovable guy. I can see that. I suppose what he's trying to say is, 'I'm a fixer, I get things done.'"
Asked whether there was any moment where Gove had doubted his decision to back Brexit, he paused for 20 seconds of silent thought before concluding that, essentially, it's been a success.
"I was a bit worried early on – I was worried throughout the campaign, actually – about what would happen in Scotland," he said, "but I've been I've been reassured more recently on how the referendum has gone down. I wouldn't want to say everything is going swimmingly, and I wouldn't want to be Panglossian about it – there are definitely going to be bumps in the road and difficulties. But on the whole, I think that it's worked out better than most people anticipated so far."
Gove has recently embraced Twitter ("I'm learning… It takes a bit of time to get used to it, I'm still finding my feet on it") and has concluded that it's user base is relatively left-wing, so "you're more likely to find that the dominant views on Twitter are not necessarily mine".
"Social media encourages – 140 characters in particular – terseness to the point of near-lethal aggression," he said. "Trying to get the right balance is the interesting thing and showing that you've got a sense of humour, or rather, that you are aware, that while you are putting your point, the other guy has got a fair point to make as well."
He also defended his decision to take a paid writing job as a columnist with The Times while still serving as an MP: "If you think that being a member of parliament means that the people shouldn't have or cultivate a particular outside interest, whether remunerated or not, I think that's a mistake."
This is perhaps influenced by his poor job prospects with the current Downing Street administration: "Theresa made a perfectly understandable decision not to have me in the government, so my assumption is I should concentrate on doing useful things outside it."
He's concerned about the spread of fake news but thinks the government should avoid trying to regulate matters – although the Kremlin-backed Russia Today makes him rethink this position.
Gove also said he views Brexit and the rise of Trump as strengthening, rather than weakening, the Anglo-American stance against Russia's ambitions of re-establishing a sphere of influence in eastern Europe.
"I think that we are now in a stronger position to be able to, for example, secure an American president's renewed commitment to NATO than we would have been if we had still be in the EU," he said, adding that he was up for whatever that task entails.
"Obviously, if there is a market for overweight 49-year-olds defending Riga or Tallinn against subversion and invasion, then I'll happily do it."