Everything You Need To Know About The Upcoming Season of The Outs
Behind the scenes, including exclusive set photos, of the highly anticipated second season of The Outs, a web series newly picked up by Vimeo about 20something gay guys just trying to figure it all out.
The Outs showrunner and star Adam Goldman is in full-fledged boss mode while filming outside Sid Gold's Request Room, a blink-and-you'll-miss-it piano bar off W. 26th St. in Manhattan. He readies equipment, fine-tunes lighting and framing, rounds up fellow talent Sasha Winters, Mark Junek, and William DeMeritt — and he even puts this unsuspecting reporter to work. It's a 7pm bar exterior shoot in early November, and while it's unseasonably warm, rush hour foot traffic abounds.

"You're sure you don't mind?" Goldman — sincere, but understandably preoccupied — asks as executive producer Vaughn Schoonmaker (of Michael Urie's Cocktails & Classics) ushers me to the scene's background. There, we nonchalantly redirect passersby from stepping through the shoot, so expect a "background talent" cameo from yours truly. ("Nobody gets to come to the set for free — everybody's gotta work," costar and Brooklyn-based photographer Hunter Canning later jokes.)
Working alongside director of photography Jay Gillespie, Goldman jumps fluidly from setting the scene, getting his lines out, and checking the take. Here, his character, Mitchell, is chatting alone with his best friend Oona's new beau, Kevin (DeMeritt, The Normal Heart). It seems a stiff encounter. Mitchell is reliably dry, bristling slightly in response to this unfamiliar company. But when the camera's done rolling, Goldman is a cool customer — precise, certainly, but patient, adept, and confident. The 30-year-old sports Mitchell's trademark wide-framed glasses and one of his many cardigans (this one grey with a thick, high collar). "The one magical aspect of this show is that Mitchell never repeats a cardigan, so I've been gearing up," Goldman says with a laugh.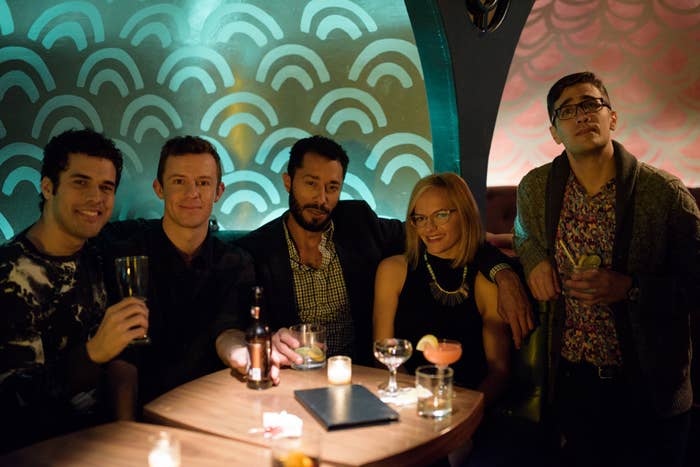 It's fast-approaching three years since we last heard from Mitchell and his brassy, blonde bestie, Oona (Winters, Eat Our Feelings). Subsequently, cast and crew are notably excited tonight, and with good reason. This is their fifth week filming The Outs' much-anticipated second season, which officially returns as part of Vimeo's first slate of original programming in early 2016. If you're a millennial gay man, you know why this is a big deal.
Pegged with the tagline, "Just because it's over doesn't mean you're over it," The Outs is the story of Mitchell and Jack (Canning, Shades of Blue), longtime boyfriends who are on the, well… you know. At the series' onset, Mitchell's unsuccessfully dating while Jack (lean, curly-haired, and mischievous) is successfully bedding just about anyone. They're broken up and spiteful, only speaking when it's to unearth old grievances and land a jab ("Blue makes you look desperate."). But through the course of its seven episodes, we see them navigate new loves and friendships while trying to regenerate something of a friendship of their own. The hit Web series set the blogosphere ablaze upon its spring 2012 premiere thanks to its candid, unconventional, and wonderfully written take on 20something gay life in the big city.
"It's hard to say it's huge," Goldman says."It's not TV huge. It's barely Internet huge. It's niche huge."
Niche, sure, but niche creeping on cult. Goldman's audience was so fervent for more of The Outs that all episodes after its pilot were crowd funded via Kickstarter before premiering on theouts.com. Wrapping April 3, 2012, with 49 backers pledging $1,685, The Outs' first campaign funded the second and third episodes, "Whiskey Dick" and "Moon River." Those spots gained enough traction that its second campaign in July 2012 had 503 backers pledging $22,339 — nearly triple its $8,000 goal — to fund episodes 4–7.
"It's hard to say it's huge. It's not TV huge. It's barely Internet huge. It's niche huge."
Goldman had even greater success with his second Brooklyn-based project, Whatever this is., in July 2013. Starring many familiar faces from The Outs, this Web series raised $171,447 with 2,174 backers. Posing the question, "How long do you have to hate what you do before you get to do what you love?" Whatever this is. follows a down-on-their luck group of friends who work together as reality TV PAs. Its six episodes continue to showcase unique queer perspectives, namely through its protagonist, Ari (Dylan Marron of Every Single Word).
There's little doubt Goldman's ability to create these queer narratives is what inspired his dedicated following.
"At the time [of The Outs], every queer person on TV, for the most part, was a white gay man in his 40s in California considering adoption," Goldman reflects while switching out for a sleeker pair of glasses. "It was The New Normal, Modern Family… [The Outs] just came at a time pre-Looking when people were starved for a representation of themselves, as we always are. That's not to say that The Outs is representative of the entire queer community — that's crazy. No show is representative of the entire straight community."
It's an important distinction to make. Admittedly, those who would find explicit representation in The Outs tend to be of a certain subset of gay: white, male, late-20s Brooklynite.
"In the case of this second season, it was more like, 'These are our core characters—let's build the world around them with all of that in mind, trying to make that as diverse as possible,'" Goldman says.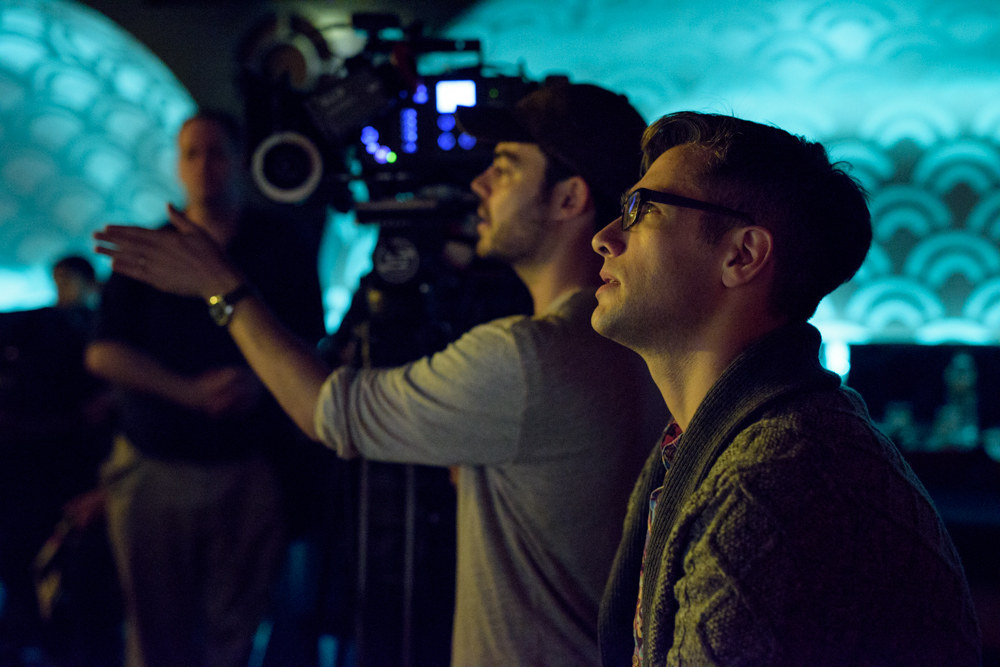 Criticisms to that end aside, The Outs has still struck a special chord with audiences looking for a less stereotypical depiction of gay life. Though there are other notable gay web series today, it manages to stand out in part because many of its contemporaries have a weighted fixation on the gay man's libido, for better or worse. The latest season of Eastsiders, for instance, hinges on its protagonist couple opening their relationship. With Hunting Season, it's all in the name. And a hit with queer ladies, Be Here Nowish, explores polyamory and similar sexual territory, but more as it relates to spiritual awakening and New Age philosophy.
The Outs takes a humanistic approach to gay living. The series deals with sex, for sure (Mitchell broke up with Jack after catching him mid-coitus with another man, after all), but its characters' sex drives take a backseat to their friendships, their jobs, their love lives beyond the bedroom. From the start, viewers get invested in more than dramatics of who's sleeping with whom.
With Season 2, Goldman is attempting to strike gold again. Last we saw The Outs' Brooklyn family was its seventh installment — a Chanukah Special — in April 2013. Surplus Kickstarter funds allowed the indie series to come to a satisfying, 45-minute close. After a season of heartache, Mitchell and Jack were on the platonic mend; Jack was dating and living with the adorable Scruffy (Tommy Heleringer), who just got accepted to grad school in Iowa; Mitchell and Oona, recovering from a major fallout, took the first steps toward fixing their broken friendship; and Mitchell himself was getting back in the dating game.
"It was funny because the show was really over for a long time," Goldman says. "I was so happy with the ending and I thought it was a concluded story."
Then Vimeo came knocking. Considering The Outs and Whatever this is., they ultimately optioned Goldman's first brainchild.
"What I can say is: Everyone's getting laid at the start of the season."
"I originally was like, 'Why? What's the point? That show's over,'" Goldman admits. "[Then] the more I thought about it, making another season right on the heels of the first one felt kind of bullshitty to me, but waiting three years felt like an appropriate time to check in with these characters and see what they were up to. Let's see how much they had changed."
Change is inevitable, but good luck trying to get Goldman to tell you about it. Despite Season 2's secrets being under lock and key, here's what's known: Oona and Mitchell are speaking again (and hitting Sid Gold's for some double date food and drink); Oona's landed a book deal for her "irreverent" and "obnoxious" wine blog, Wine Wine Wine, and finds herself in what Goldman calls a "risky" relationship; Mitchell is dating a hunky blonde named Rob (Junek) who has a penchant for song and dance; and mums the word on Jack and Scruffy, who wrapped Season 1 with a cliffhanger audiences are still biting their nails over. Lord knows not everyone's built for long distance!

"I'm being so vague because I really like to keep that stuff secret," Goldman says apologetically. "What I can say is: Everyone's getting laid at the start of the season." He goes on to say that an apropos tagline for Season 2 would be just the opposite of the last: "Just because you're over it, doesn't mean it's over."

Revisiting Sid Gold's the following afternoon, Goldman promises a "hell-of-a day," and it doesn't disappoint. A sizable amount of extras joins cast members new and old for the bustling interior shoot, one Goldman says is the series' most ambitious yet. While many grab a barstool and chow on Chipotle along the front room's main bar, Goldman is all movement in the back. He uses his lunch break to prep for an afternoon of smooth sailing by checking in with actors, crew, extras, and press. Such attentiveness continues, too, when the cameras roll, making for a productive and thoughtful work environment that his actors relish.

"Adam's in his element when he's on set because his brain works like a director, like a writer, like an actor. I marvel watching him orchestrate and be able to engage on every level," Heleringer, who plays Scruffy, tells me later by phone. (He's mysteriously absent from this Sid Gold's shoot, which may mean the worst for him and Jack. Justice for Scruffy!)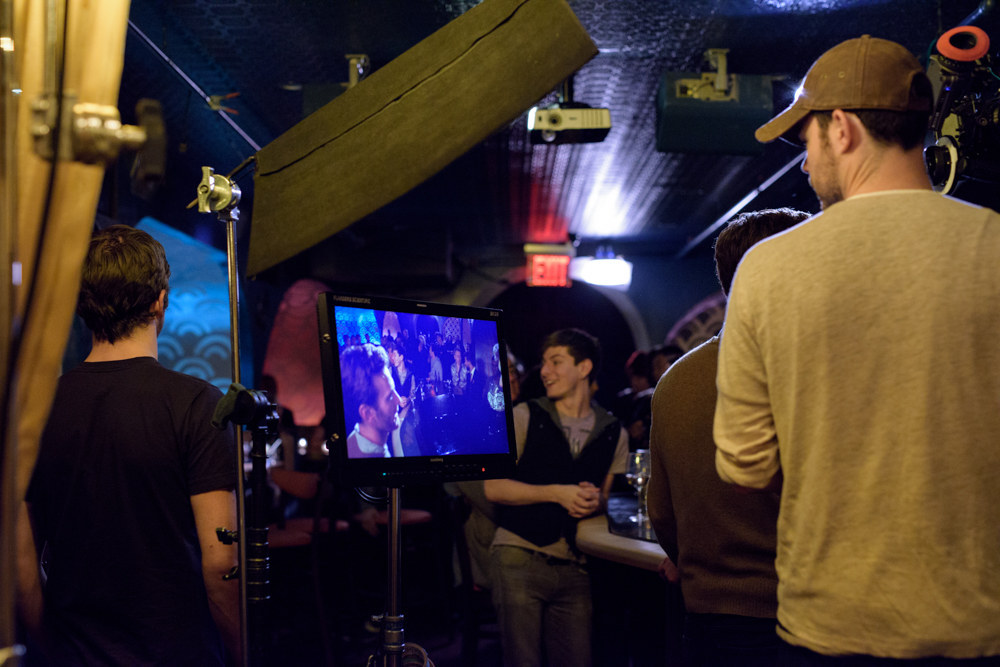 Sitting in a booth across the way, however, are Winters and Canning, the former rocking a business bob and little black dress; the latter a dark blue button-up, sleeves rolled to his elbows.

"It's been totally thrilling and unexpected. It's awesome," Winters, whose Web series Eat Our Feelings recently won a Streamy for Best Indie, says of The Outs' return. "It was in the works for awhile; [Vimeo and Goldman] were talking about it for a long time. I'm always waiting for it to fall apart or not happen, but then it did! It's go time."
"I love that we can just get the band back together and not have to Kickstart this time," Canning adds. "I think the name inherently suggests that Kickstarter shouldn't be your sustainability model, right? You're supposed to get something going and then it either flies or it doesn't."
Sitting between them today is quite the special guest: none other than three-time Emmy nominee Alan Cumming, who snuck away from filming The Good Wife to resurrect his memorable Chanukah Special cameo. The seasoned Scot actor is a longtime Outs devotee. He first tweeted his love for the series in September 2012, then came on to play an exaggerated version of himself in the Season 1 finale. He's back today for a quick turn in episode four.
"However you date now, in a major city or elsewhere, your ex is still in your phone, and you're still friends with them on Facebook, and you're still following them on Twitter — the show is really about how people don't fully leave your life the way that we want them to."
"I think the wit of it struck me first, the way that it manages to be so funny and insightful and at the same time not fall into using any easy clichés about the people in it," Cumming says of his initial fondness for the show. "Most of all, I think I loved the heart of it — how tender it was about getting to know yourself and just existing in this big tough world. That is especially where it is head and shoulders above so many other shows that tell stories of young urban types."
Of working with Goldman, Cumming continues: "I think he is such a funny, clever, and kind boy — and one of the most talented writer-directors I have worked with. On set he is always concerned and caring of everyone, but also always able to spout a pithy bon mot."
This skill is made particularly clear while inside the piano bar. Goldman is juggling extras, cast mates, crew, and Cumming, but he keeps his cool, saying he's confident the hours on set are paying off. "Visually, it's going to really knock people's socks off," he assures, nodding to director of photography Gillespie and crediting the newfound production value to Vimeo.
With any luck, scenes of this magnitude will become old hat for Goldman after The Outs' Vimeo On Demand premiere. Remember: it was just earlier this year that Vimeo's first original web series, High Maintenance, was picked up by HBO. At the very least, the move to the streaming service ensures greater visibility and a wider audience. By all counts, Goldman is up for the prospect.
"However you date now in a major city or elsewhere, your ex is still in your phone, and you're still friends with them on Facebook, and you're still following them on Twitter—the show is really about how people don't fully leave your life the way that we want them to or the way that they used to be able to," he says. "As a writer, I hope that it emotionally resonates with people on that level, and [I'm] also just happy to provide another source of queer-centric entertainment for people. I feel like we need it. I wish the show had been around before — and I wish the show was done so I could just fucking watch it now. But unfortunately, we've got to finish making it."
The Outs Season 2 premieres exclusively on Vimeo On Demand in early 2016.