Travis Scott Just Gave Away $1000 To A Fan And It's Pretty Goddamn Amazing
I guess Space Force has a new member of the team.
If you were gonna pick any day to be a Travis Scott fan, yesterday should've been it.
Why, I hear you ask? Well, he was literally giving away free money. Like, for real.
Yep, Travis tweeted saying he knew the hardships kids go through and so he'd decided to give away a cut of $100,000 to as many fans as possible.
And although it seemed too good to be true, fans soon realised it wasn't a game.
So, now seems like a good time to introduce Twitter user, @jacob_panunzi, who was one of many fans tweeting lyrics to get in on the action.
Jacob even joked that 10¢ would make all the difference.
Before upping the odds and saying if Travis sent anything with a comma, aka $1,000 or more, then there'd be a new member of Space Force.
Well Travis clearly liked the sound of that because he replied.
And what do you know! Travis tweeted a screenshot of him sending the money, captioning it, "Love ur life kid." That sure looks like a comma to me.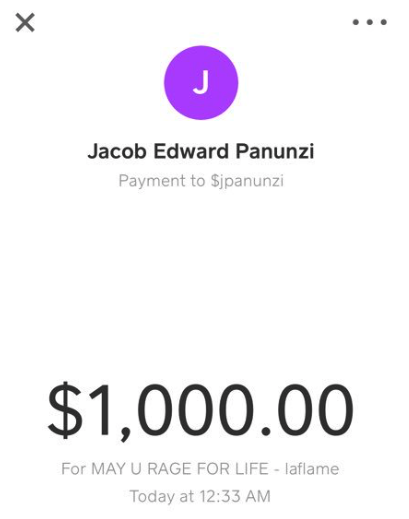 As you can probably guess, Jacob was pretty damn excited about it.
I mean, who wouldn't be if you got given a free $1000?
Anyway, in short this is the story of how I suddenly became the biggest Travis Scott fan. Now Rihanna, take it away...