Meghan Trainor Spilled Behind-The-Scenes Details On The Making Of Her New Album "Treat Myself"
Shooting her shot with Nicki Minaj? Writing the "best song ever" for Rihanna? Yep, Meghan Trainor told BuzzFeed News all the secrets behind her new album, Treat Myself.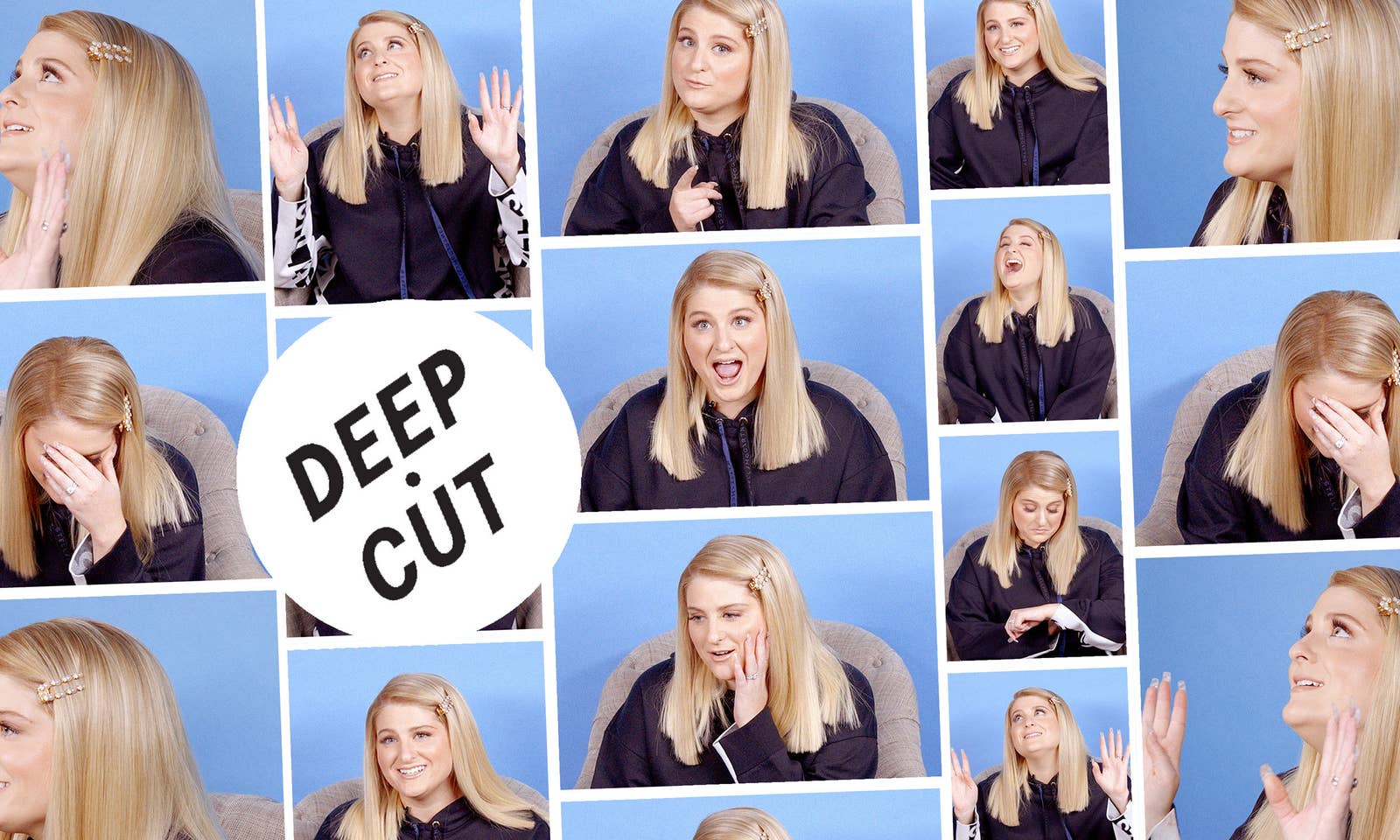 It's been almost four years since Meghan Trainor released her platinum-certified second album, Thank You, and a lot has happened since 2016. She recovered from vocal surgery, which led to a slew of panic attacks and a whole lot of therapy; she honed her songwriting craft; she got married; and, as the title of her album suggests, she's learned how to treat and champion herself too.
"I went to a dark place," Meghan says after breezing into the room and greeting everybody on BuzzFeed's set. "I knew this album had to be all about self-care and self-love, 'cuz I needed it."
The album, aptly titled Treat Myself, is arguably Meghan's best yet and includes features from the likes of Nicki Minaj and the newly re-formed Pussycat Dolls. Sitting down to spill all the tea about her latest offering for BuzzFeed's brand-new music series, Deep Cut, Meghan proves no topic is off limits as she opens up about therapy, shooting her shot, and why she sometimes cringes at her old songs. Here's everything we learned.
The album got its name after Meghan spent time in therapy for panic attacks — a result of vocal surgery that left her feeling like she was "failing at everything".
"I went to a dark place," Meghan said, revealing that at times the panic attacks meant that she "couldn't physically work".
"I crawled out of it with a lot of help, a lot of therapists and doctors and love from my family," Meghan continued. "My therapist said, 'You look amazing. You should treat yourself. You should reward this. You should champion yourself for what you've gone through.'"
Taking the therapist's advice, Meghan wrote the song "Treat Myself", and then bought a new car. "I knew this album had to be all about self-care and self-love, 'cuz I needed it," Meghan added — and that's where the album name came from.
The album took so long to release that it affected Meghan's plans to start a family with her husband, Daryl Sabara.
"It took three years, and not all of it was by choice," Meghan said. "Then I got married and I was with the love of my life and I was like, 'I wanna enjoy this and take time for me.'"

However, the album was apparently pushed back from its original release date, leaving Meghan's plans to start a family up in the air. "It's very frustrating when you're the person creating all the art that's gonna be put out there to be told when it's ready," she said. "I think the hardest part was being told, 'Hey we're gonna push it [back].' It's not like, 'We're gonna push it a month.' It's, 'We're gonna push it half a year.' And I'm like, 'I'm trying to make a family, I'm trying to get pregnant. I can't do that while I'm promoting an album.'"

But Meghan is rolling with the punches and still sees the silver lining. "I had a plan of life and now it's a little pushed back," she said. "But it's for the best — I have a few more years to sleep in!"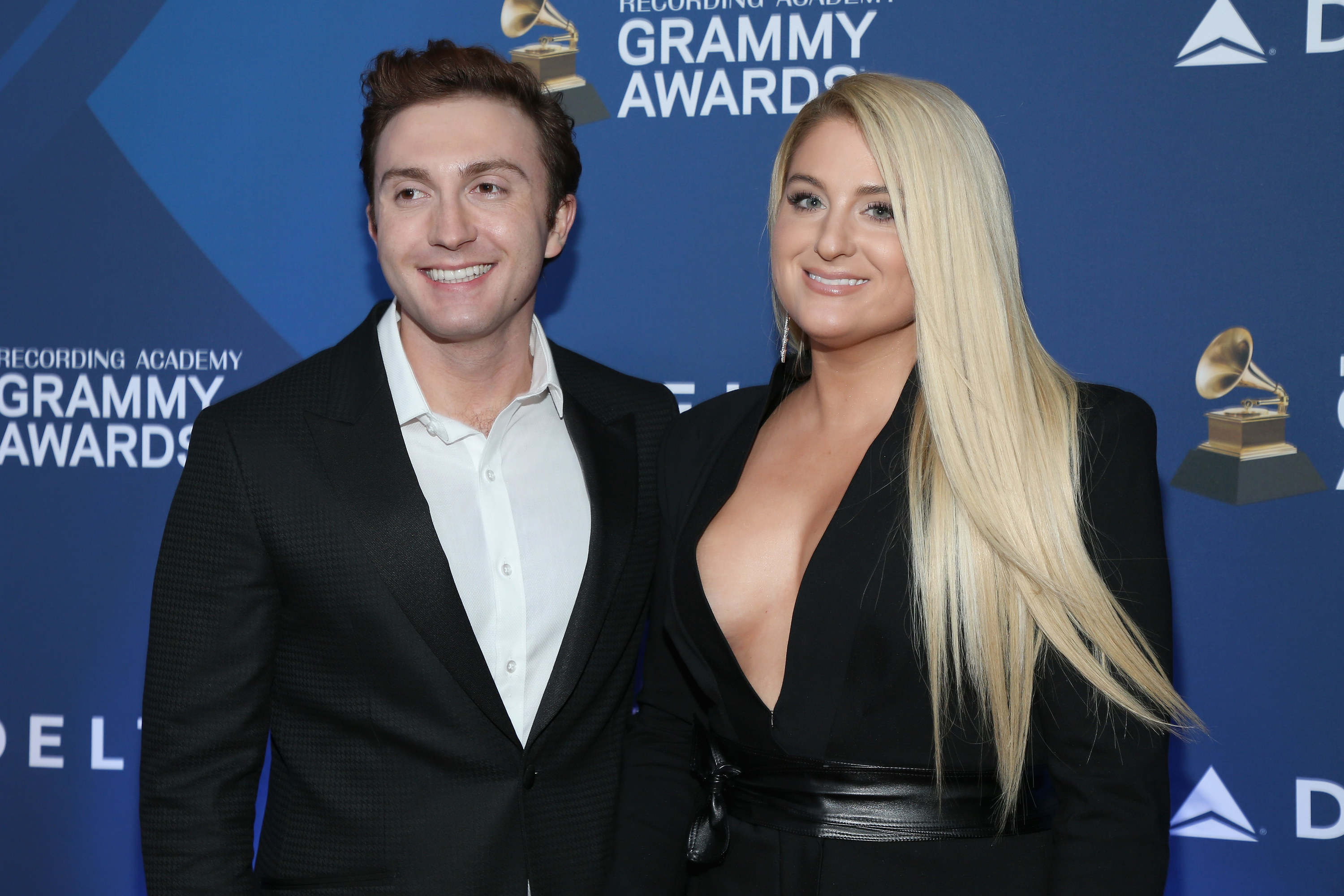 Meghan wrote hundreds of songs for the album, and when it came to deciding which ones would make it onto the final tracklist, she played them for literally everybody and said, "May the best song win".
"I wrote enough for like, three, four albums," Meghan said, revealing that she was limited to 15 songs on the eventual tracklist. "I play [them] for every person ever — even strangers. I play it in Uber rides. I say, 'You like this one?' And they're like, 'Yeah, who is this?' I'm like, 'It's this new artist.' I watch everybody's body language when they're hearing a song, and I study each one and how people react to it."

As for the songs that didn't make it onto the album, Meghan's hoping to either use those for the next record, or give them to other artists. In fact, Meghan revealed that after finishing the album, she wrote the "best song ever", and ended up offering it to a certain singer who has been teasing us with an album for quite some time...
"There were a lot of songs that I wanted on the album that, on the production side, weren't done. I couldn't get it done on time," Meghan explained. "With those songs, I'm trying to find a home for them with other artists. They're very significant to me, and they're like my babies. They're just as important as all the songs that were on the album."
As for that song that Meghan wrote after the album was finished? She says it's better than "like, eight of the songs on my album," and she knew it had to be rehomed. "We sent it to everyone," she said. "I mean everyone — like Rihanna, and...Rihanna. But I think it's too pop-y for her. It's kind of like Caribbean, and I heard she might be doing that, but I don't know."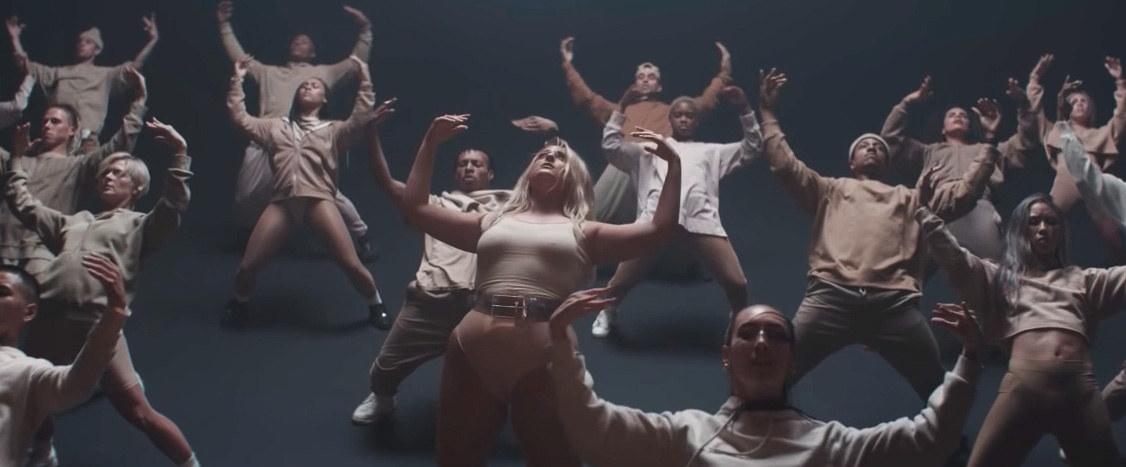 The lead single, "Wave", was written a week after Meghan's second album was released and was one of the first songs to make it onto the final tracklist. She chose it as her lead single because everything about it was "next-level Meghan Trainor".
"I wrote 'Wave' as a ballad and produced it myself," Meghan revealed. "That and 'Have You Now' were the first two songs [where] I was like, 'OK, I have something here that's very special that needs to be on an album.'"

"Ashes" and "Nice to Meet Ya" were the last songs to make it onto the album. In fact, Meghan only had a rough demo of the latter ready when she took it to her label because it was so last minute.
Speaking about "Ashes", Meghan explained: "I wanted another beautiful song that has important lyrics and melody and that rips your heart out." When she sent the song to a producer, she said that she wanted it to be like a "classic, kinda early Katy Perry pop song" that you could dance and cry to.
As for "Nice to Meet Ya", Meghan wrote the song after the rest of the album was basically finished, and only had a rough demo ready when she showed it to her record label. "I went in with this rough demo and I said, 'Here's all my finished songs, but there's something really special about this demo. This is what you're not supposed to do but I'm gonna play this anyway,'" she explained.
And, of course, the gamble paid off: "I played it and just seeing the crowd react every place, we knew that one was special."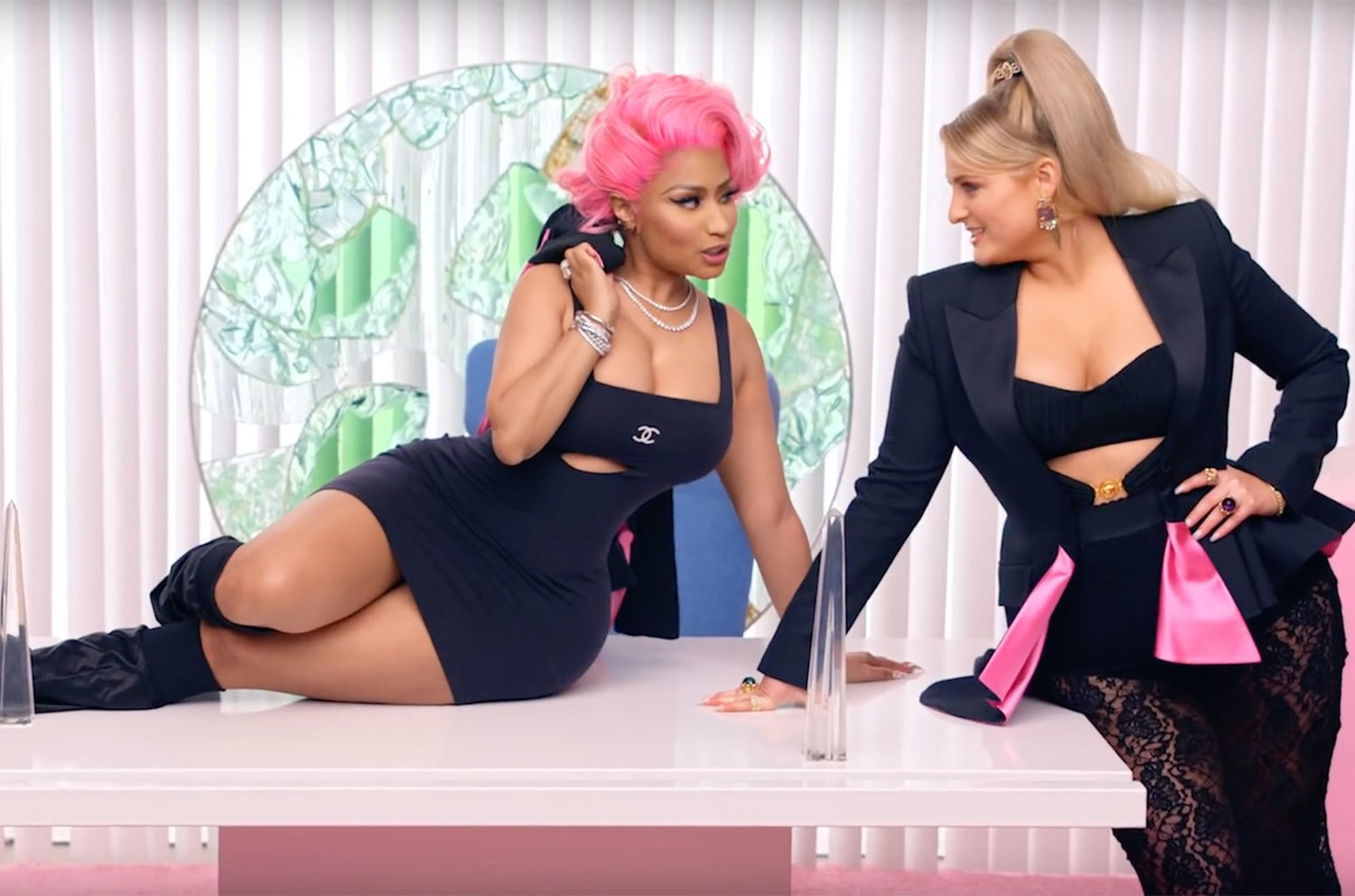 Meghan shot her shot and straight-up asked if Nicki Minaj would consider writing a verse for "Nice to Meet Ya".
"My management is the best, and they started managing her. I had this song and I was like, 'It's really cool, but how cool would it be if Nicki Minaj put a rap on it?'" It originally didn't look like Nicki would be able to do the song because she was so busy, but a couple of weeks later, she wrote the rap, much to Meghan's surprise. "I heard it and I cried," she said.

The easiest song to write on the album was "Lie to Me", which Meghan wrote with her brothers and is her mom's favourite song. The most difficult song to write was "Babygirl", which Meghan struggled to finish because she didn't want it to come across as cheesy.
"My older brother and my younger brother wrote it with me," Meghan said of "Lie to Me". "It was the first time we all sat down together and were like, 'Let's write a song. We can do this.' It was really quick and it was like magic."
"Babygirl" wasn't so easy, though. "I was trying so hard not to be cheesy," she said. "I was trying to talk about what I've gone through but also relate it to everyone in the entire world.
"I remember we were like, 'No, we can't say that, it has to say this and it has to be important but it can't be cheesy.' That was tricky. But we did it and I'm very proud of it."
Putting the album tracklist together was a quick job and Meghan mainly just focused on not having two similar-sounding songs next to each other.
"Working on the order of the songs is always a very quick 30-second process in my head," Meghan explained. "Like, 'Let's not put two ballads next to each other, let's not have it be screaming, upbeat, in your face and then drop down.'"

You can listen to Treat Myself just about anywhere, and it caters to basically every mood.
Meghan said: "You can listen to it in the morning when you're getting ready for your day, to get you pumped up. You can listen to it when you're sad. You can listen to it when you're driving, but be safe — look at the road!"

But one of Meghan's favourite things is hearing that her songs help people get pumped for working out. "I get a lot of people in the gym and I'm proud of that. That's very cool," she said. "A lot of people are like, 'You get me through my workouts', and I'm like, 'I'm here for you.'"

The most difficult part about making the album was all of the opinions that came along with it, because there are so many different people to please.
"I wrote a song on there called 'Another Opinion', which is very much how I feel," Meghan said. "There's a lot of cooks in the kitchen, so we all have to agree and we all have to be on board because we're all working together in different areas."

The thing Meghan is most proud of is the fact she's made an entire album that doesn't make her "cringe" at any point — something she's struggled with in the past.
"I'm really proud that, for the first time on an entire album of work that I've written, that there's not one part that I cringe when I hear," she said. "That was a problem in the beginning. There's songs I love, and I can hear I gave up on the bridge. I straight up just gave up and was like, 'Let's repeat this line over and over again and skip to the last chorus.'"

Meghan will be releasing two more albums and something a little more ~festive~ in the future, but she wants to take things into her own hands and release songs when she's ready.
"I owe two more albums after this. Two and a Christmas album," Meghan revealed. "But now, all rules are off and I told [the record label], 'I'm just gonna drop whenever I want. I'm gonna put out a song when I feel like it, whenever I want.' I don't know if I can legally do that, but we'll see."
Meghan's album, Treat Myself, is out now. ●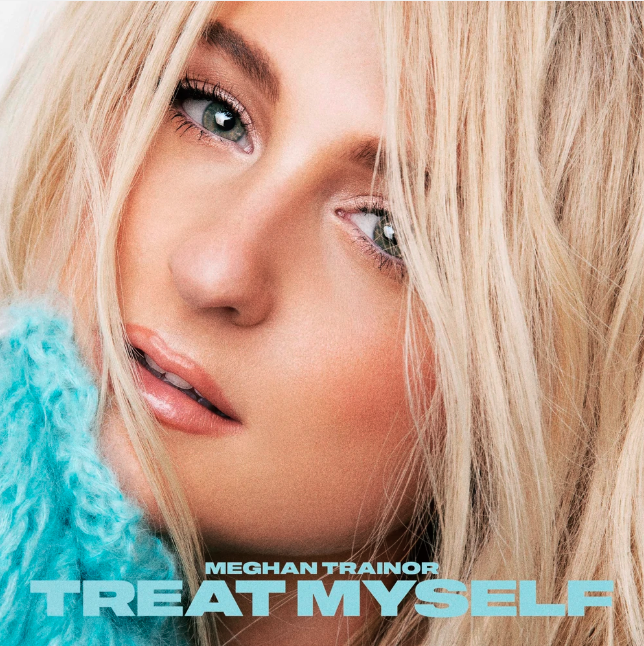 Deep Cut is a brand new BuzzFeed music series that will spill all the behind-the-scenes tea on the latest albums from your favourite artists. Keep your eyes peeled for more. 👀