13 Of The Kinkiest Fantasies People Are Into
Saddle up, it's gonna be a rough ride from here on.
1.
The tied up and helpless.
"I'm into restraints and bondage. The feeling of not being able to move or fight against what is being done to me really turns me on. A fantasy of mine is to be completely tied up and be given orgasms nonstop."
2.
Erotic hypnosis.
"I'm poly and have a few different kink styles that I really enjoy with various partners (impact play, primal biting/clawing, a bit of a bimbo fetish at times, etc.). One thing that has really been doing it for me lately has been a form of erotic hypnosis. My partner puts me in a light trance and 'programs' me to focus exclusively on getting my pleasure from serving him."
3.
The kinky frat boy fantasy.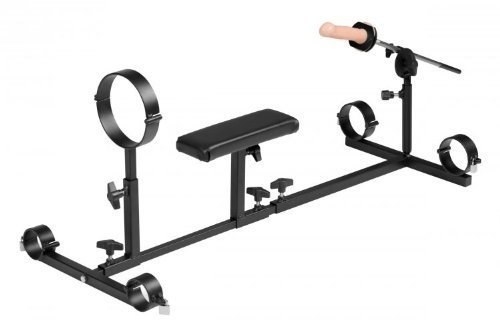 4.
The exhibitionist.
"I really enjoy breath play (choking), pain play (spanking, flogging, etc.), I love bondage, blindfolds, and gags. I also get off on the thought of people watching me but I have never gotten to play with this fantasy outside of my mind. More than anything though I love pleasuring my partner(s) so I am up to try almost anything and everything."
5.
The daddy kink.
"Not necessarily DD/lg but just a daddy kink. Also being choked, spanked, and having my hair pulled."
6.
The long and lasting marriage.
"I've been having sex with the same man for 23 years, so we most definitely experiment to keep those home fires burning bright. More recently, we've dabbled in choking and bondage. I don't know if it's a 'power' thing, but I've never experienced orgasms the way I do when his hands are around my throat and he's calling me his 'little whore'. It's indescribable!"
7.
One woman and two men.
"I'm into polyandry, as in one woman and two men. Preferably all three in a relationship together."
8.
BDSM at a moderate level.
"I'm really into moderate BDSM, meaning DD/lg, spanking (paddle, belt, hands, and flogger) nipple clamps, choking, being slapped, bondage, gags, etc. I'm also a submissive."
9.
The toy box.
"My boyfriend and I have handcuffs, bed and door restraints, hog ties, a variety of gags and blindfolds, whips, and paddles. We also have dildos, strap-ons, and vibrators. We enjoy using food during sex but not so often as it tends to be a little harder to clear up after! We change between submissive and dominant roles regularly. As much kink as we have, we still love vanilla sex in our relationship."
10.
The dom, sub, and switch.
"Personally for me I like a Dom/sub relationship in the bedroom, preferably with someone else who is a switch so we can both take turns. Along with this is spanking, and bondage, as well as some role-play occasionally. Oh yeah, and wax play if we both feel up to it."
11.
A little bit of this and a little bit of that.
"Feet definitely, watersports if i'm in the mood, and spit too."
–Harrison, Facebook
12.
The flogging.
"I am a sucker for being flogged with wide-fall heavy hide floggers. Crops are fun, and restraints too, or being restrained (held down by my jaw, or face down with a hand on the base of my neck)."
–Lindsay, Facebook
13.
The sexually liberated.
"I'm really into sadism and masochism in a severely rough sex kind of way. I also enjoy being tied up and engaging in certain types of role-play. It took me a long time to come to terms with my kinks, but I'm glad I'm finally able to open up about them."
Note: submissions have been edited for length and/or clarity.