Ellen DeGeneres Just Found Out Everything That Goes Down On The Kardashian Vs. West "Family Feud" Episode
Kim knew nothing, Kanye smiled, and Jonathan was "a lot".
If you didn't already know, the Kardashian family are taking on the Wests in a celebrity special of Family Feud soon.
And Steve Harvey just spilled all the juicy details about the episode when he made an appearance on The Ellen DeGeneres Show.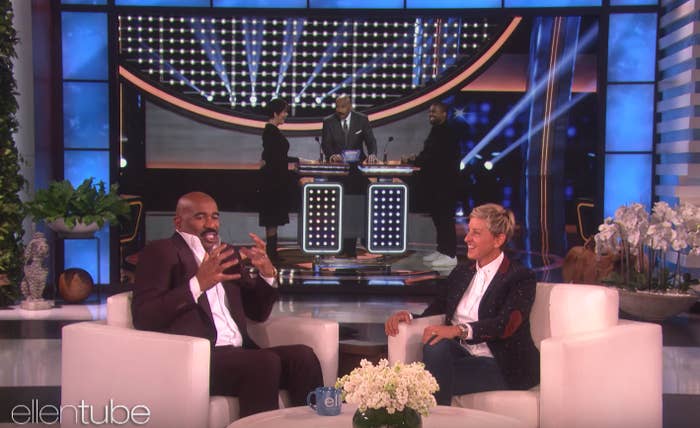 And they were meant to be facing Paris Hilton and her family, but the Hiltons cancelled, so Kanye stepped in because he's a huge fan of the show.
Obviously Kim was going to stand by her man, so she switched to team West.
The Kardashian team had six people instead of the usual five, one of whom was Jonathan Cheban. Awkwardly, neither Steve nor Ellen knew who he was...
And according to Steve, he was "a lot".
But one of the most important things we learned about the episode? The King of Frowns, Mr West himself, did nothing but smile for the whole episode.
In fact, his team pulled Steve aside and told him they'd never seen him smile so much.
And what about Kim? Was she the MVP of team West? Uhhhh, not quite...
But there was quite the competition between Kim and Khloé.
Unfortunately you'll have to wait a little while longer before you can watch the episode, but it sounds like something you don't want to miss!