Harry Styles Stopped Mid-Song To Help A Fan Who Was Having A Panic Attack
We don't deserve him.
Since the release of his debut album in May, Harry Styles has been taking his first solo tour around the world. After dates all over the US and Canada, he recently kicked off the European stint.
People have already been tweeting about some of the amazing things that Harry's been doing while on tour, including flying the rainbow flag, a symbol of LGBT pride.
At his London show on Sunday, Harry once again proved how amazing he is, when he stopped mid-performance so a fan who was having a panic attack could receive help.
The fan, who Uproxx named as Annie, can be seen receiving help from security as Harry instructs the crowd to "give her a little bit of space".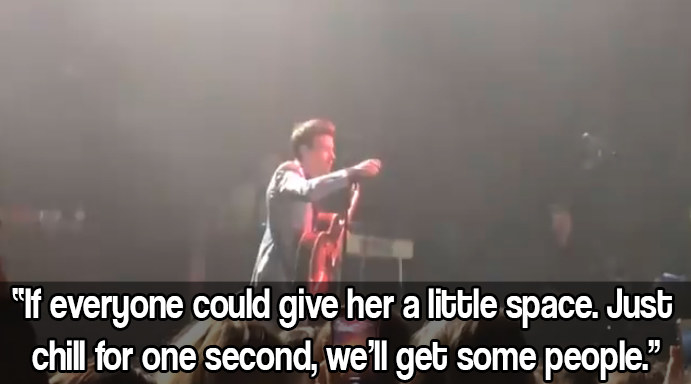 Annie, whose Twitter account is now private, spoke about the scary situation in a series of tweets.
Harry Styles stopped his entire show because I got crushed and then watched me being pulled over the barrier. That was one of the most horrendous panic attacks I've ever had, even the medics were terrified of the state I was in. I feel like fucking shit but I'm so grateful to Harry for having such a pure heart and stopping the show to get security to help me. Also sooooo grateful to the girls around me who realised what was happening and screamed for security.
Speaking to BuzzFeed, Annie went on to thank the security and medics at the venue, who "did such a good job" when they pulled her from the crowd and looked after her backstage.
She also added that she would like to thank Harry personally. "It was one of the scariest experiences. What he did was just surreal to me and I'm so grateful to him."
Harry Styles: a pure angel of our times. 💗