Today in Twitter showdowns, we have a real drama taking place. In the red corner, we have Chrissy Teigen, queen of the Twitter lands.
And in the blue corner, we have vegetarians, who are not in the slightest bit happy with Chrissy's recent tweet where she chose her favourite kind of bacon.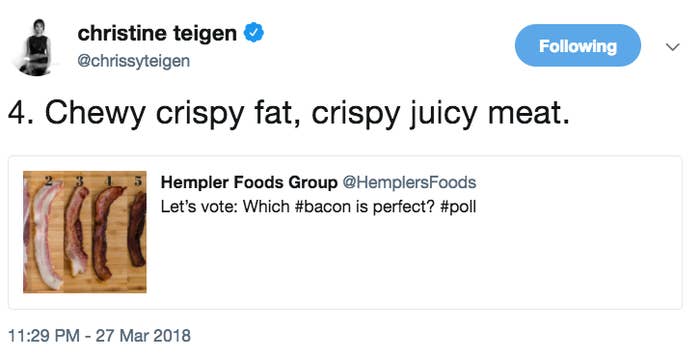 It started with a little debate, when vegetarians saw what Chrissy had tweeted.
And when Chrissy clapped back...
...it turned into an all-out war.
Which is still going on days later.
Chrissy has now called the vegetarians in her mentions "entitled and judgemental".
Before following it up with this mic drop about how people only seem to have a problem now.
If you don't know what she's talking about, then don't panic, I've got the video at hand.
But if you think this war is going to end anytime soon, I wouldn't hold your breath.
In the meantime, I'll be over here doing my best Kim Kardashian impression on the Twitter TL.