Morning ladies! It's Friday 6 April 20GAYTEEN, and I'm here with your daily dose of Chrissy Teigen news.
Today's segment also includes Cardi B, who just released album Invasion of Privacy, and Rihanna, who is the actual queen of planet Earth.
In the song "She Bad" from her new album, Cardi name drops both Chrissy Teigen and Rihanna in a more than favourable way, rapping:
I need Chrissy Teigen / I know a bad bitch when I see one / tell Rih Rih I need a threesome
And people loved the shoutout so much, it ended up becoming a ~Twitter moment~.

Naturally our leader of the Twitters, Chrissy Teigen, spotted what was happening and swiftly dropped her food.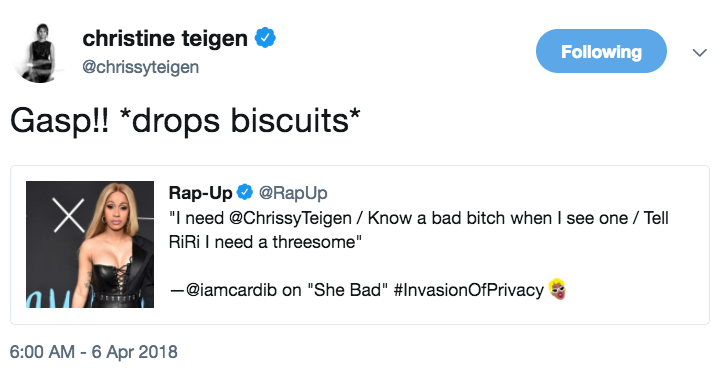 Before following it up with a tweet letting everybody know what a "bad bitch" really does.
Some people were really in love with the food on show.
While others still had Cardi's shoutout on their mind.
And the rest just settled with a subtle Cardi B GIF instead.
I guess it's over to you, Rihanna!