Charli D'Amelio has had enough of being body-shamed, recently standing up to trolls in a defiant Twitter thread.
The social media star has seen a meteoric rise to fame in little under a year, being catapulted into the spotlight and becoming the face of TikTok.
Since posting her first video in May last year, 15-year-old Charli has gained more than 50 million followers on the site, as well as an extra 16 million on Instagram.
However, despite being adored by most, Charli has found herself on the bitter end of trolling, with the teenager being body-shamed after posting a picture in a bikini.
One such comment said, "That is not a woman's body, women's [bodies] are not long like that." Not long after, Charli deleted the picture altogether.
But it seems that Charli has had enough of the negative comments, tweeting: "STOP TALKING ABOUT MY BODY!"
"It's not your place to tell me if I'm losing weight or gaining weight," she continued. "Why don't we all just be respectful and understand that we should just be kind and uplift everyone instead of trying to bring others down."
Talking about how she'd seen videos which criticised her and her friends appearances, Charli added: "It's never okay and I feel like I really needed to say that. I love you all but please stop!"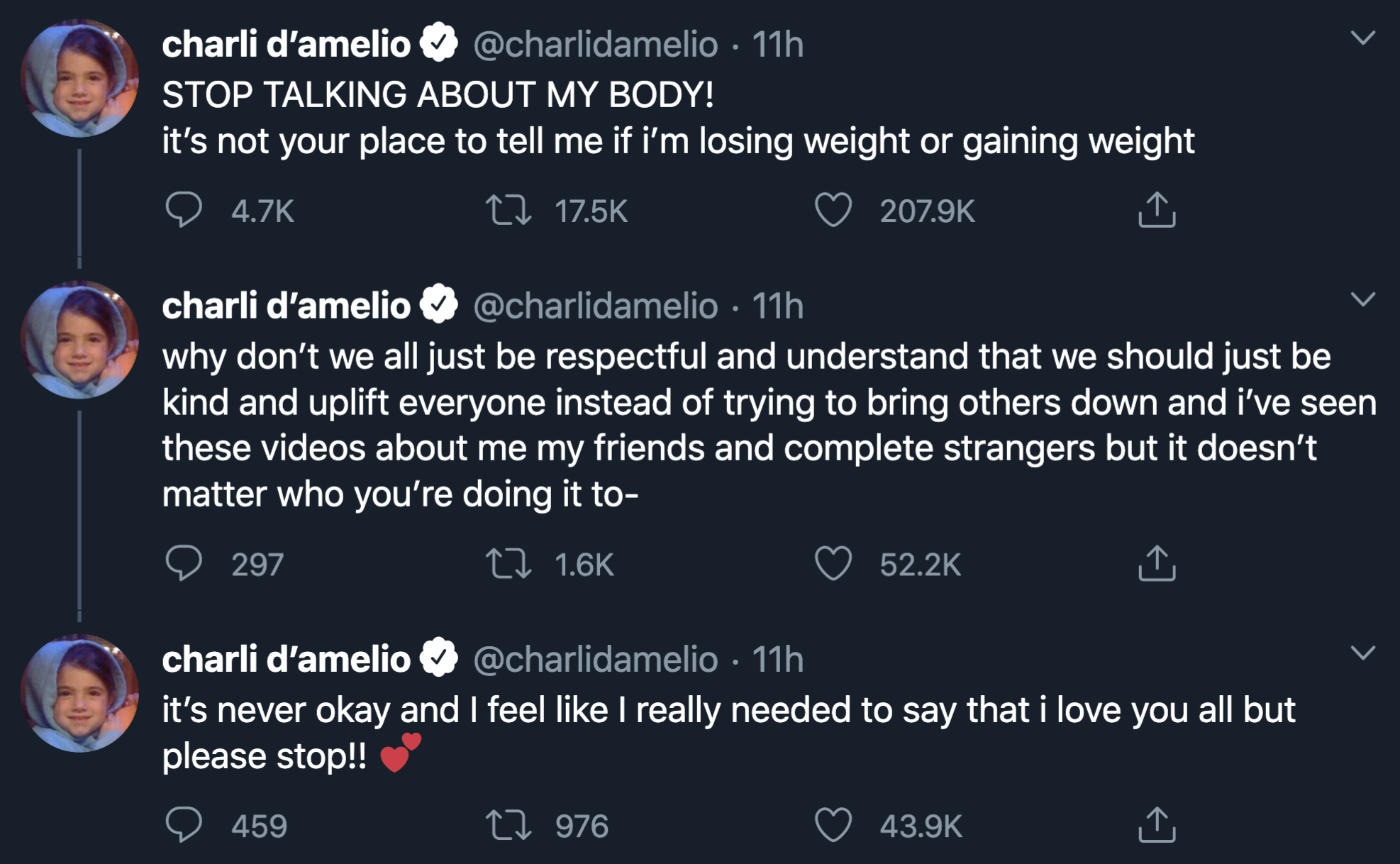 And Charli wasn't the only one who felt the need to address the body-shaming they'd been subjected to — close friend and fellow social media star Addison Rae also tweeted: "It is not your job to judge the appearance of another persons face and/or body."
"Just because you can be mean to someone, doesn't mean you should be," the 19-year-old continued. "I feel like we've all heard the saying 'if you don't have anything nice to say, don't say anything at all' at least once growing up... why can't we live by that?"
Addison went on to call out people who tell her to "stop being so sensitive" when she reads comments about herself. She concluded her tweets with a simple statement: "Be kind more often."
Fans of both Charli and Addison immediately voiced their support for the social media stars, condemning body-shaming and the effect it can have.