OK, so by now you definitely know about COVID-19 (the disease caused by this particular strain of coronavirus) and the precautions people are taking to slow the outbreak (simply put, you gotta stay your ass indoors).
And, because celebs are actually not that much different from us, they're also staying inside and self-isolating. But I think it's fair to say some are dealing with it better than others...
Lady Gaga is on day six of quarantining and appears to be spending it with her boyfriend. They're passing the time by playing video games and also trying out some card games. All seems to be well in the Gaga household!
Miley Cyrus is using her time in quarantine to start a new talk show. Yep, Miley is releasing episodes of Bright Minded on Instagram Live, and today's guests include Rita Ora and Jeremy Scott.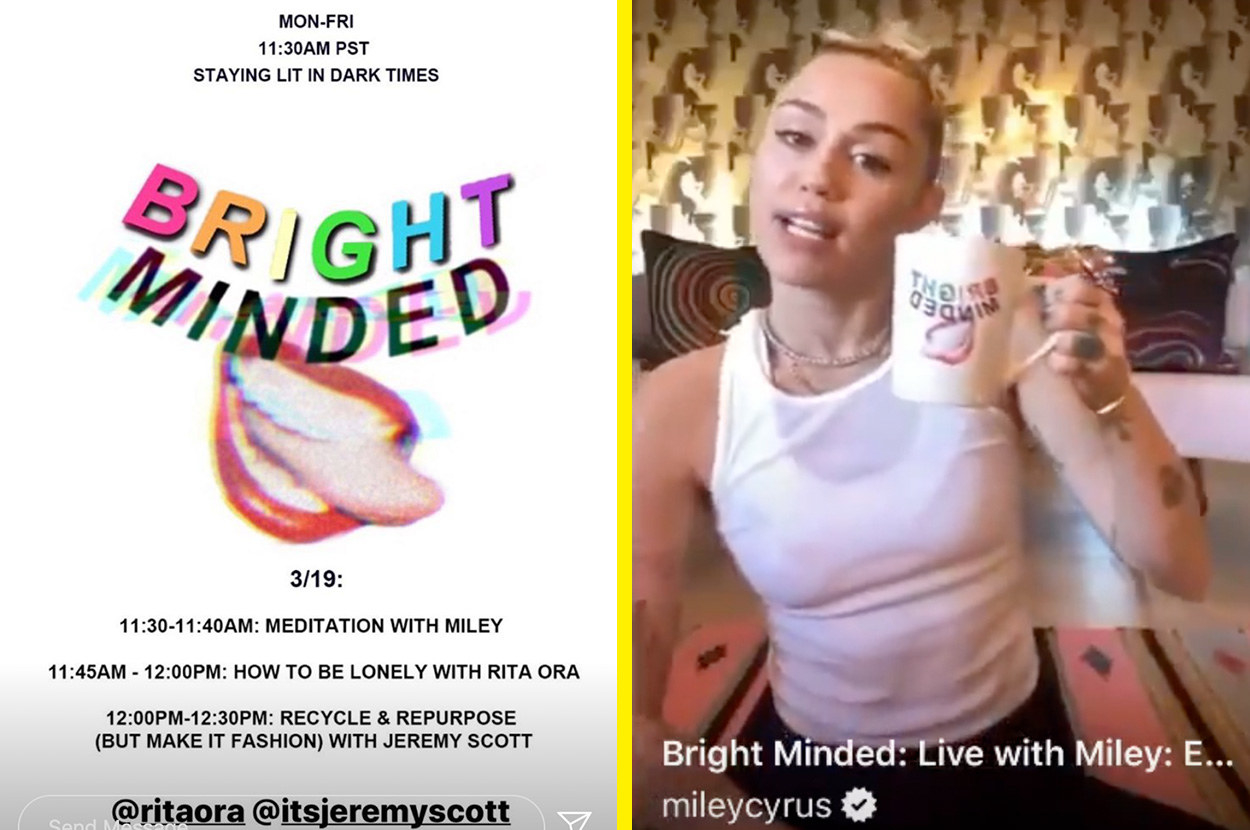 Like some other celebs (looking at you, Justin and Hailey), Serena is upping her TikTok game. She recently posted this video about how the coronavirus is affecting her, and in one 60-second video, she made quite a few costume changes. Everything OK, Serena?
Beyoncé appears to be at home like the rest of us, camped on the sofa and watching Netflix. I can't confirm this for sure because, you know, it's Beyoncé, BUT she did retweet (?!) this post about watching Homecoming with fans.
Ashley Tisdale is taking social distancing seriously and, in a pretty heart-wrenching post, she went to visit her mom and grandma but refused to get too close so as not to potentially pass on the virus.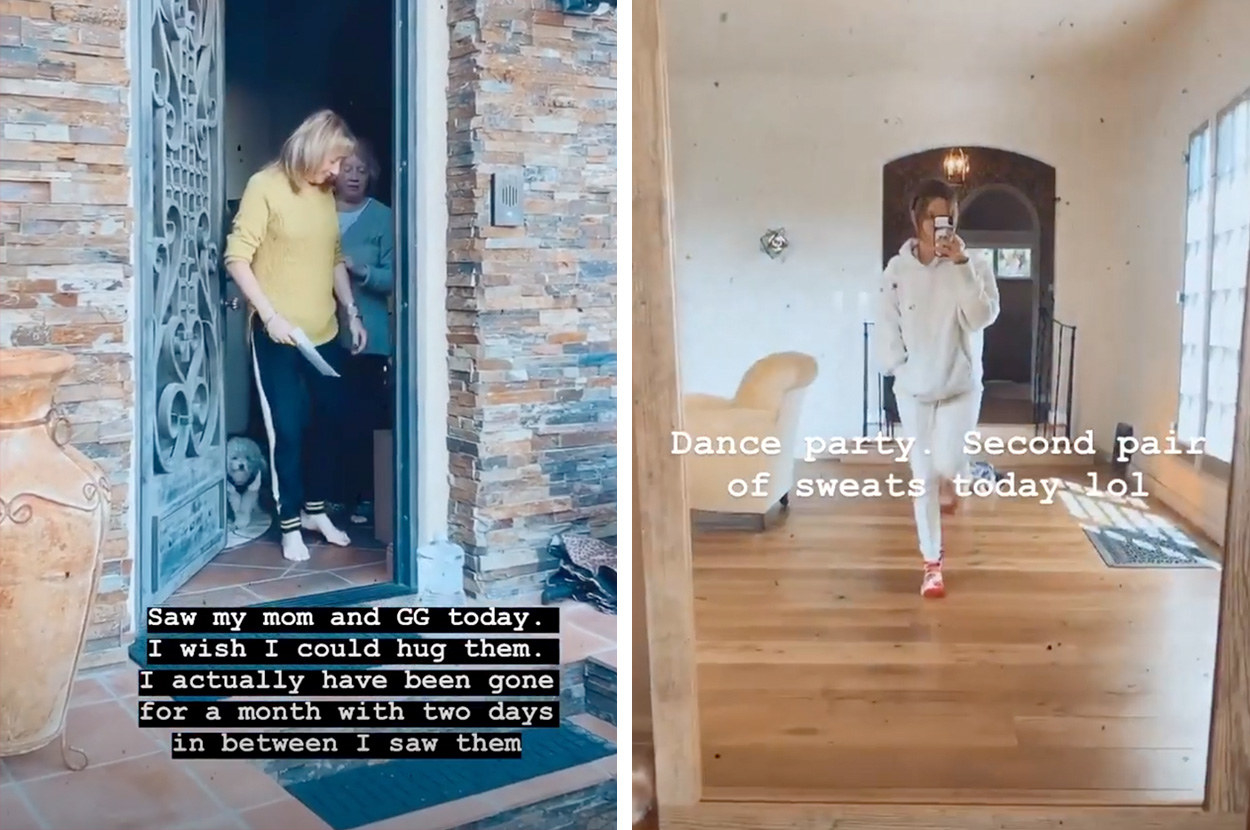 JoJo, iconic queen of our time, has rewritten her timeless hit "Leave (Get Out)" with some new coronavirus-themed lyrics. A song that calls COVID-19 a bitch? I will sing it from the top of my lungs.
Laverne Cox appears to be spending time in her rather large closet, dressing up in various outfits and doing what she does best — performing. She looks like she's having a much better time than most of us and I am only marginally jealous.
Bella Thorne has cracked the code on how to trick your body into thinking you're leaving the house — do your makeup as normal, then jump back into bed and binge some TV. Genius!
Sam Smith has used self-isolation to watch Bird Box, which...is a choice, considering it basically shows what the world will be like at the end of days.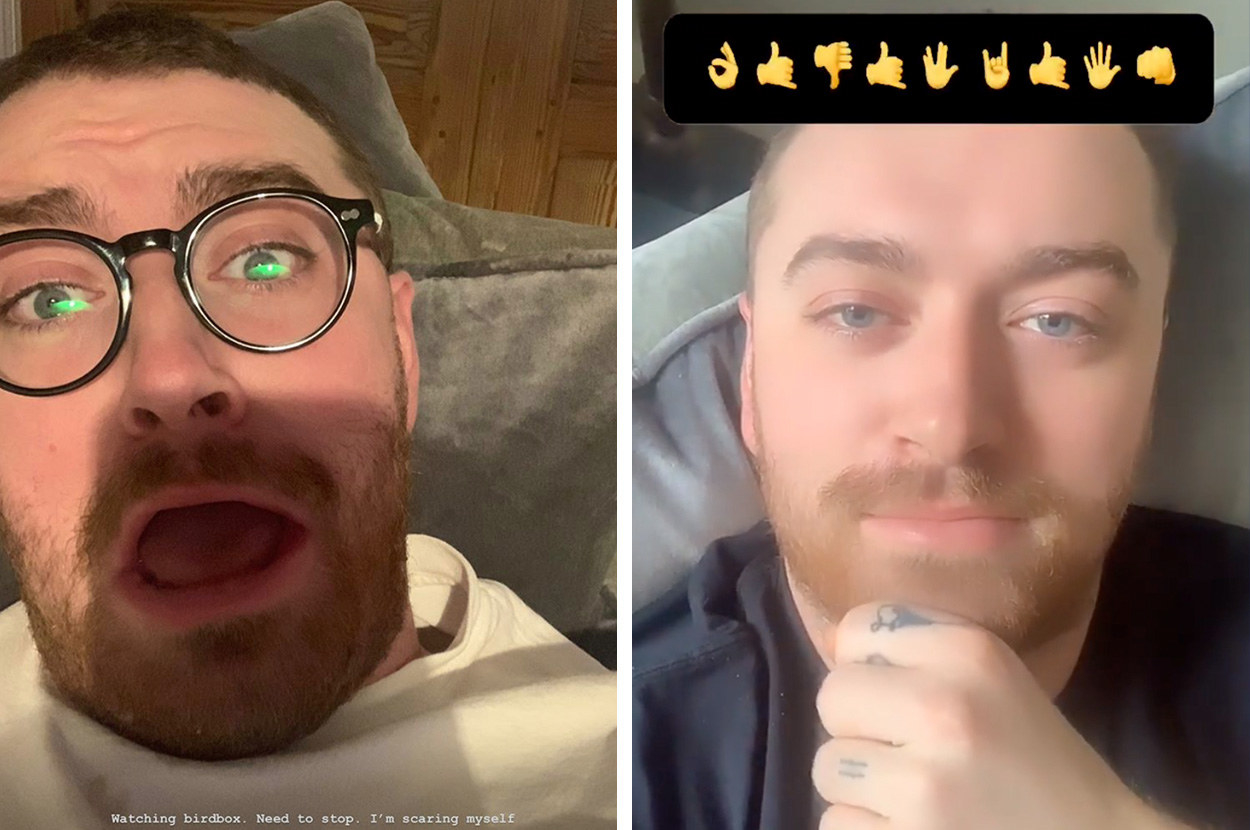 Kourtney Kardashian is giving out self-care tips during her quarantining. How to calm your nervous system in 90 seconds? Yep! Five-minute shoulder workouts? Of course. Tips for sex during social distancing? She's got you covered!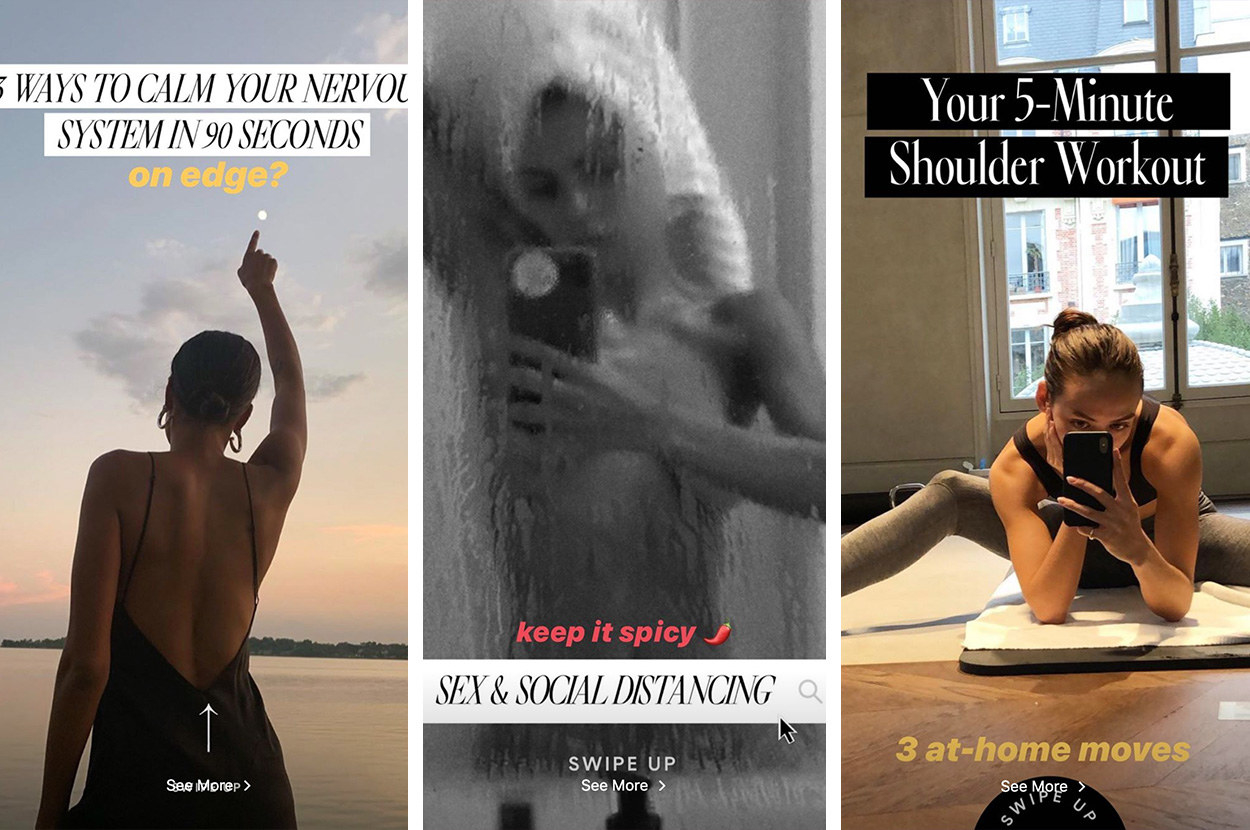 Jennifer Aniston appears to be doing OK, but her dog...not so much. Poor Clyde looks like he's having an existential crisis, which is a big mood if you ask me.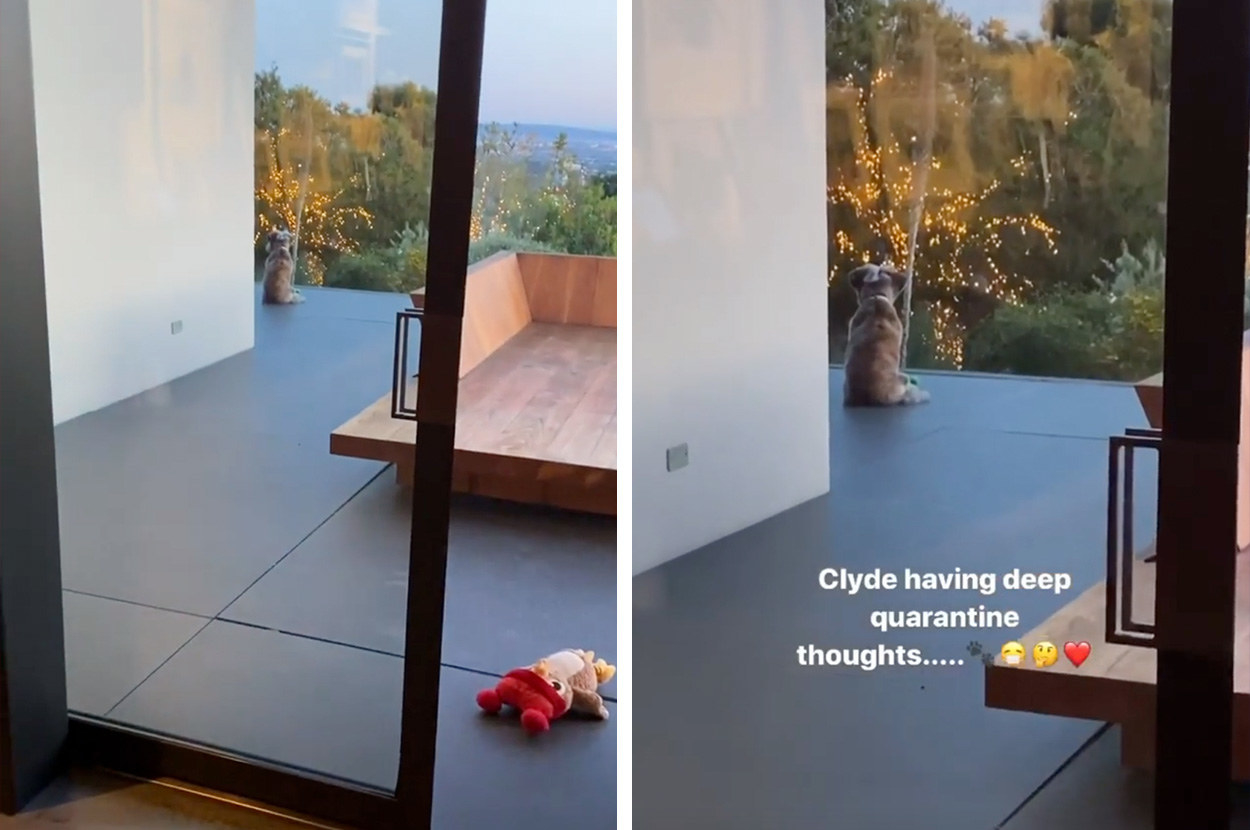 Ellen DeGeneres is high-key going through it by the looks of things. Laid out on her sofa, Ellen took to dialling a bunch of her famous friends for very awkward chats, including John Legend and Chrissy Teigen, and Justin Timberlake and Jessica Biel.
Noah Centineo has gone out, bought a brand new phone, and has since tweeted his phone number so he can text his fans. No, I'm not kidding.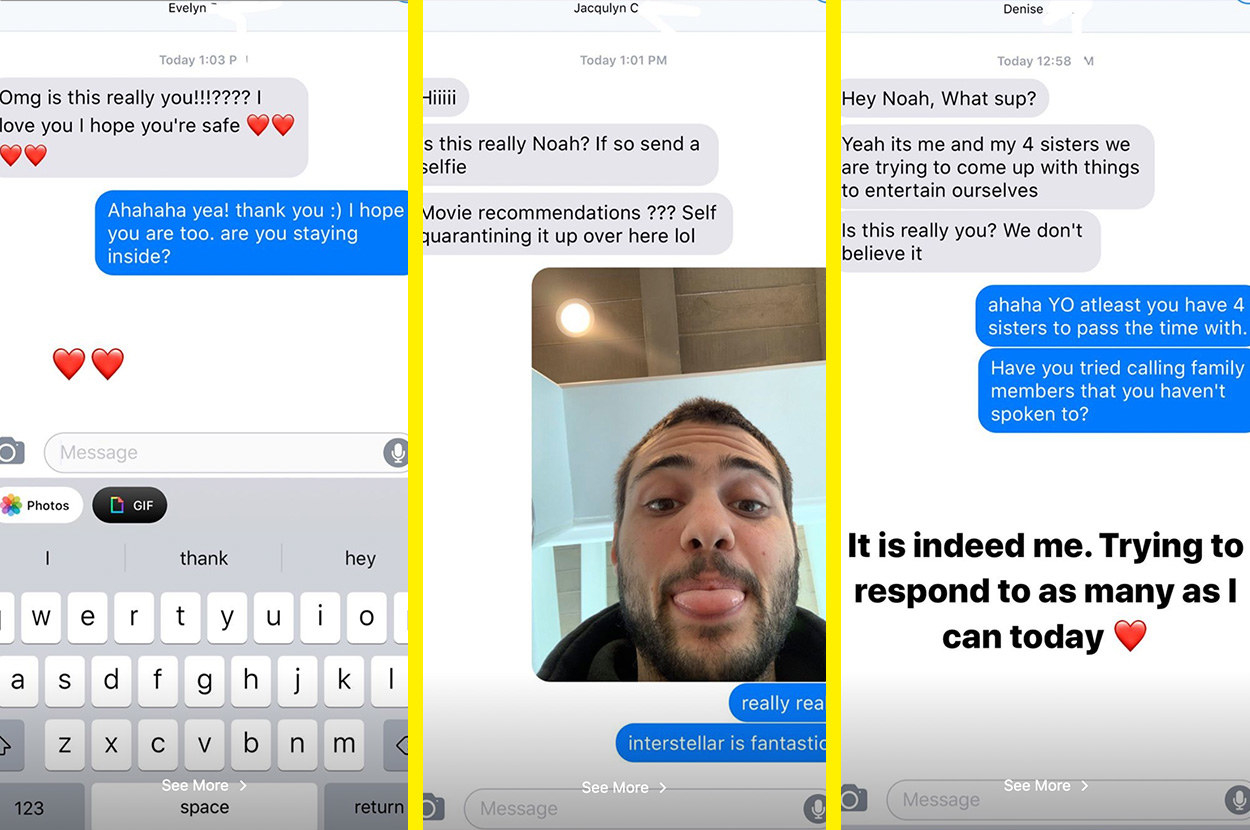 And then there's Cardi B and her husband, Offset. I think it's fair to say that they are both going THROUGH it.
Cardi, in particular, just wants to get dressed up, put on a fresh wig and get outside. But, since that doesn't seem to be happening anytime soon, she's taking to calling out the Pentagon and asking for answers.
In the same Instagram Live, Cardi could be seen eating a salad. However, as one person pointed out, she seemed to be eating the salad as if it were a chicken wing. Interesting!
So, it's fair to say that celebs are probably feeling much the same as the rest of us. Hope you're all staying safe, taking the appropriate precautions, and also WASHING YOUR HANDS!