Cake is one of the best things in this world. That's basically a fact and everybody knows it.
But wouldn't it be cool if you could make your own cake and really show off to your friends?
And wouldn't it be even better if there were sweets involved too?
Well say hello to the Pick 'N' Mix Piñata Cake!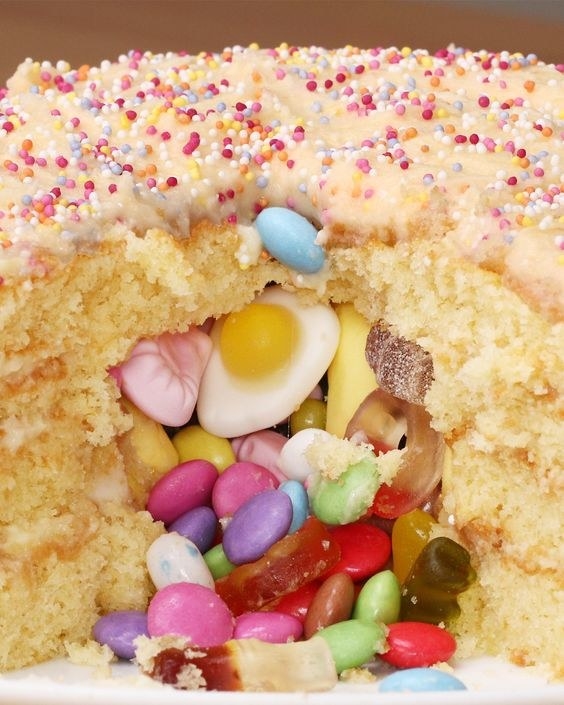 You'll be glad to know it doesn't require too many ingredients.
For the sponge cake:
• 200g self-raising flour
• 200g caster sugar
• 1 teaspoon baking powder
• 2 tablespoons milk
• 200g butter
• 4 eggs, beaten
For the buttercream icing:
• 250g butter
• 500g icing sugar
• 60ml milk
And you can obviously choose your own Pick 'N' Mix ingredients.
Then you can get baking!
PREPARATION:
1. Preheat oven to 180˚C/350˚F, and grease and flour four sandwich tins.
2. Mix together all of the sponge cake ingredients until smooth and lump-free, then transfer the mixture to the sandwich tins. Bake for 15 mins, until golden and a toothpick comes out clean. Leave to cool inside the tins.
3. Soften the butter in a mixing bowl and add half of the icing sugar, beating together until smooth and combined. Add the other half of the icing sugar and a tablespoon of milk, and beat together. Add more milk to loosen, if needed.
4. Cut a medium-sized hole in two of the sponges and set aside. Ice the bottom tier of the cake, then stack the two with holes in them, making sure each layer is well iced. Add your desired pick 'n' mix until full, then add the top layer. Ice the rest of the cake.
5. ENJOY!
And once you've done that, you'll have your fancy ass Pick 'N' Mix Piñata Cake to show off to your friends. YAY!