Beyoncé Basically Just Slayed The Whole Grammys Weekend And I Still Can't Breathe
Look after look after look.
By now you probably know that Beyoncé and Jay-Z attended the Grammys last night, along with their daughter Blue Ivy (who was kinda unimpressed by it all, but that's another story).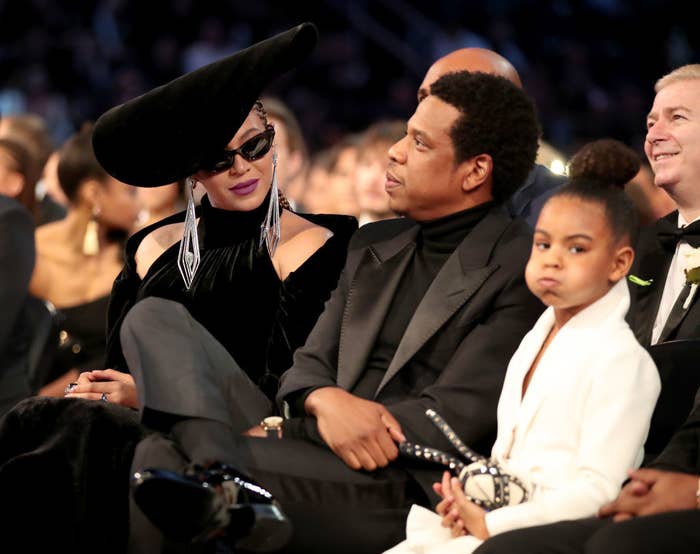 And obviously Bey, who unfortunately didn't bless us on the red carpet, absolutely slayed. But that was actually her third slay of the weekend because she hasn't let us breathe since Saturday.
It started with the Roc Nation pre-Grammys brunch.
I'm not one to circle rumours, but I've heard that apparently angels cry with envy when faced with the beauty of Beyoncé Knowles-Carter.
And if that wasn't enough, in the same day, Beyoncé then attended the Clive Davis pre-Grammy party. She really wasn't coming to play at this point; it was over for all of us.
This woman got to experience it firsthand and tbh, same.
After turning two looks and letting us have it, you'd think Queen Bey would give us a break, but then the Grammys rolled around on Sunday and she had to do THIS.
YES WAIST. COME THROUGH WEIRD BUT GLAM HAT THING. KILL US WITH YOUR SHINE, EARRINGS.
It's unconfirmed, but apparently the reason Beyoncé wore sunglasses with this outfit is because we'd all turn to stone if we looked directly at her.
Now if you don't mind, I'll be lying down with an oxygen tank trying to remember how to breathe again.