Anne Hathaway's Met Gala Wardrobe Malfunction Will Make You Cringe So Damn Hard
Don't sneeze at the Met Gala!
The last place on Earth you probably want to have a wardrobe malfunction is the Met Gala. I mean, it's basically the most anticipated night in the fashion calendar, attended by the most famous A-list celebrities on the planet.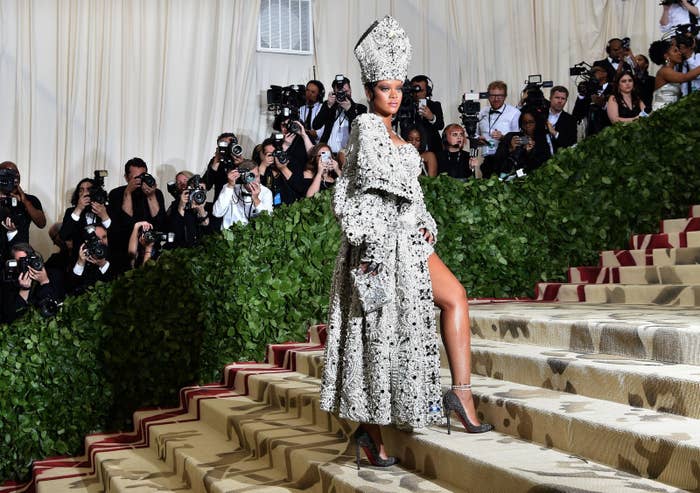 So, you can maybe imagine Anne Hathaway's horror when, on her way to the Met Gala back in 2014, she experienced the mother of all wardrobe malfunctions. In fact, in a recent appearance on The Late Show With Stephen Colbert, Hathaway revealed that the wardrobe malfunction was so bad, it was hit or miss whether she would even make it to the Met Gala at all!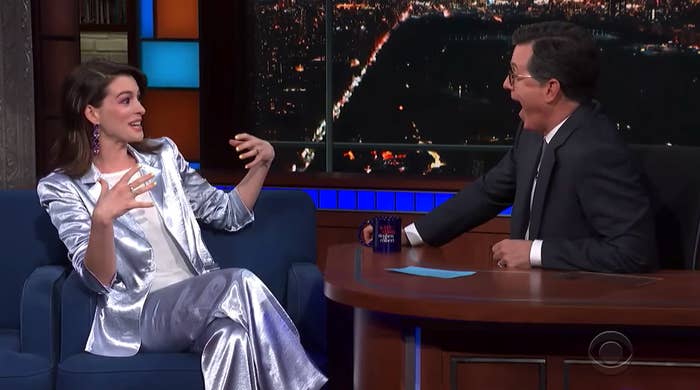 She explained: "I was about a block away from the Met and I was like, 'Wow, this is ama—' I sneezed and my dress split. Like, just straight up split open."
A single block away from the Met Gala, one of the biggest fashion events of the year, and your dress splits? I want to cry just thinking about it.
Things got a little more awkward when Hathaway pulled up to meet the designer, Calvin Klein's Francisco Costa, and had to tell him the dress had just split.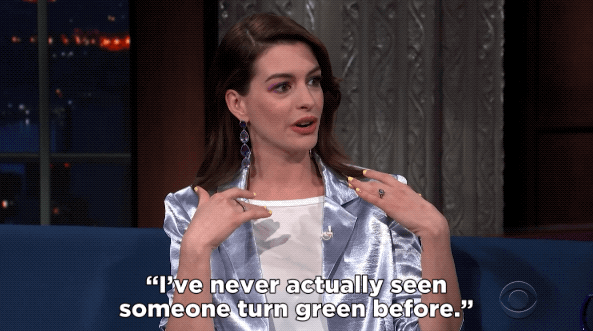 So, what do you do when your dress is all but done for? Hathaway's initial idea was to just walk the red carpet anyway while low-key holding the dress together. Then they could get inside and find a needle and thread to solve the problem. Unfortunately, Costa wasn't a fan of this plan.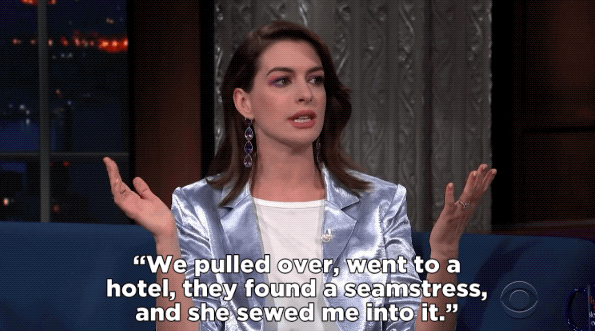 However, by the time the dress had been fixed, Hathaway was worried they wouldn't make it to the Met Gala before the red carpet closed. Spoiler alert — Cinderella did go to the ball!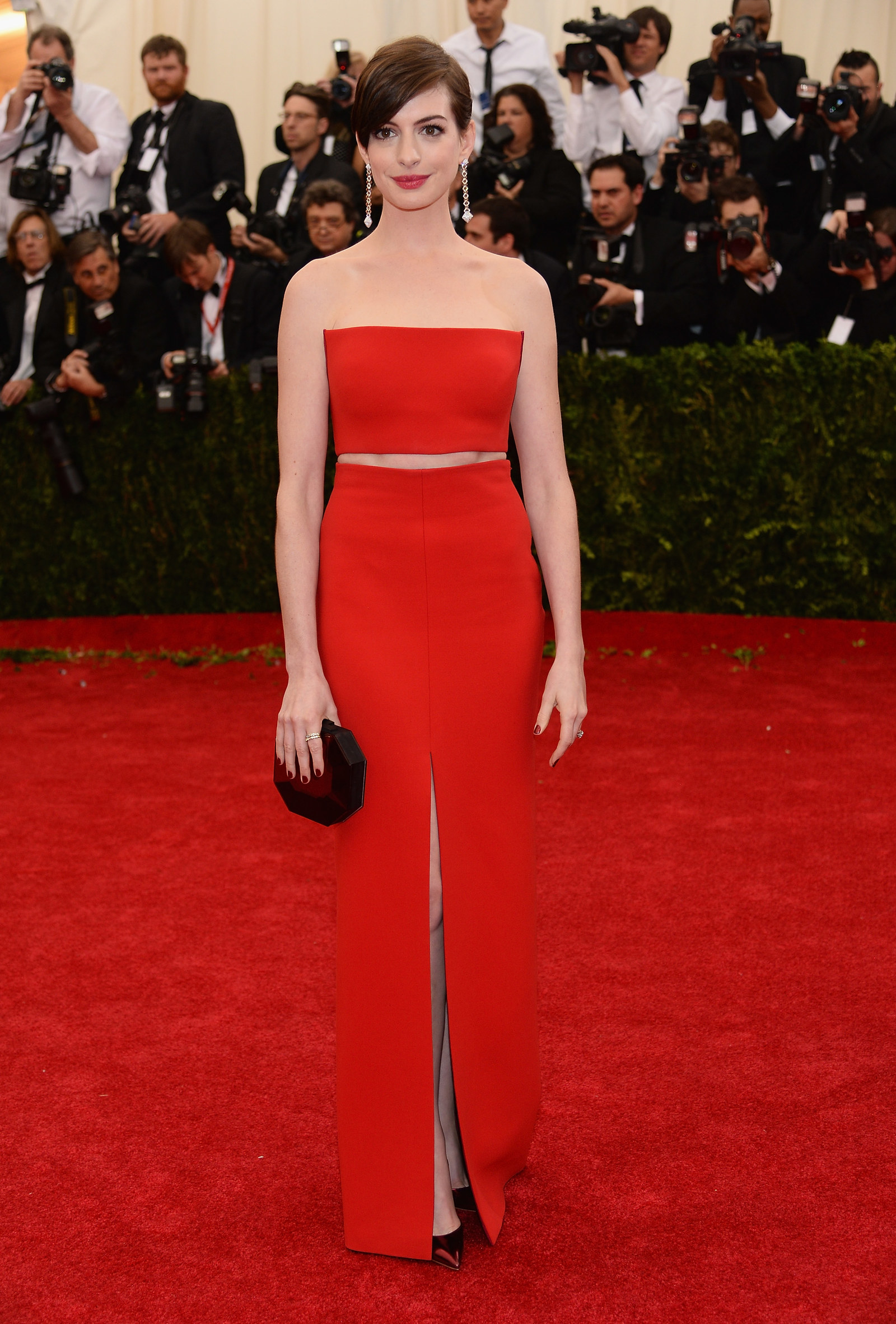 Hilariously, though, when Hathaway finally got to the red carpet, she was slightly confused because it was basically empty, and she soon found out why...
So, in light of that information, I'd like to think this picture shows Hathaway and a couple of other people hurrying to get out of Rihanna's way.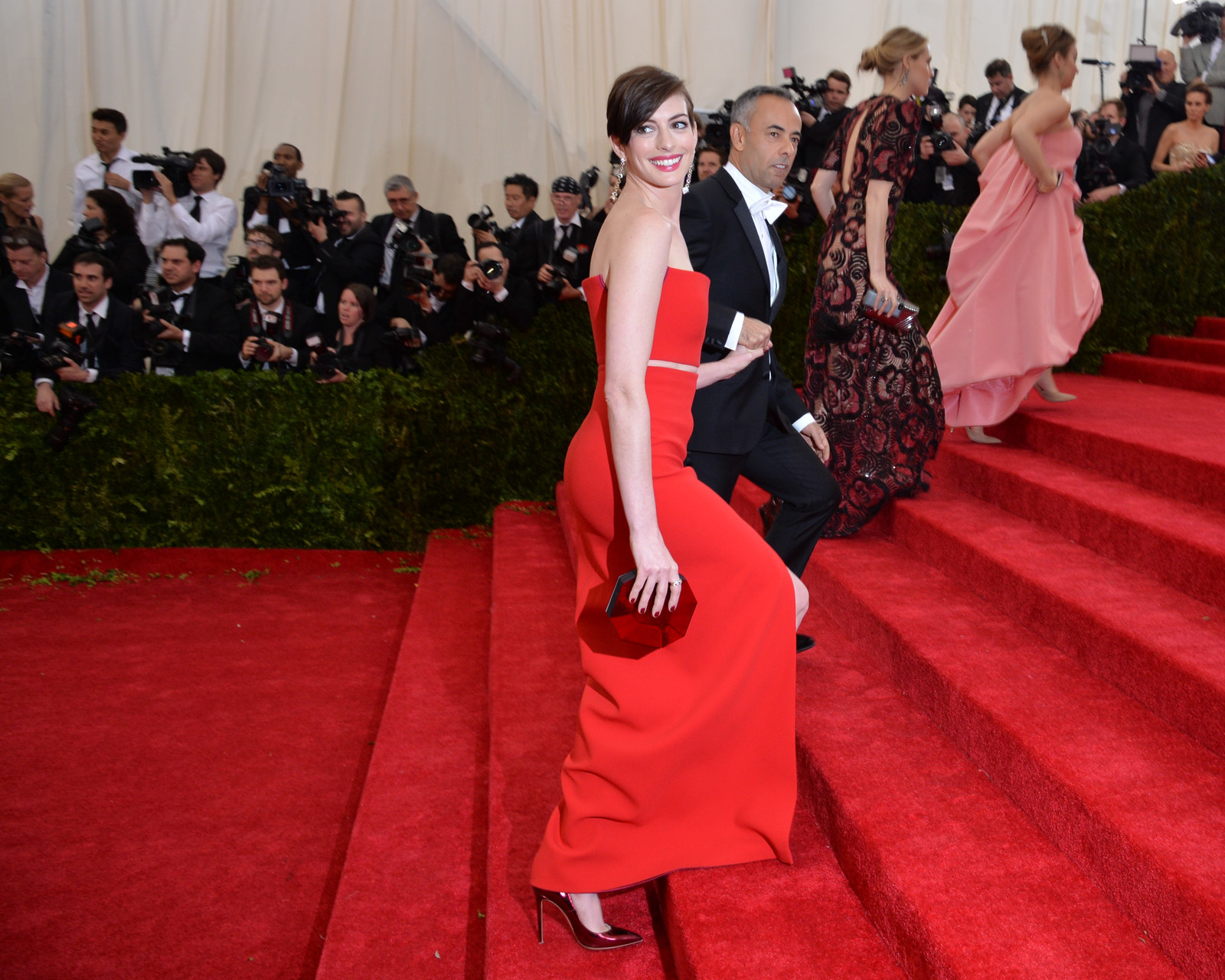 Just in case you're interested, here was Rihanna moments later.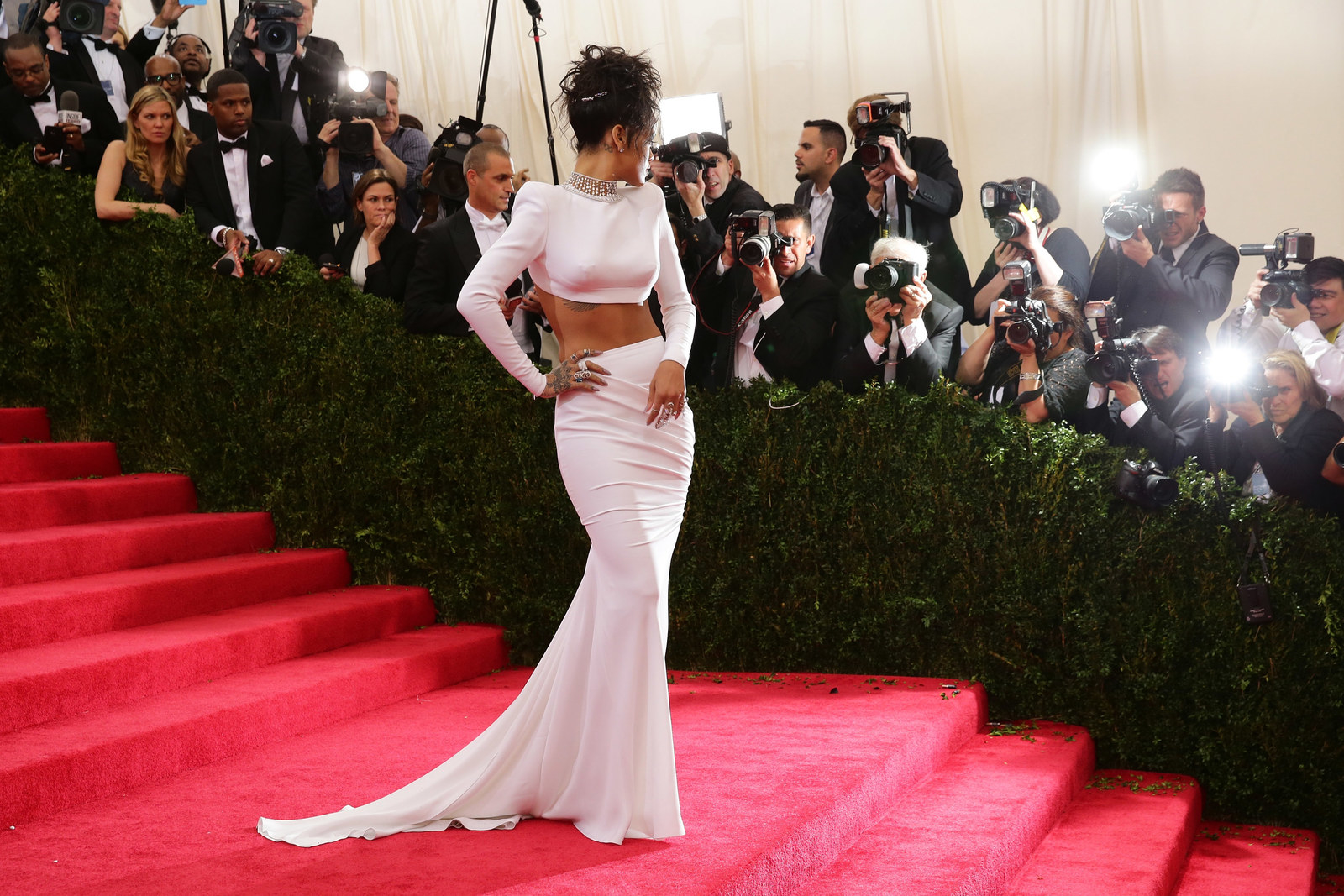 To make things even better, though, Hathaway then revealed to Colbert that she'd also had a wardrobe malfunction just before she sat down for the interview!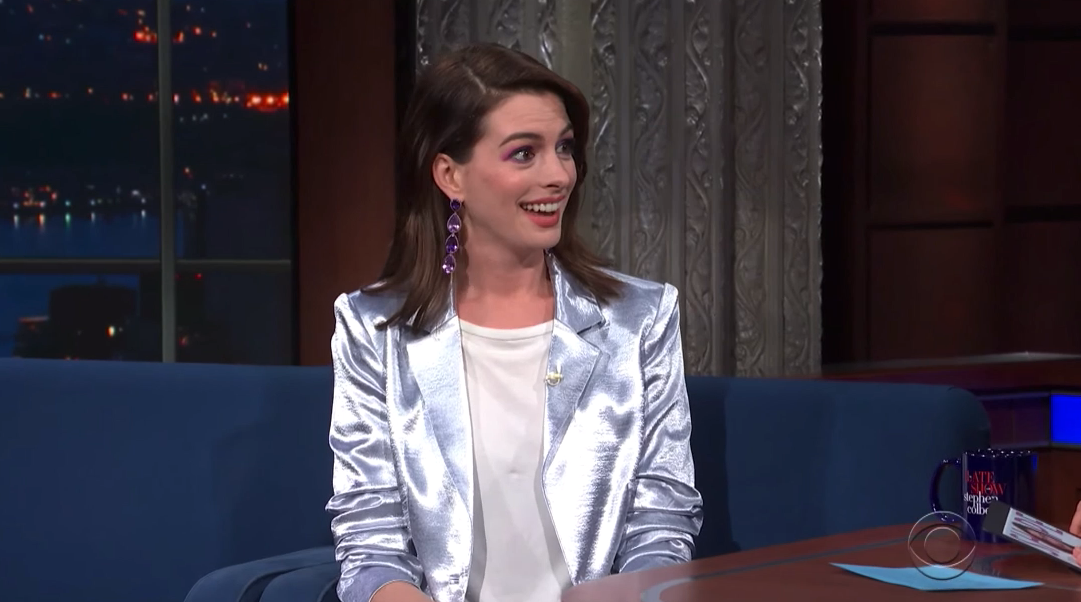 In paparazzi pictures that show Hathaway arriving at The Late Show set, she appears to be favouring one particular pose. You might also notice that she's not even wearing the same outfit.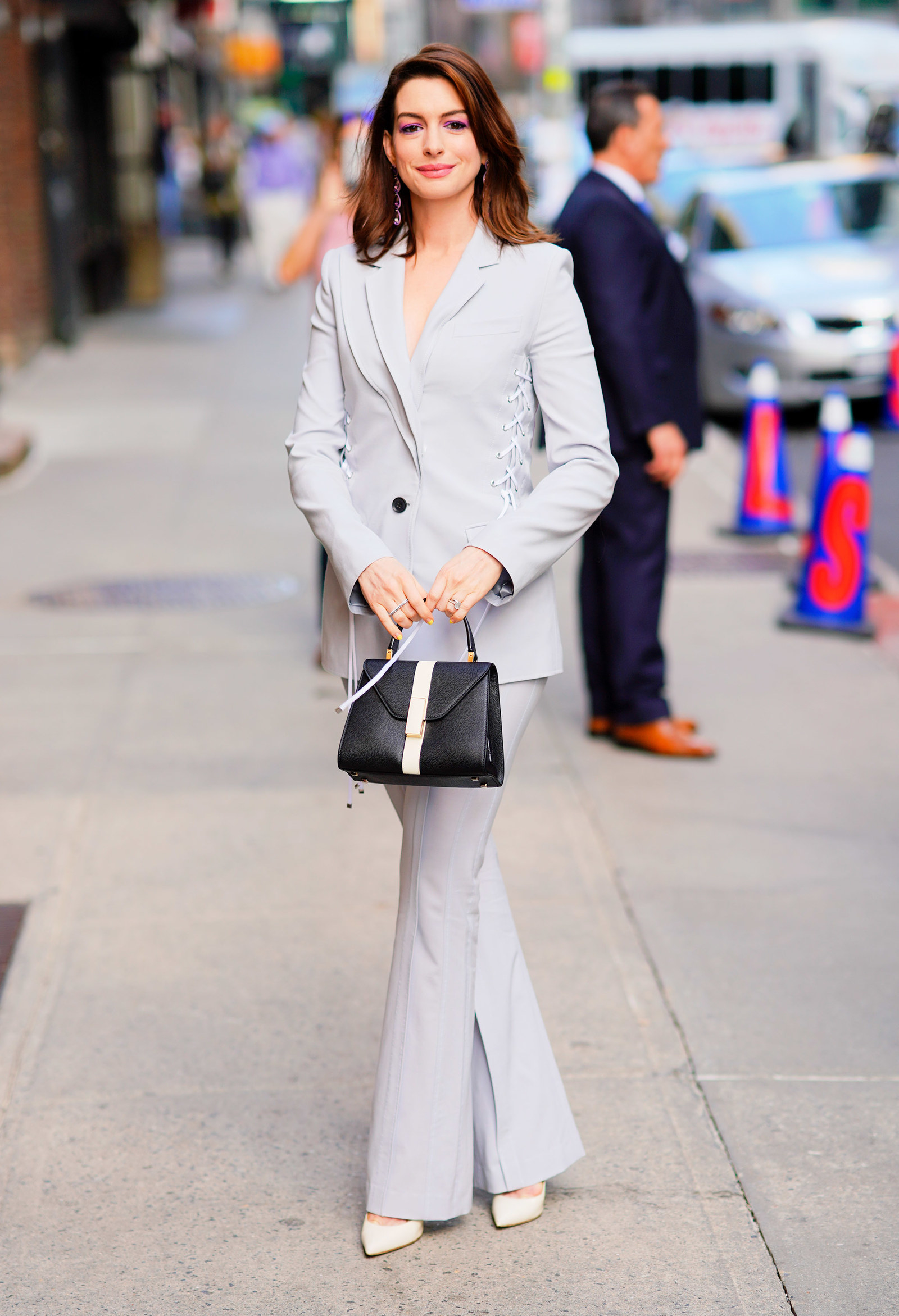 It turns out this is because she split her pants when she was in the car, and that pose was the only way to hide it! Good use of the handbag there, Anne.