Hi I'm Ben and ordinarily, I'm quite partial to a bit of exercise. But since being confined to my one bedroom flat back in March, I've found it hard to stay motivated and getting my sweat on has become a bit of a chore.
One day, while doing the usual Instagram-scrolling-on-the-sofa-routine, I came across a video of a fitness coach throwing around an umbrella in his kitchen, and naturally I was intrigued. The man behind the madness was Coach Cory, head coach at Nike Running and founder of cult running crew Track Mafia, who since lockdown has been offering "fun indoor workouts that people with no equipment could do in their homes".
Sold by Cory's amazing and simple approach to fitness, I decided to follow one of Cory's 15-minute workouts every day for week to see how it would impact both my physical and mental health, and to see if I could actually have fun whilst working out at home! Here's how it went...
Day 1: When Cory told me I would need a kettle for my first workout, I was a little confused but excited to see what he had in store for me. Cory's mantra is to make workouts as accessible as possible, so he uses household items instead of traditional gym equipment – making it easy for everyone to get involved. So I swapped my kettlebell for an actual kettle and turned up the heat (to boiling point).
Pow! 15 minutes of kettle thrusts, high kicks and fast feet certainly triggered those endorphins! There is something about Cory's energy that is just so infectious, you can really tell that he's enjoying himself when he's busting his moves and this really rubs off as you can see by my face!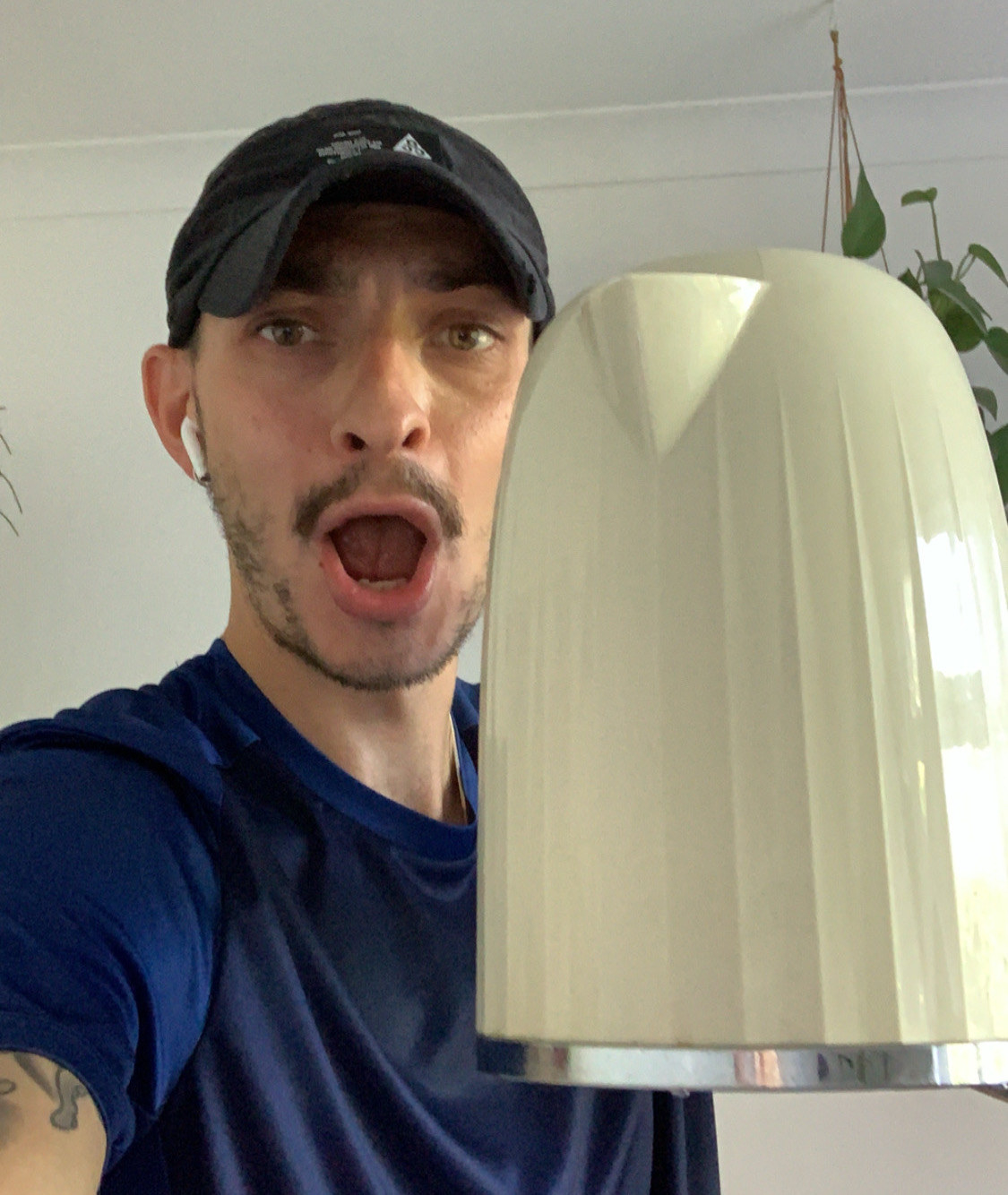 Day 2: Cory had another workout for me today and it was time to hit the books! (I opted to save my arms by leaving my copy of War and Peace on the shelf). Books in hand I was feeling good and ready for another workout!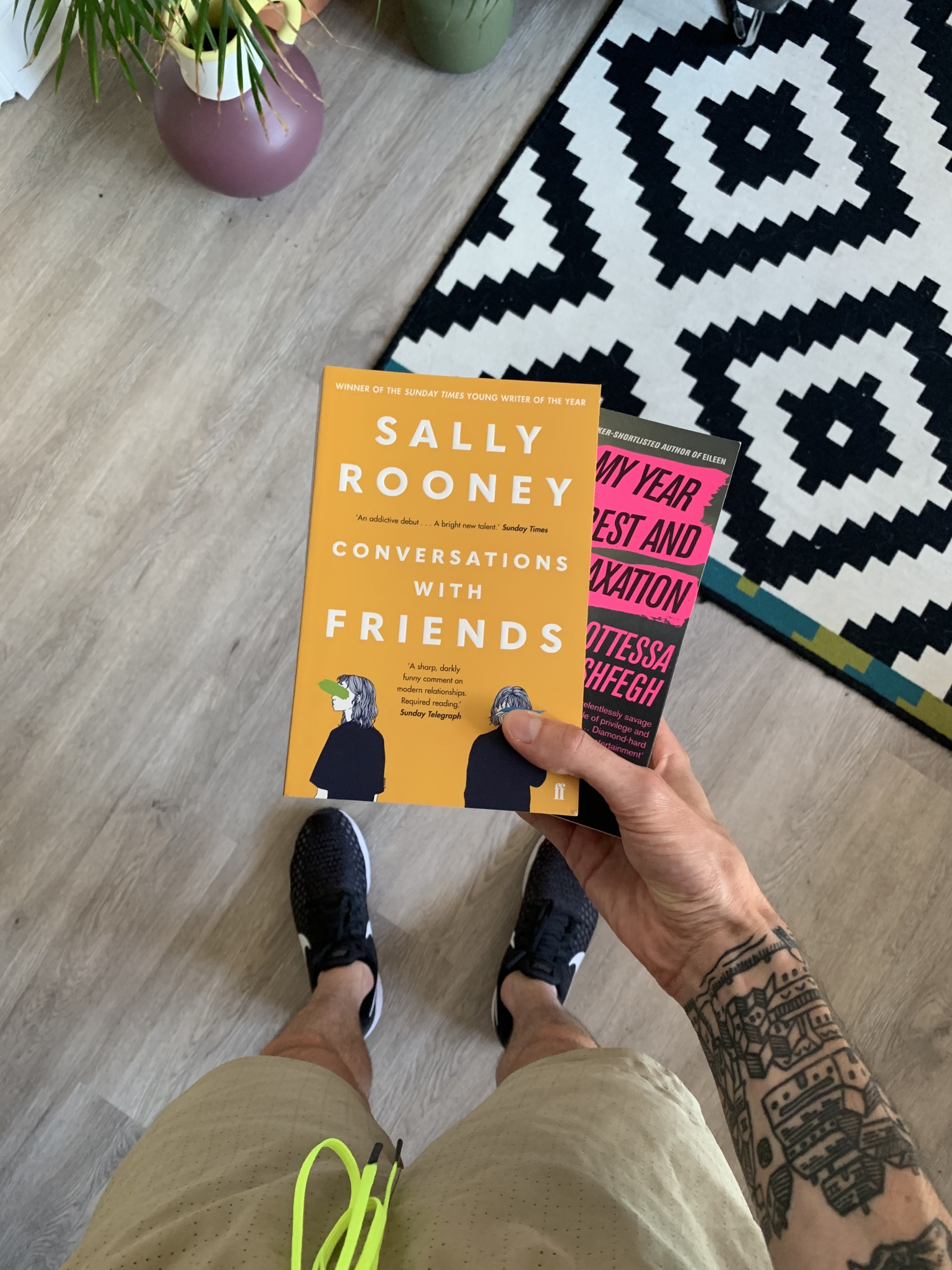 If it looks like I'm having fun, it's because I really am! Here's me and Cory "smashing the duppy", feeling like Zorro! As someone who likes to take my workouts (semi) seriously, but myself not, this workout was perfect for me. I had such a good time slicing up fictional ghosts in my front room it didn't really feel like exercise!
Day 3: Time to start tossing the big frying pan about! I don't usually have to think about washing the pots before working out but after a quick scrub I grabbed my pan and was ready to go! Another thing I love about Cory's workouts are the names he gives for each activity, not only are the workouts themselves super creative, he also comes up with his own unique names for all the moves – today would include moves like "Side Skank Fling Water".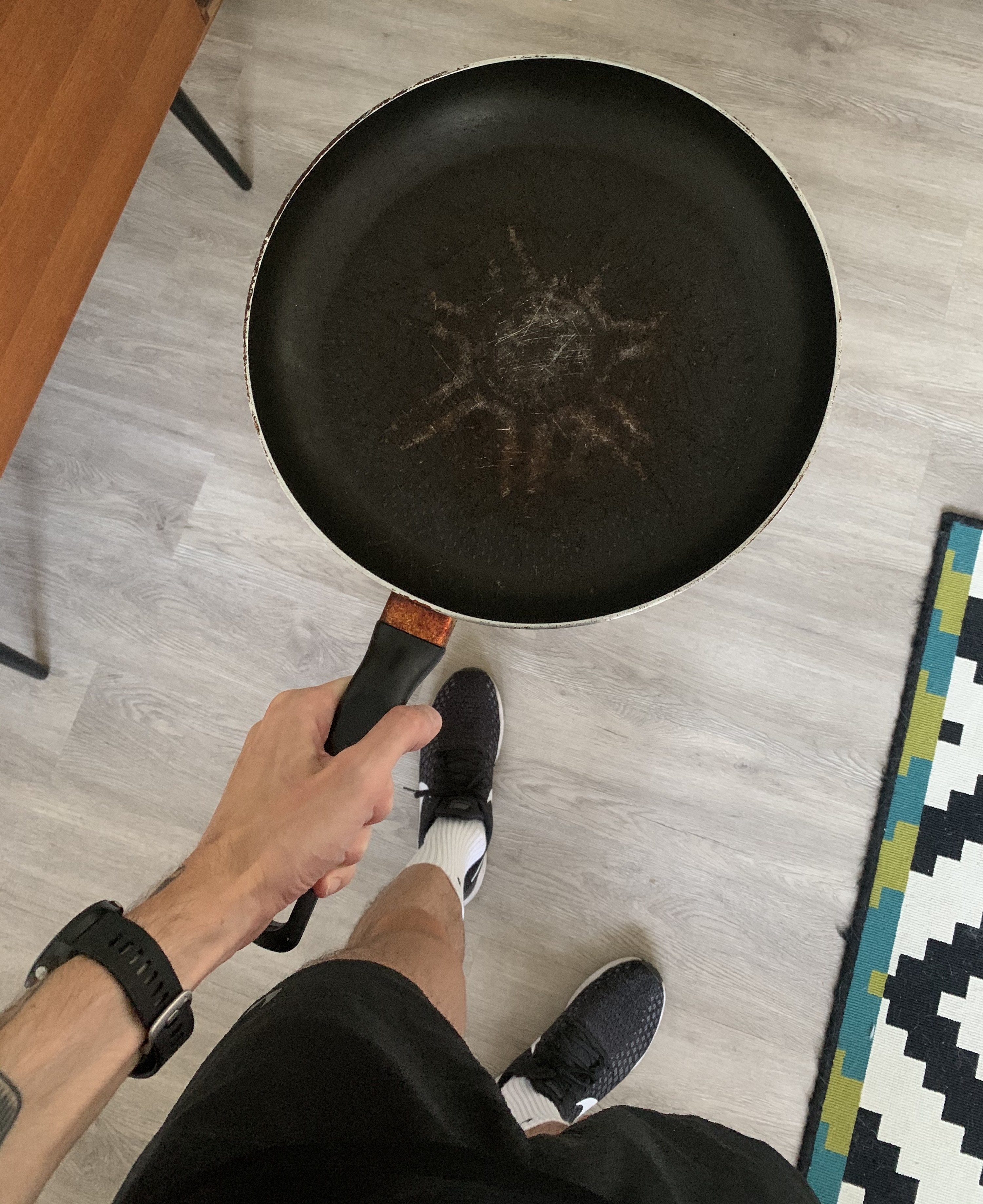 Feeling like a mixture between Roger Federer and Mary Berry I swung that pan around like it was nobody's business! Today's workout was extremely fun, forehanding and backhanding a frying pan is definitely not something I ever imagined would be a part of my workout but I was 100% here for it.
Day 4: Today's workout involved some wooden spoons and a lot of skiing-based activities, so despite it being hot as hell in my flat I'd need to channel my inner alpine skier! With a mixture of downhills and drum solos this was probably my favourite workout yet!
Day 5: Today all I needed was a bowl– I was flinging invisible water all over the place and loving it!
As the days progressed, I found myself getting more and more into the workouts. Even where I was supposed to be having 30 seconds rest in between moves, I would find myself dancing to the music...
So after a week of Cory's at home workouts what are my key take-aways?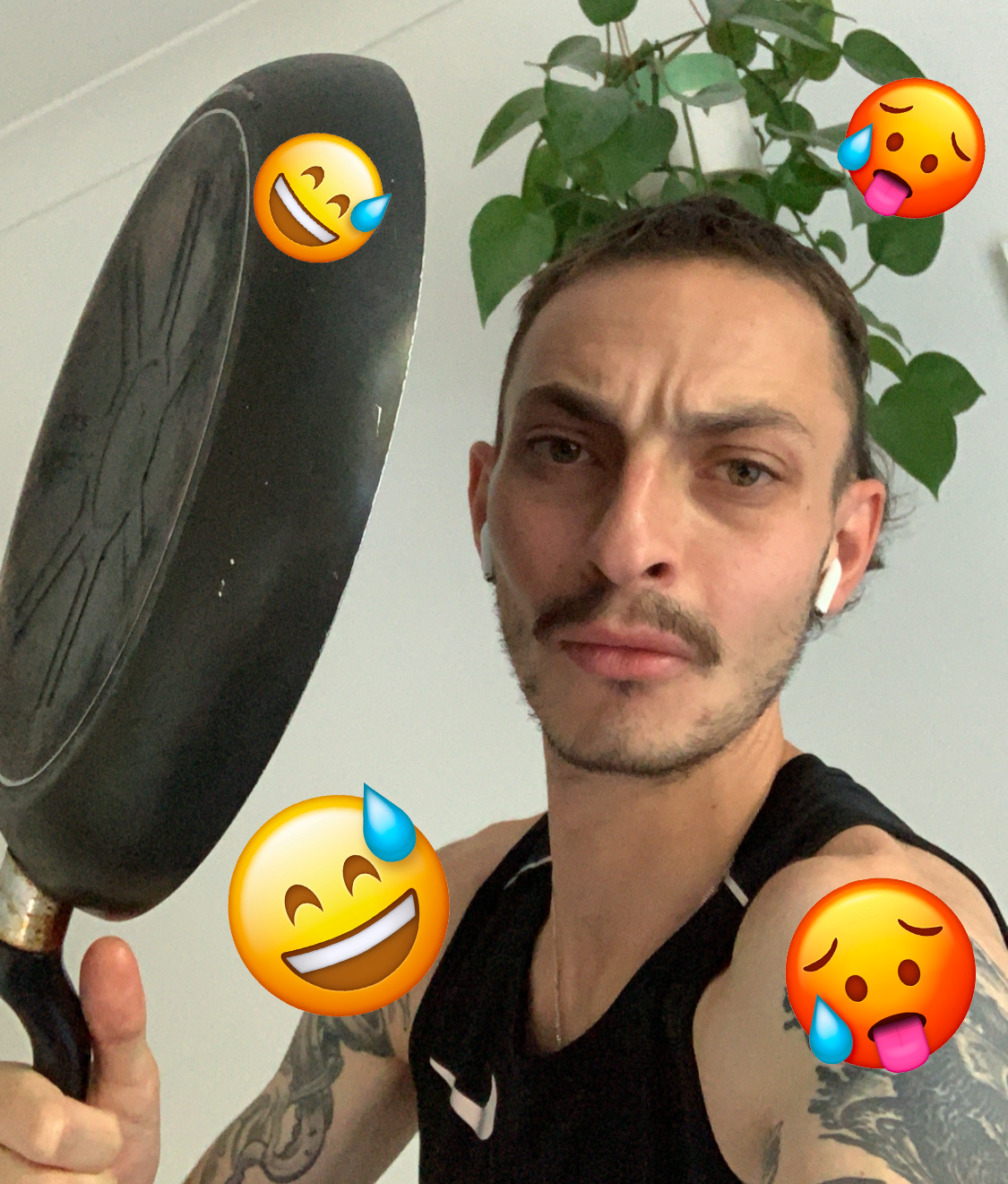 Ultimately I felt like I cracked the code (even though it really wasn't that difficult in the first place) – the secret to having fun whilst working out is really to not taking it too seriously. Big shoutout to Coach Cory for showing me that a pair of spoons is sometimes just as good as the stair-master!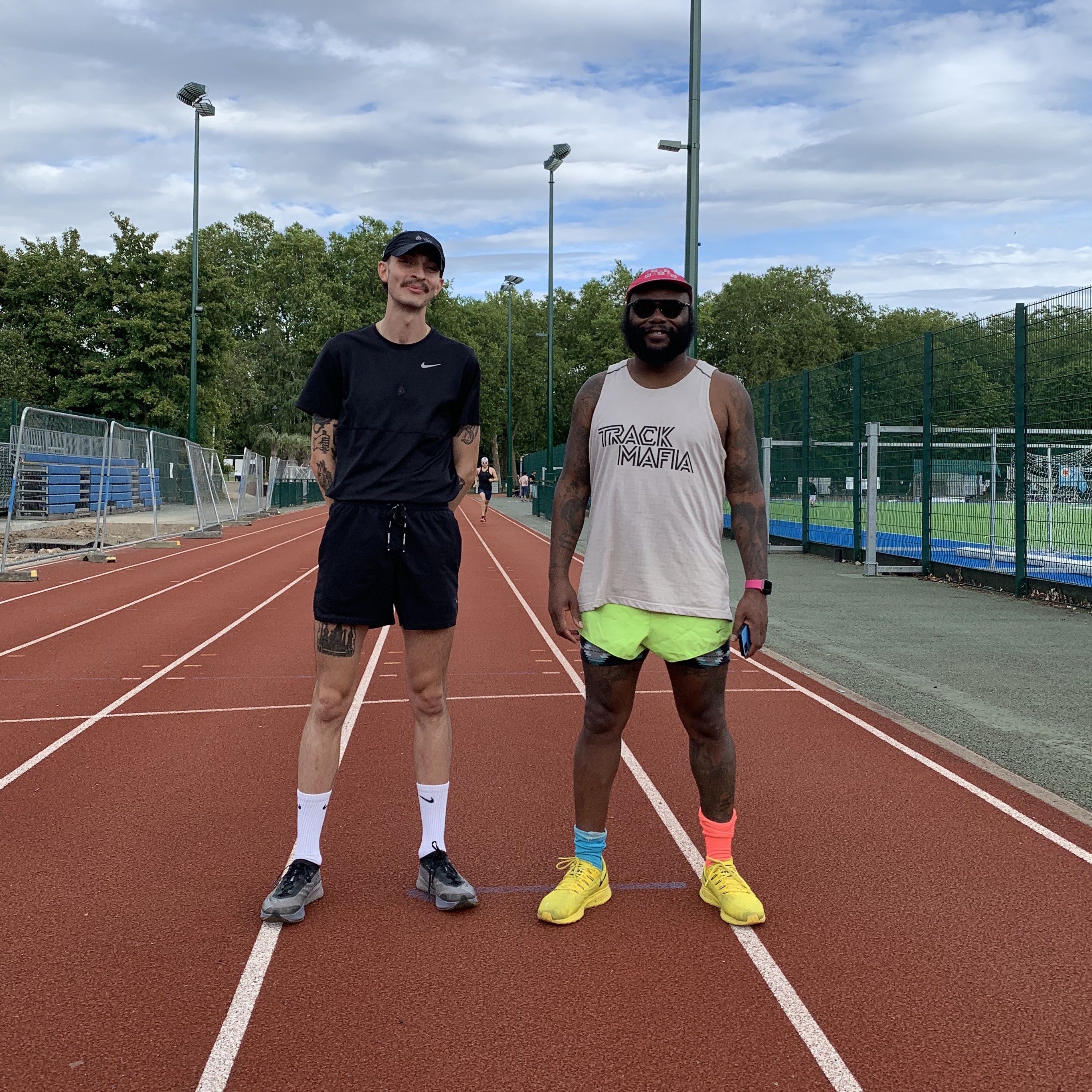 Now the week is over, I'm definitely going to continue to do Cory's workouts a few times a week to keep bringing the positive vibes. If you would like to do the same, you can find lots of his workouts over on his Instagram, ranging from 3-30 minute videos which are all currently free! You can also see more videos over on the Badu Sports Instagram page. If you're like me and running is your thing but have found it hard recently, you can also do guided runs with Coach Cory using the Nike Run Club app.