1.
A kitchen s'mores maker that'll bring the best part of camping indoors, thus eliminating the need for camping at all. Indoor people, rejoice!
It even comes with two roasting forks!
Promising review: "We have been really enjoy this little s'mores maker — it's not big, doesn't take up a lot of space, but does exactly what it's meant to do. We can't build fires or anything like that around where I live, so this was our next best option. It's worked out great for us. Only thing is it only has two of the little roaster sticks, so if you have multiple people roasting you would need something else to use to stick your marshmallow on." —Debb
Get it from Amazon for $27.99.
Check out the TikTok here.
3.
The Pink Stuff, an all-purpose paste that you can use to clean basically anything. Scrubbing will be a thing of the past. And the future? Sparkly clean items as far as the eye can see. 
Promising review: "Oh my gosh — this stuff is a life changer! Used it to get my fiberglass shower totally clean. Nothing else would get it done, and this stuff brought my shower back to near new in one use. We've since cleaned a weird chalky film off our garage door, removed wall markings, and cleaned my storm door. We'll never be without a jar (or three) of this stuff. Worth every penny." —Nancy F.
Get it from Amazon for $3.50 (available in two colors).
Check out the TikTok here.

4.
An inflatable mattress that sets itself up. Seriously, plug it in, pick your firmness level, and watch it blow up on expandable legs.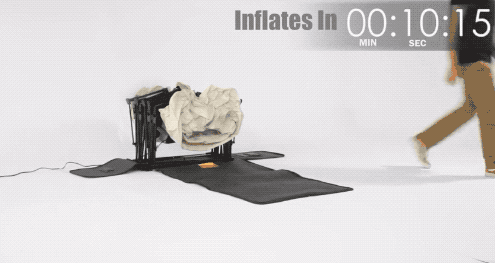 Promising review: "This has proven to be a great product. It inflated without hesitation. Plug in, push button, and stand back. The bed does the rest. It has proven to be durable and able to accommodate over 250 pounds. It has been used daily since purchased in early November 2020. The price is a bit much for an inflatable twin bed, but thus far it has proven to be well worth it." —Sandy D.
Get it from Amazon for $299.99+ (available in sizes twin–king).
Check out the TikTok here.
5.
A pet hair remover if you'd prefer your furniture to be fur-free. You can tell Fido to stay off the couch all you want, but dogs don't speak Human! Instead, use this roller to reclaim your seating.
Promising review: "Where has this been all my cat-loving life? Sticky rollers work fine for clothes, but this is the only product that has ever COMPLETELY removed all the cat hair from my bed. I have a long-haired 20-pound tabby, and if you run your hands up his back a few times and fling the hair everywhere, it looks like it's snowing — he never stops shedding no matter what I do. After using the ChomChom, I can put on a black dress and roll around on my bed and not get a single hair on me. It's absolutely amazing. Everyone is getting one for Christmas, even if they don't have a pet. I don't care — it's THAT good." —Stephanie
Get it from Amazon for $25.45.
Check out the TikTok here.
6.
Cloning paste that can be applied to any nodes on the stem of your plant to promote new growth. So see that leggy plant over there that's all stem, no bushy leaves? This fancy goo can help! It's made for orchids (hence the name; the keiki is a plant produced asexually by an orchid plant) but works on a variety of plants, like begonias.
Here's how it works: Find a node and peel away the bract to reveal the bud. Apply a small amount of the paste, and in two to eight weeks, a clone will grow out of the node! 
Promising review: "This is truly the best product I've ever purchased for plant rehabilitation. It literally and honestly does exactly what it's intended for. You know the plants that drop their bottom leaves, causing a stem or branch to become leggy? This is the fix! You no longer have to chop the plant and start over. I tested this on one plant originally. Every node where there was no leaf is now growing back. I've gone around and pretty much put it on any leggy branch or vine I could find. All I do is scrape the node, either with the end of the sticks provided or my fingernail, nothing fancy and I slopped the paste on. That's it. This is a must for those of us who love our plants!" —S Van Son
Get it from Amazon for $16.97.
Check out the TikTok by here.
7.
A sleek-as-heck USB alarm clock — seemingly every night stand has been sporting it lately. And with good reason! It has two USB ports for easy charging.
Promising review: "Love love love this clock...sleek and definitely a statement piece. Alarm is subtle; it will definitely wake you up; however, it will not scare the bejesus out of you. Love the extra ports on the side to charge other things with it." —Meika B.
Get it from Amazon for $23.59 (available in four colors).
Check out the TikTok here.
8.
A pack of eco-friendly sponge cloths that are highly absorbent and dishwasher-safe, so you can cut down on your — quite frankly — ridiculous paper towel waste.
Promising review: "I rarely write reviews, but these deserve a shoutout. SO much more substantial than Handiwipes and you can really, really scrub with them, but they never feel yucky like a sponge does. I have soaked them in bleach, thrown them in the washer, and they come out great every time. I've used the same two for a month now, and they still look great! When they go downhill, I can compost them. I only wish they had a few other colors, maybe a royal blue or sage green?" —Amazon Customer
Get it from Amazon for $20.95 for a pack of 10 (available in 10 colors).
Check out the TikTok here.
9.
A set of itty-bitty dermaplaning razors that will make quick work of peach fuzz, stray hairs, and eyebrows in need of a touch-up. 
This tool also helps soften skin by gently exfoliating as you use it!
Promising review: "I saw these on TikTok and was skeptical, but they work so well. I use them for any facial peach fuzz and to shape my eyebrows, and they're perfect." —Megan Kopicko
Get a set of three from Amazon for $5.93.
10.
An LED touch lamp – it just needs a gentle tap to switch between dimness levels. Oh, and it has four USB ports, so no need to battle over the one outlet next to the bed!
11.
A children's camera that beats taking pics on your phone: It's lightweight, adorable, has 15 photo frames, and boasts filters that put Instagram to shame. Amazon didn't have good review pictures, so I beg you to watch the TikTok.
It's charged with a USB port and comes with a memory card. 
Promising review: "Love it! Gonna document my summer on it, LOL! Got it because of a TikTok — video quality and pic quality look OK, but sound is awful, haha. Still cute and fun. I'm gonna order one for my little sister too!" —SG🦋
Get it from Amazon for $29.79+ (available in six colors)
Check out the TikTok here. 
12.
A genius soap dispenser and sponge caddy that keeps the soap directly under the sponge so you can apply more suds with a single push down.
Promising review: "I absolutely love this! I leave my sponge on top and do not have to reach under the sink to get my bulky Dawn dish soap bottle from under the sink every time I need it. It looks clean, and my friends that have noticed it said something about it. I highly recommend it." —Lisa Camarena
Get it from Amazon for $8.98+ (available in three colors).
Check out the TikTok here.