1.
Zesty Paws probiotic bites are chewable supplements with six probiotics to support gut function and encourage proper gut flora. Dogs love them, and you'll love them too when you see the difference they make!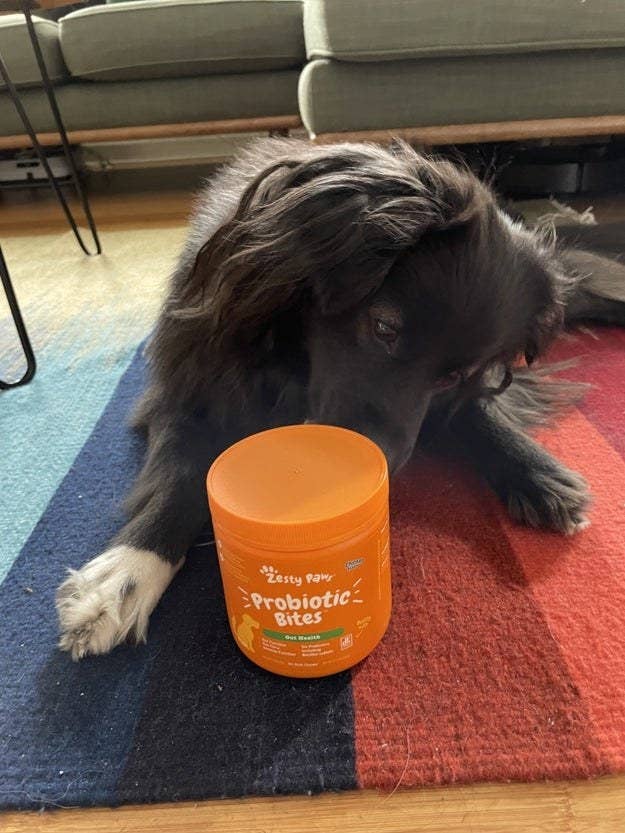 2.
Bernie's Perfect Poop are high fiber treats that help support your dog's immune system and increase absorption of nutrients and vitamins. On top of an iron stomach, your dog might enjoy a healthier coat and fewer allergies.

Promising review: "I've just happily ordered my second bag of Bernie's Perfect Poop, and we couldn't possibly be more pleased with this product. When we inherited our son's large dog due to his move, he somehow neglected to pass along the information that when the lovable furball farts, it takes the paint off the walls and sets the curtains on fire. Seriously: If the military could harness the power of this gas, it would definitely be classified as a 'Lethal Weapon Of Mass Destruction.' No matter what we tried (and we tried a LOT), by the time every evening rolled around, he had somehow perked whatever he had for breakfast into his own personal variety of mustard gas to share with us. However, as we sincerely love the big beastie, we figured we would give this a try. Amazingly to us, it started working right away, as in the very same night. Not only that, but he hasn't even once cleared the room in the entire month since we have started adding it to his breakfast. Additionally, his solid 'by-products' seem to be 'healthy' looking, and he is full of pep and vigor. I would definitely recommend this to anybody else whom might be experiencing the same pet co-habitation difficulties, because this stuff really works!" —D. Rose
Get it from Amazon for $13.99+ (available in two sizes and flavors). 
3.
Bark Eats works with you to figure out the ideal diet for Fido. Every month, you'll get 28 pre-portioned daily pouches with a unique blend that fits your dog's dietary needs. 
4.
Gek Naked's digestive health dental chew sticks work to clean teeth *and* support healthy digestion. Gotta love a multitasking product!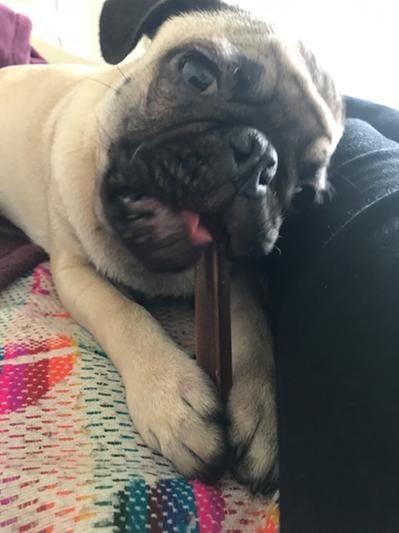 Promising review: "This product is the best thing I could've bought for my pup! My pug has a very sensitive stomach so I have to be very careful with any treat I give him. This has been great!! Keeps him entertained and his tummy is absolutely loves it. Also, doesn't stink so that's a plus!" —AnaT
Get about six sticks from Amazon for $8.99 or Chewy for $7.99. 
5.
Sundays offers a quick quiz before recommending which recipe your dog needs. Created by a vet and an engineer, the kibble is supposed to have a treat-like taste that won't upset your pup's sensitive tum. 
Cool feature: You can compare this dog food to what you're currently feeding your pup. Read more about why Sunday is great and even score $20 off your order. 
Promising review: "My dog is a 70 pound American Staffordshire/American bulldog mix. He has a sensitive digestive system, and it is very hard to find a non-raw food that is near as healthy and free of synthetic and non-digestible items. A full raw diet is too expensive to purchase as pre-prepared patties for his size. I can't feed him chicken every day. This food is expensive, but not quite as expensive as raw, and less than freeze dried for sure. Properly formulated air-dried food is the next best choice, and the Sundays food ingredients are safe enough and contain no synthetic vitamins. He loves it, and digests it well as I can see by his poop." —Antonia M. 

Get it from Sundays for $59+/month. 
6.
Ollie makes ultra-fancy food that hooooonestly looks pretty good. I don't recommend tasting it, but if you do, it's made with "human-grade" ingredients.  
Ollie also has a quick quiz to help tailor your dog's meals. You can get fresh (goop), baked (kibble), or a mix. 
Promising review: "Leia has a sensitive tummy and used to not eat (or throw up) her dry kibble. She literally jumps for joy when we pull Ollie out of the fridge. What a huge difference Ollie has made in our dog's life." —Ollie Reviewer 
Get it from Ollie for $1.57+/meal. 
7.
Vets Preferred anti-diarrhea liquid has been hailed as "doggy Pepto" thanks to its miraculous ability to soothe upset tummies. Pectin and kaolin work to restore gut health, fight gas, and firm up your dog's *ahem* soft serve disasters (sorry).
Promising review: "I have a senior dog who has had a very sensitive stomach. Whenever she would have a treat or some table scrap, she would have diarrhea. My husband would wake up to the smell and it would be all over her and her bed. A very nerve-wracking problem. We would have to take her to the vet and more times than not be sent away with an expensive probiotic or the instruction of giving her white rice. I found this liquid formula and decided to give it a try. It worked to firm up her stool. Once her stool had a shape, we took her off of it. The other day, after stealing bacon from our plate, she had diarrhea again and I gave her more for two days. She is back to normal. I am grateful to have this on hand knowing its a doggy Pepto instead of running to the vet every single time. Hoping for fewer nights of being woken up by the smell of diarrhea" —Josephine C.
Get it from Amazon for $13.95.
8.
Native Pet's probiotic powder can be sprinkled over food for easy consumption. The probiotic blend comes with artichoke, pumpkin seed, and beef bone broth, which is making me kind of hungry tbh???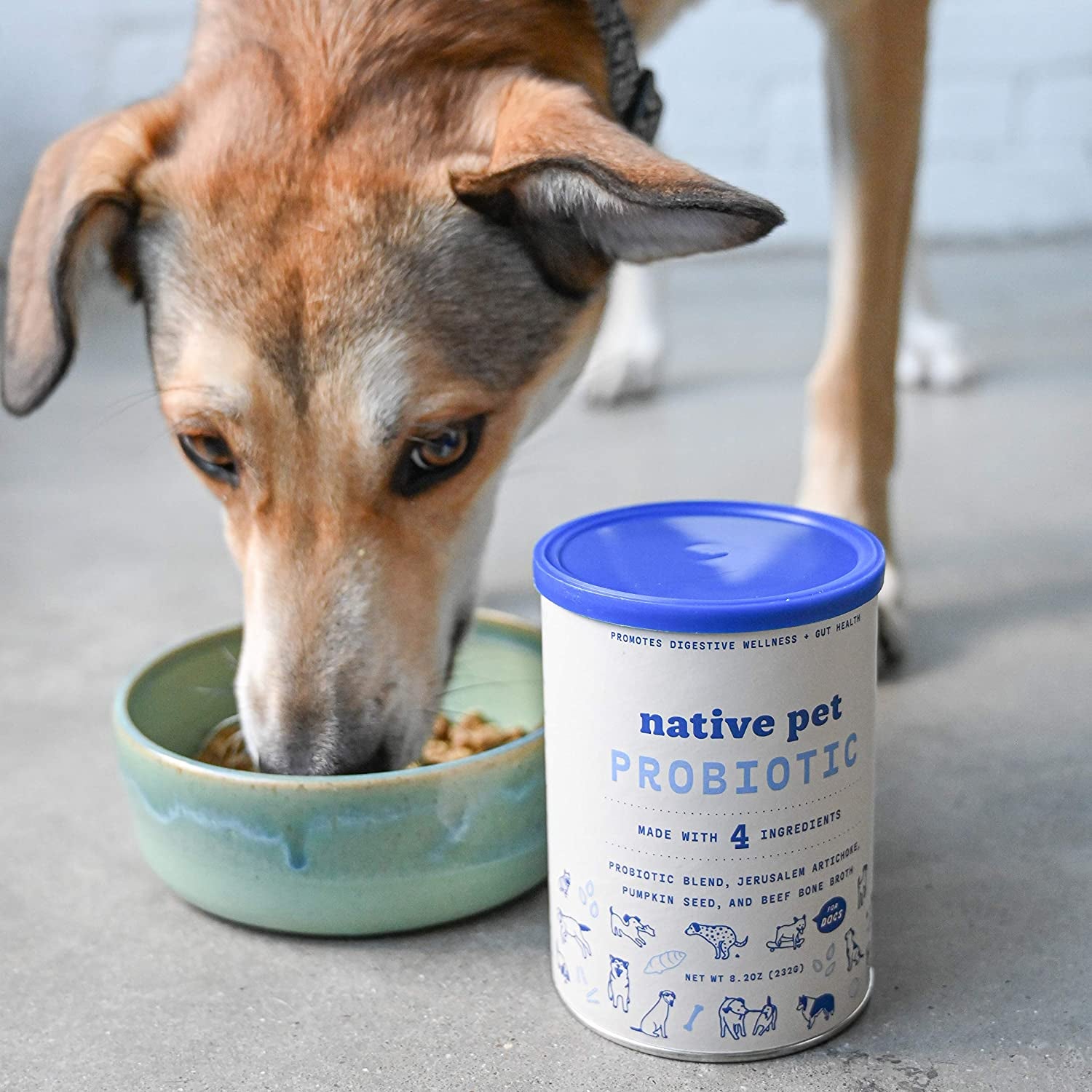 Promising review: "This product is outstanding! My pup has had tummy troubles on and off for two years. I usually have to take her to the vet, run tests, given special dog food, and meds, but not this time! The first night I mixed it with rice and canned pumpkin just to be safe. In the morning she was pooping solid! That evening I mixed one scoop with her dog food and haven't missed a serving yet. No tummy troubles since either! My dog loves the taste and can't wait to eat each night. I highly recommend this product to any dog lover. This has saved me so much time and money at the vet!" —Meaghan

Get it from Amazon for $26.99.
9.
EcoKind's Himalayan yak cheese chews are a solid alternative to bully sticks and will keep your aggressive chewer busy for a long, long time.
My dog has a sensitive stomach and can't have bully sticks or rawhide, so I'm always looking for new chews that will last more than half an hour. Yak cheese sticks are great because they last a long time (around 6-8 hours) and actually smell pretty good. Usually you can get one bone for $15ish, so I was delighted to find a whole bag of bones for $25. My dog isn't quite as wild for these particular chews, but he does eat them and they keep him busy for hours. My favorite part: When there's just a nub left, you can put it in the microwave for 90 seconds and it swells into a biscuit-like crunchy treat. No choking hazard or waste like with bully sticks! 
Get them from Amazon for $22.46+ (available in seven sizes). 

Good luck! Sorry about talking about dog poop so much.