1.
Estée Lauder Double Wear Foundation provides 24-hour coverage and can even survive humidity, heat, and other factors that might try to mess up your look.
Promising review: "This stuff is so amazing. Let me tell you. I think I've found my life foundation. This is the longest-wear makeup I've ever owned with the best coverage. I have been through many many products, some of them I actually like pretty well but I believe this is the crown jewel of them all. I work 12-hour shifts in a hot trailer lifting pretty heavy stuff and when I get home I still look like a fabulous goddess. I gave a bottle of this to my best friend and she also adores it. We love you Estée Lauder. Thank you so much." —PlattKatt
Get it from Sephora for $48 (available in 42 shades).
2.
Slow cooker liners so you don't have to yank the heavy pot out of the cooker to clean it. Bags! Gotta love 'em.
3.
Tifara Beauty's bendy foam curling rods that offer a traditional way to get awesome curls without the pain of hard plastic rollers.
Promising review: "Obsessed! Every night I curl my hair with these babies I wake up in the morning feeling not only like P. Diddy but an ultimate curly-headed goddess of beautiful sunshine! It brings my natural curl to life like I can't possibly manage with a curler alone. The compliments roll in like the latest storm and inflate my head to a size that requires even more curlers that very night. Loving it! Works great, too easy to use, and makes me look and feel great. Every day is a great hair day with these amazing magic workers! Do yourself a favor and get you some." —Jessica Pierre
Get a pack of 42 from Amazon for $14.99.
4.
A sliding magnet you can adjust to reflect the current state of the dishwasher. Never again will you accidentally wash the dishes twice — or worse, put away dirty dishes.
Promising review: "I bought this because of a TikTok video. Super cool and now nobody has to ask me if the dishes are clean or not." —D. Washington

Get it from Amazon for $6.79 (available in five styles). 
5.
Cruelty-free lengthening mascara that's lightweight, won't transfer, doesn't smudge, and lasts all day — oh and makes your eyelashes look like tall, beautiful skyscrapers.
Promising review: "Love this mascara! I've used the 'best of the best' designer, super hyped, ultra popular mascara available and NOTHING compares to this stuff! I don't even bother using a lash curler anymore! I buy two at a time so I always have a spare (yes, it's that good!!). I highly recommend this particular mascara...it goes on effortlessly, it lasts pretty much all day, and the price — I feel like I'm almost stealing it! I'd give it 10 stars if I could!!!" —chulaboola
Get it from Amazon for $4.99.
6.
A magnetic meal planning pad with a detachable shopping list so you don't have to hem and haw about what to make for dinner.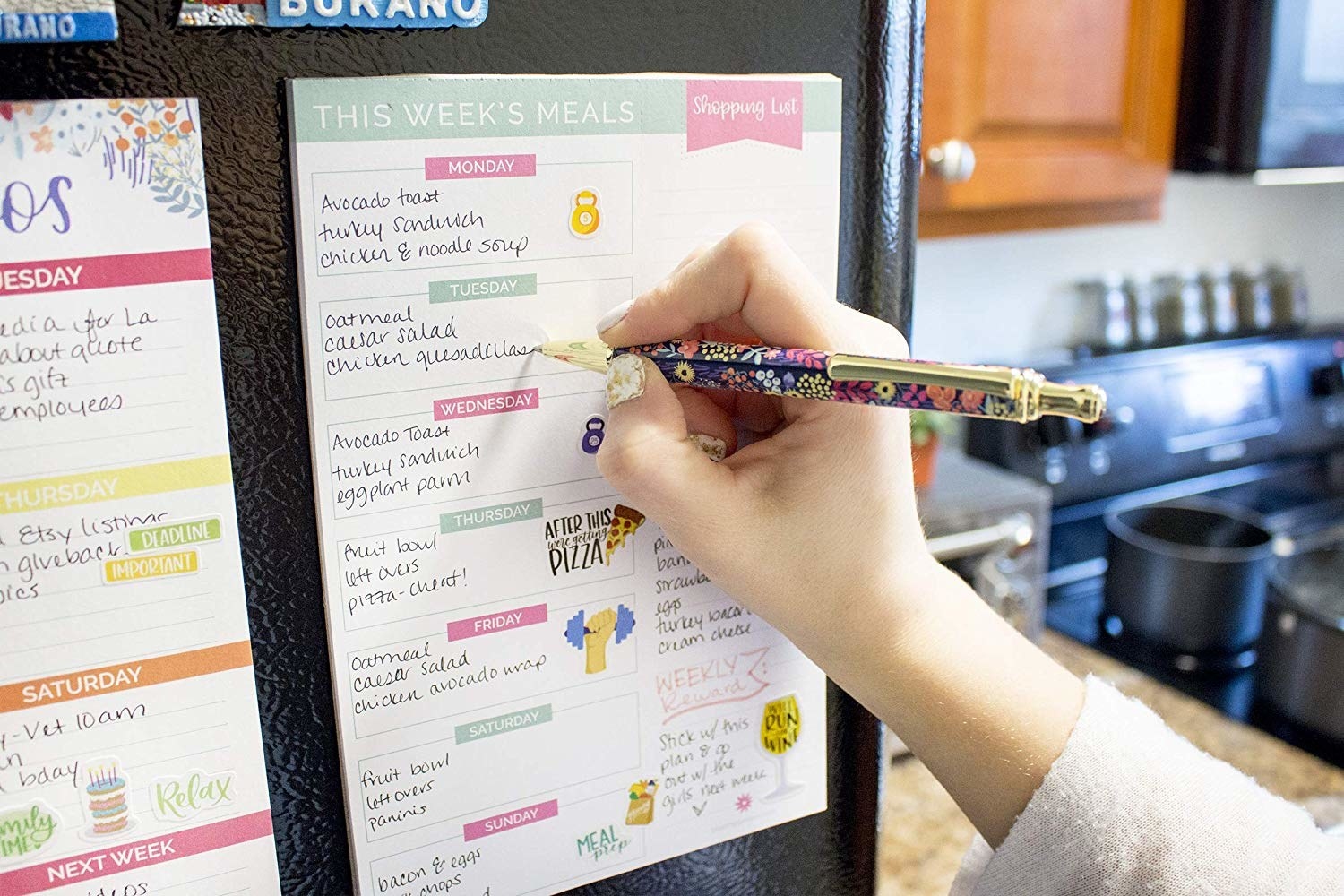 Promising review: "So cute, and helpful to keep on track with meal planning. I liked the first one I ordered so much that I just ordered a second one. I love that it has magnets on the back so that I can put it on my fridge and the whole family can see what's for dinner each night. Perforated for easy list removal that doesn't affect the menu side." —Elizabeth Jeter
Get it from Amazon for $9.95.
7.
A container of oatmeal paw butter that'll soothe and relieve your dog's cracked, dry paws. Its eco-friendly formula is pH-balanced so it's safe for cats, even if licked or swallowed. *seriously considers licking it myself to see if it really tastes like oatmeal*
Promising review: "I wish I would've taken before and after photos to show how well this works. My Rottweiler had cracked and dry paws; after two days of using this product, her paws are healing and smooth. She has sensitive skin and other products have caused issues, but not this one! 11/10 would recommend this product." —N. HESTER
Get it from Amazon for $9.50.
8.
Budget-friendly waterproof eyebrow wax gives your brows a little love. Just swipe on the clear, organic formula to shape, then add your favorite eyebrow gel or pencil on top for color if needed.
Promising review: "I absolutely love this and am amazed at how fuller my brows look! Application is also super easy and quick! I took three pictures. Top picture is before I applied it. Middle picture is after application. Third picture is after I've drawn a line under my brow to clean up the look and filled in some sparse areas." —P.A.
Get two from Amazon for $7.99.
9.
A wood polish that can miraculously erase water stains and scratches. It's time to start treating your furniture with respect!
Promising review: "This stuff is absolutely AMAZING. My wife and I were getting tired of looking at our worn-out cabinets and wood paneling and were very close to paying a professional thousands of dollars to refinish it all, but then we came across this product. Our paneling and cabinets were looking rough. We have two dogs that jumped up and scratched places. We also had an area that was damaged by water spots where our dog bowls were. Several other areas were just worn from heavy traffic. This stuff was like a magical eraser for water spots, scratches, scuffs, and any other blemish. We simply wiped the product on with a paper towel and let it sit for 20 minutes before wiping it off with a clean towel. Everything looks brand-new. I'm buying a couple more so we can finish our cabinets and wood paneling. We're so glad we found this product." —Kris
Get it from Amazon for $9.98.
10.
A nail and cuticle oil to bring life back to your damaged nails, even if you did something really bad like — gasp! — peel off a gel manicure.
Promising review: "Found it on TikTok and I'm so pleased with the results. My nails are getting stronger and growing. And the best of all, not chipping. Love it." —sidna saavedra
Get it from Amazon for $9.90.
11.
A mini fabric steamer that'll ease the wrinkles out of your squished clothing faster than it would have taken to pull out the ironing board.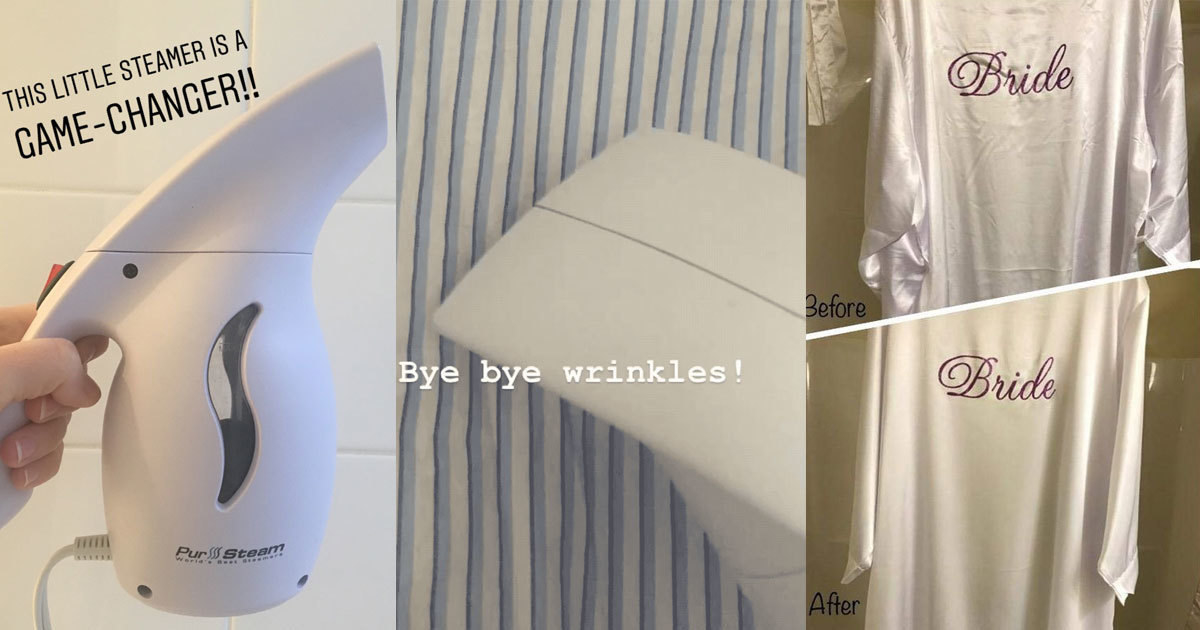 BuzzFeed / https://www.amazon.com/gp/customer-reviews/R25DE7IMZRA1KQ/ref=cm_cr_getr_d_rvw_ttl?ie=UTF8&ASIN=B00MG2OOHK
It heats up in 90 seconds so this thing is FAST!
Promising review: "This product has changed my daily routine in THE most positive way!! I don't go ANYWHERE in clothing that is not crisp, clean and professional looking, but the time, and money, that I have to invest to look this way can be VERY time consuming and costly. NOT ANY MORE!!! I love the size, portability and ease of use. I can now lessen my trips to the dry cleaner (and the requisite hunting for dry cleaner coupons). If this pup even acts like it's getting ready to stop working, I'll be online ordering a new one to be delivered STAT!!" —Snowdenr
Get it from Amazon for $27.97.
Read our review for all the details!
12.
An electric pressure washer to help you blast away every speck of dirt on your outdoor furniture.
It comes with five quick-connect cleaning tips so you can choose the perfect one for the task at hand — including a tip for soap, which you can use to easily wash your car. It generates up to 2030 psi and has a two-year warranty.
Promising review: "I just power washed my deck and I'm amazed at this machine! The quality of the build is strong, the controls and intuitive, an the instructions are easy to understand. It did a perfect job cleaning my deck and I'm going to use it to power wash my patio and front porch for painting. I intend to use it for car washing since I can't find a good car wash that actually cleans the entire car. This will do what any coin op car wash can do for sure. The wind up hose is very convenient, and the detergent dispenser works like a charm." —James E VanDyke
Get it from Amazon for $166.90.
13.
A genius soap dispenser and sponge caddy that keeps the soap directly under the sponge so you can apply more suds with a single push down.
Promising review: "I absolutely love this! I leave my sponge on top and do not have to reach under the sink to get my bulky Dawn dish soap bottle from under the sink every time I need it. It looks clean, and my friends that have noticed it said something about it. I highly recommend it." —Lisa Camarena
Get it from Amazon for $11.49 (available in three colors).
14.
An eyeliner with a triangle-shaped stamp so you can just stamp and go. No more erasing and retrying one million times!
You get two dual-sided pens: one each with the left and right wings. The other sides have straight eyeliner.
Promising review: "This product is super easy to use. You stamp, fill in the rest of the way with the pen, and your done! No having to keep going back and forth from one eye to the other fixing your mistakes, creating a bigger, bolder line to cover up your imperfections, or constantly wiping off and redoing. I love this stamp!" —ashley
Get the set of two pens on Amazon for $14.97