1.
A Sauberkugel, or a cleaning ball that picks up crumbs, lint, and debris as it rolls around your bag.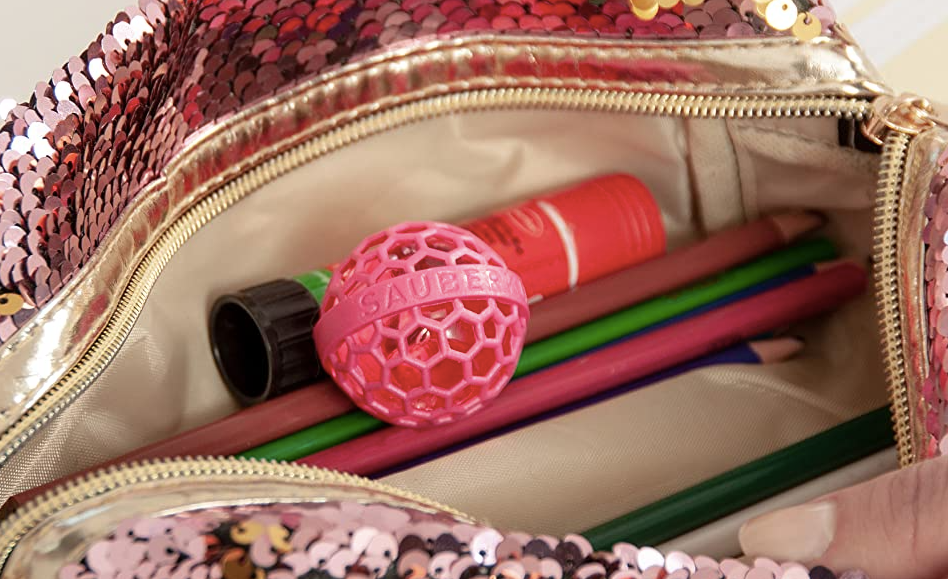 Promising review: "This little ball is genius!! Rolls around in my purse; which I live out of. It picks up a lot lint, debris, or even crumbs. Easy to find with the bright pink. Just remove and wash, and it's ready to go again. The price was great and something I can use for years. If you live out of your purse this a must-have!!" —dj3biggs
Get it from Amazon for $12.99+ (available in two colors and in a multipack option).

2.
A roll of peel and stick fake marble to jazz up all your dull surfaces.
Promising review: "Used a little more than one roll for a quick makeover for an ugly fireplace in a rental apartment. It was easy to cover the tiles with the film, and I could stretch the film out about 1 mm if I had cut the strip too short. It makes a huge difference for minimal effort/price. I don't think anyone would be squinting down at the floor to notice the slightly pixelated pattern." —zhen
Get a single roll from Amazon for $13.82+ (available in 10 sizes).
3.
A jewelry cleaning pen that you can count on to add new shine to your gems, no costly trip to the jeweler required. As someone who refuses to take off rings before washing dishes, showering, etc., I need this!
Promising review: "I love these bulbs. They make any room all warm and cozy. Also a fantastic night-light for the little ones. :) Get you some!" —Amazon Customer
Get them from Amazon for $14.98+ (available in eight styles).
5.
Garbage disposal cleaner that's not only easy to use, but also very entertaining to look at.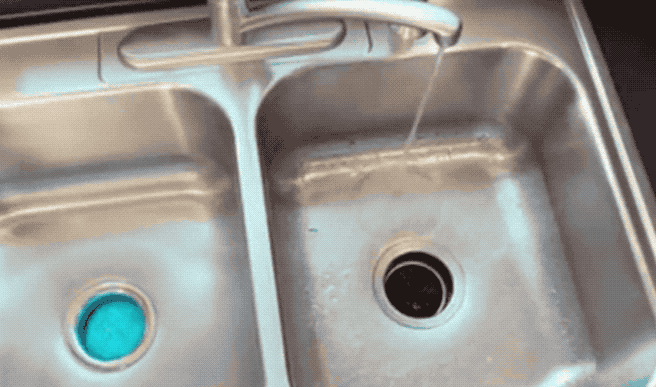 Here's what you do: Run some hot water, pop one of the packets in your disposer, let it foam, then wait for the foam to fully disappear. Garbage disposer = clean and ickiness free.
Promising review: "WHERE HAS THIS BEEN ALL MY LIFE???! Holy cow, I didn't realize how easy and quick it was to clean a garbage disposal until I bought this product! Typically, I'd just use vinegar and baking soda down the drain and call it good. I didn't know that there was an actual disposal cleaning product available until I stumbled across it through a BuzzFeed article. I had to try it. The instructions are very simple. It literally takes five minutes and some hot water and VOILA! you have a clean, no-longer-stinky garbage disposal. Any time I got a whiff of an odor, all I did was drop one of these packs in the disposal and the smell was GONE! Plus, the blue foam bubbling in the sink was amusing to watch. Worth every penny!!" —VadersGirl
Get a pack from Amazon for $9.99+ (available in four pack sizes). 
6.
An eyeliner with a wing-shaped stamp so you can just stamp on your cat's eye liner and go. No more erasing and retrying one million times!
You get two dual-sided pens: one each with the left and right wings. The other sides have straight eyeliner.
Promising review: "I've tried the taping method, tried normal liquid liner, plastic winged stamping devices, stencils, all of it! So when I saw this I thought, meh, why not give it a shot... It's not like my hopes were high since nothing else has been efficient or worked as it should. But to my surprise I put the left cat eye on first and it was perfect aside from needing to connect it to my current liner. I thought this was a fluke and did the right eye...again, it came out clean and perfect! I HAVE NEVER IN MY LIFE BEEN ABLE TO DO A CAT EYE IN UNDER 10 MINUTES...LET ALONE THE 2 MINUTES THIS TOOK TO DO! There was no sloppy streaks that I had to touch up or anything you would expect. Just a clean crisp line." —LadyMeow
Get a set from Amazon for $13.47+ (available in four styles). 
7.
A pair of genius sneakers made for all the people suffering with squished shoe heels. The "Patented HandsFree Labs shoe entry technology" means you can just shove your foot in there and the back will snap back in place. 

8.
A budget-friendly waterproof eyebrow wax to give your brows a little love. Just swipe on the clear, organic formula to shape, then add your favorite eyebrow gel or pencil on top for color if needed.
Promising review: "I absolutely love this and am amazed at how fuller my brows look! Application is also super easy and quick! I took three pictures. Top picture is before I applied it. Middle picture is after application. Third picture is after I've drawn a line under my brow to clean up the look and filled in some sparse areas." —P.A.
Get it from Amazon for $4.99+ (available in two colors and in a brow gel/brow soap duo). 
9.
A pack of Miracle-Gro water storing crystals that'll prevent both under- *and* over-watering, which I believe are the top two killers of plants.
Promising review: "I have deck rail flower boxes and they get full sun most of the day. I filled in the drain holes to hold more water and added these to the soil. Both made a huge difference in the quality of life for the plants. They were and still are gorgeous even if I couldn't water every day. I do have to admit I used more per planter than the recommended amount." —Pattijwr
Get it from Amazon for $12.99+ (available in two sizes). 
10.
A three-blade blinds cleaner with five removable, reusable microfiber sleeves, so you can clean every single blind to your liking.
Promising review: "These blind cleaners are terrific! I've enjoyed cleaning houses and offices professionally for over 20 years and cleaning blinds is not always easy. I debated and debated what to buy, to try to make the process a bit easier. Within five minutes of using this, I was almost doing cartwheels — it really works! Best product I have ever used to clean blinds. My first time using it, I had eight different large blinds to clean, with skinny slats to boot, and this duster brush with refills DID THE JOB BEAUTIFULLY. I have gone from dreading cleaning blinds to actually enjoying the process. I could not be happier." —T.R.
Get it from Amazon for $7.99 (available in two colors).
11.
A satin-lined Hairbrella to keep your hair protected from rain, humidity, and anything else that's out to ruin your perfect hairdo.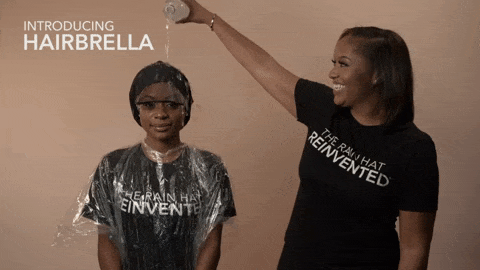 Hairbrella is a Black-owned small business established in 2016 that specializes in hats combining fashion and function to protect against all types of weather.
Promising review: "I never carry an umbrella cause they're too bulky, so when I saw the Hairbrella I was so excited. It keeps my hair dry and my curls nicely quaffed, rather than me looking like I stuck my fingers I a light socket. I'm telling everyone I know about it, it's an amazing alternative to those wide-brimmed hats or a briefcase LOL! Truly it's never going Read more about review stating Love it!!to leave my side from now on! I definitely recommend it." —Gina C.
Get it from Amazon for $31.19+ (available in two styles and in four colors) or Hairbrella for $29.99+ (available in ten colors).
12.
A weekly pill organizer designed with push-through silicone lids so you can easily organize your pills at the beginning of the week without accidentally knocking the whole operation over and having to start all over.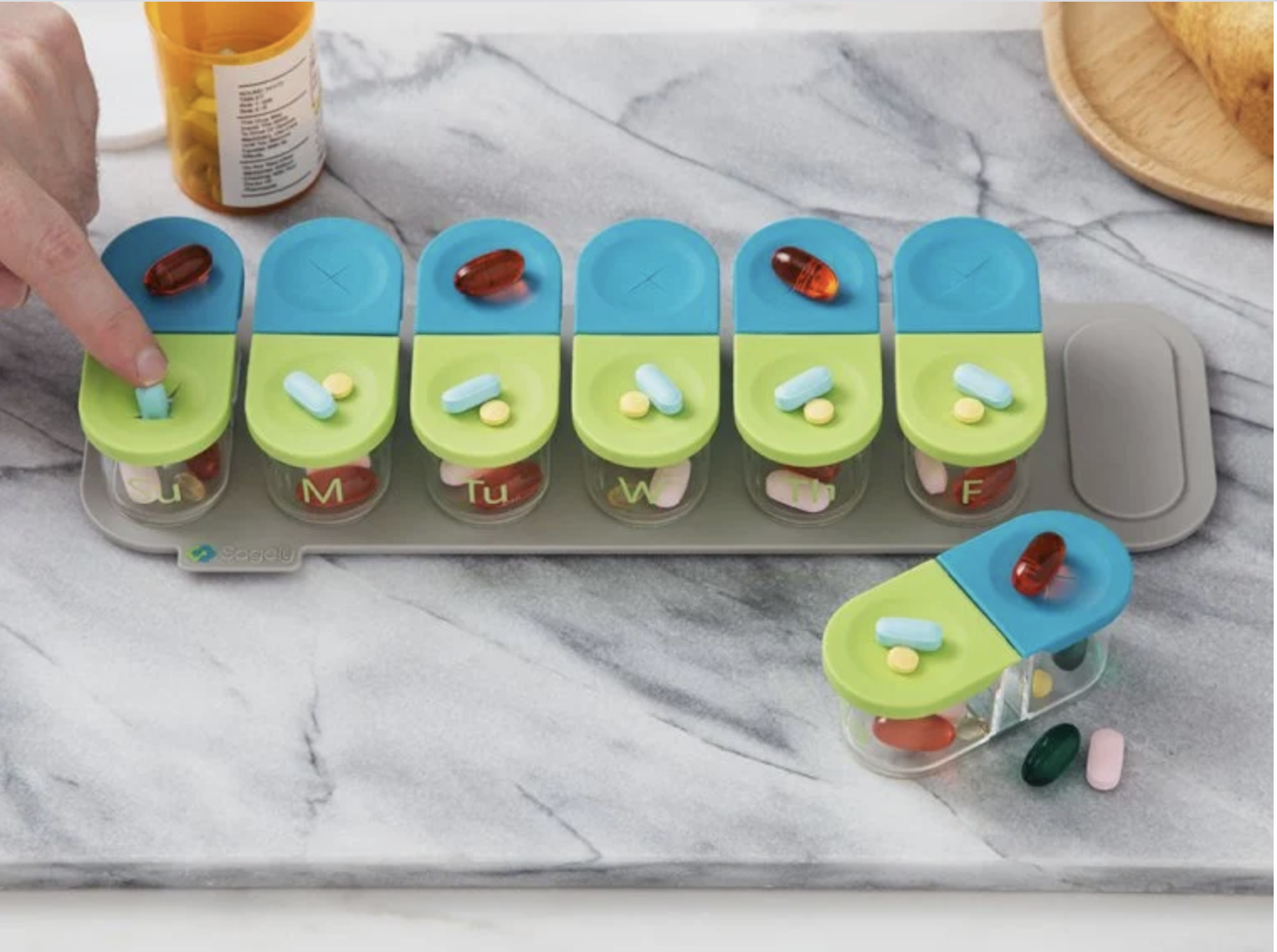 Sagely is a family-owned small business founded by husband-and-wife team Ellie Glazer and Ivor Miskulin, who spent three years designing the ideal, stress-free pill storage solution. The silicone lids are super secure, but also designed for gentle and easy opening and closing to account for users with dexterity issues.
Get it from Amazon for $34.99 (available in four colors). 
13.
A mini claw machine that won't eat all your quarters in one go. While this isn't a good fit for young children (choking hazard), some adults use it as an elaborate pill holder!

14.
A food tracker to make sure your pet isn't over or underfed. No amount of sad puppy dog eyes can dupe you into feeding Mr. Wiggles twice.
Promising review: "Awesome product! There are four of us that were working together to feed the dogs. It simplified everything because I no longer have to text to see if anyone had fed them every morning. Now I just to see if it's green and if it's not, I feed them and indicate it. We all love it so much!" —Toni Deegan
Get it on Amazon for $10.95+ (available in six styles).