1.
An electric pressure washer to help you blast away every speck of dirt on your outdoor furniture, walkways, and more.
It comes with five quick-connect cleaning tips so you can choose the perfect one for the task at hand — including a tip for soap, which you can use to easily wash your car. It generates up to 2030 psi and has a two-year warranty.
Promising review: "I just power washed my deck and I'm amazed at this machine! The quality of the build is strong, the controls and intuitive, an the instructions are easy to understand. It did a perfect job cleaning my deck and I'm going to use it to power wash my patio and front porch for painting. I intend to use it for car washing since I can't find a good car wash that actually cleans the entire car. This will do what any coin op car wash can do for sure. The wind up hose is very convenient, and the detergent dispenser works like a charm." —James E VanDyke
Get it from Amazon for $169.90.
3.
A set of Sheet Keeper bands to keep your sheet sets together and properly labelled. GOODBYE, frantically searching for a matching pillowcase before your guests arrive in 30 minutes.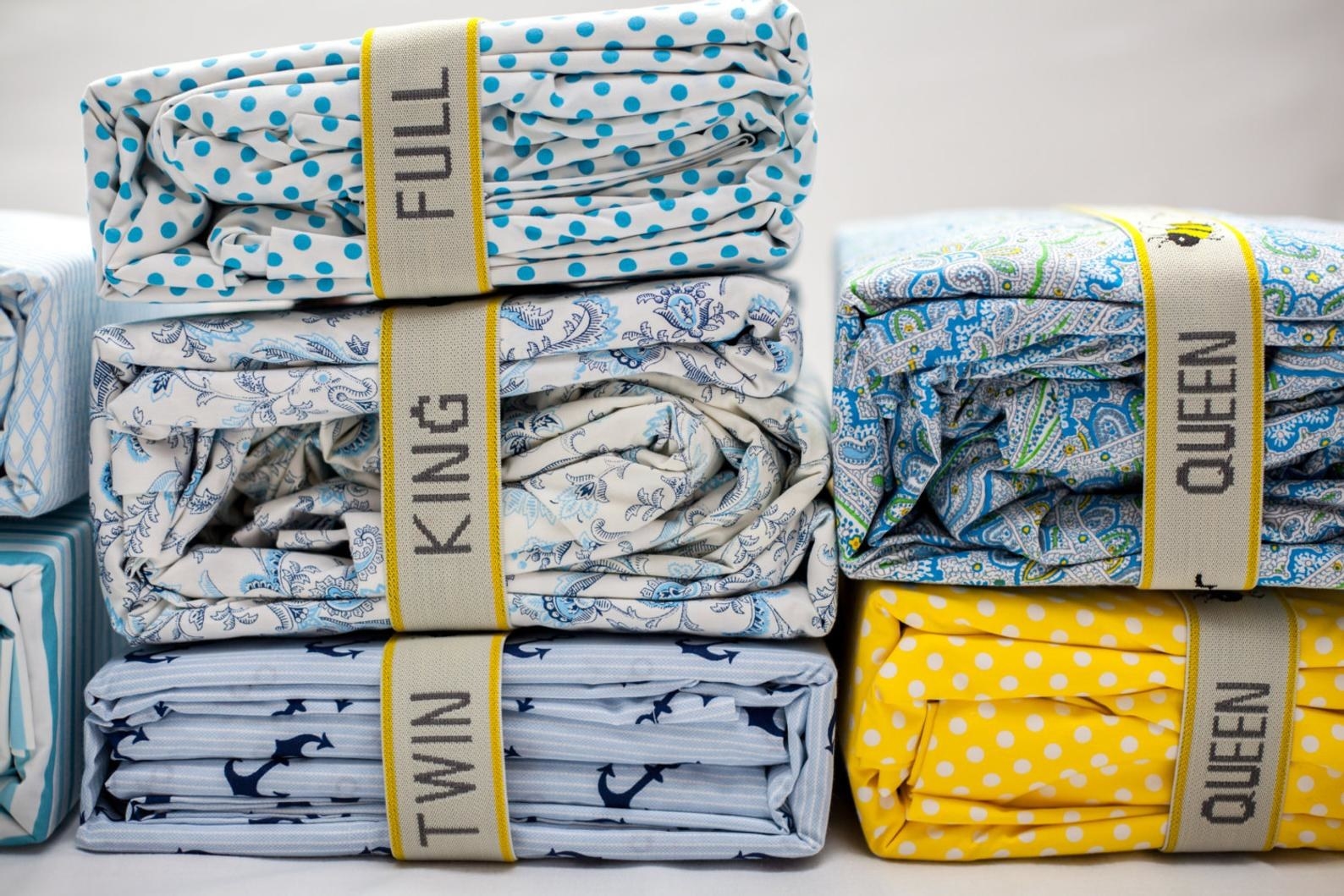 Sheet Keeper is a woman-owned small business based in Los Angeles and their adorable bedding bands will actually make staying organized fun!
Promising review: "Great product. Came quickly and they work great! Such a great idea to keep sheets organized and together while being able to tell what size bedding it is. Will order again for sure!" —devonhansen1
Get a set of two from Sheet Keeper on Etsy for $13.99 (available in sizes twin—California king, as well as in duvet and comforter labels).
4.
Slow cooker liners so you don't have to yank the heavy pot out of the cooker to clean it. Bags! Gotta love 'em.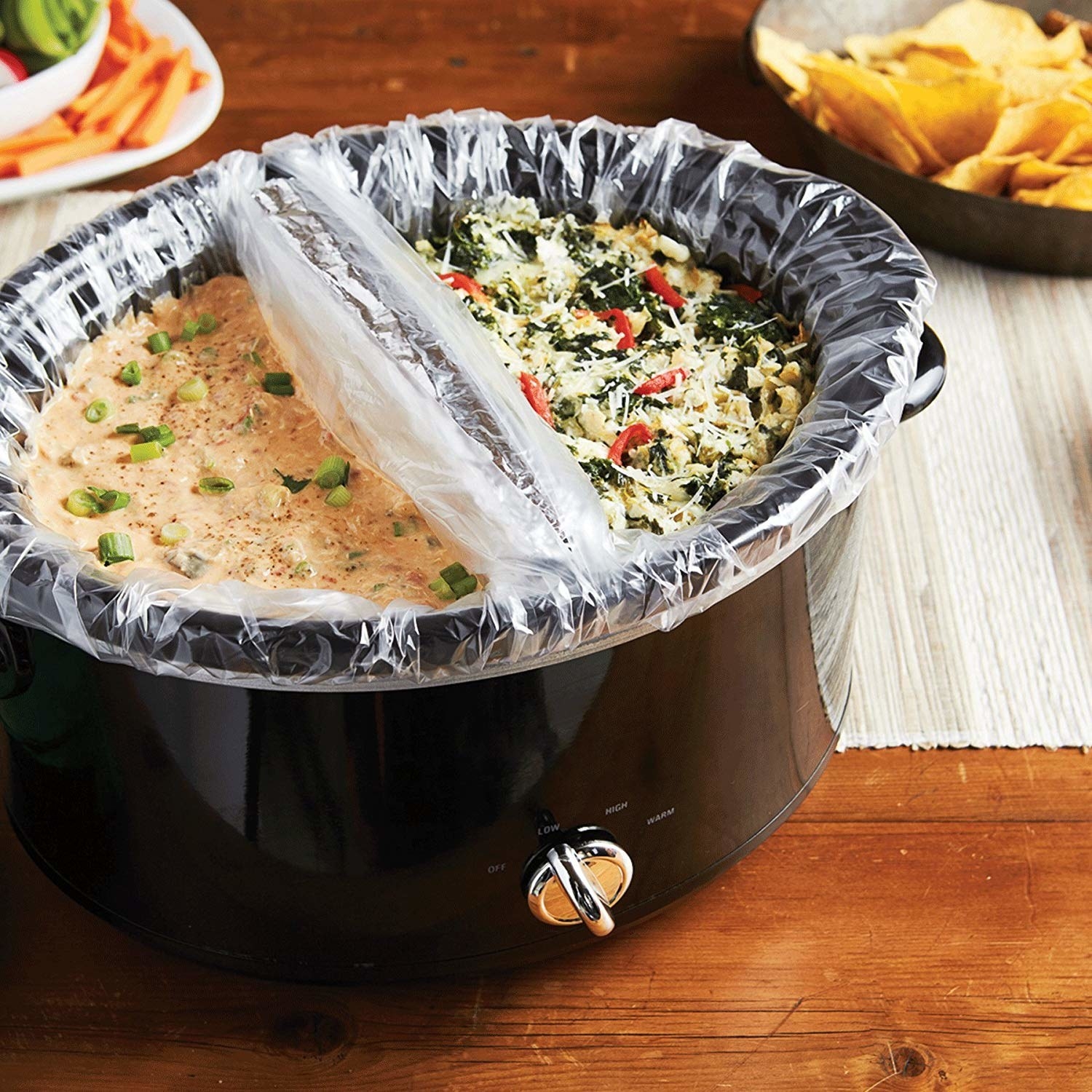 Bonus! These are also great for cooking cheesecakes. Just wrap the pan in one before dipping it in the water bath to keep it nice and dry. 
Promising review: "This is a great deal on the multi-pack!!! Since trying these, I always use them when cooking in my Crockpot!! Cleanup is so, so easy. No mess, guaranteed!!!" —Sue
Get 48 from Amazon for $27.10.
5.
A pack of eco-friendly sponge cloths that are highly absorbent and dishwasher-safe, so you can cut down on your — quite frankly — ridiculous paper towel waste. Use them for cleaning dishes, counters, walls, furniture, and more. 
Promising review: "I rarely write reviews, but these deserve a shoutout. SO much more substantial than Handi Wipes and you can really, really scrub with them but they never feel yucky like a sponge does. I have soaked them in bleach, thrown them in the washer, and they come out great every time. I've used the same two for a month now and they still look great! When they go downhill, I can compost them. I only wish they had a few other colors, maybe a royal blue or sage green?" —Amazon Customer
Get a 10-pack from Amazon for $13.97 (available in 10 colors).
6.
A trio of Fly By Jing sauces and spices featuring Chili Crisp, sweet-yet-tangy Zhong Sauce, and Mala Spice Mix. You'll find that these will quickly become a staple in the kitchen and elevate pretty much any meal.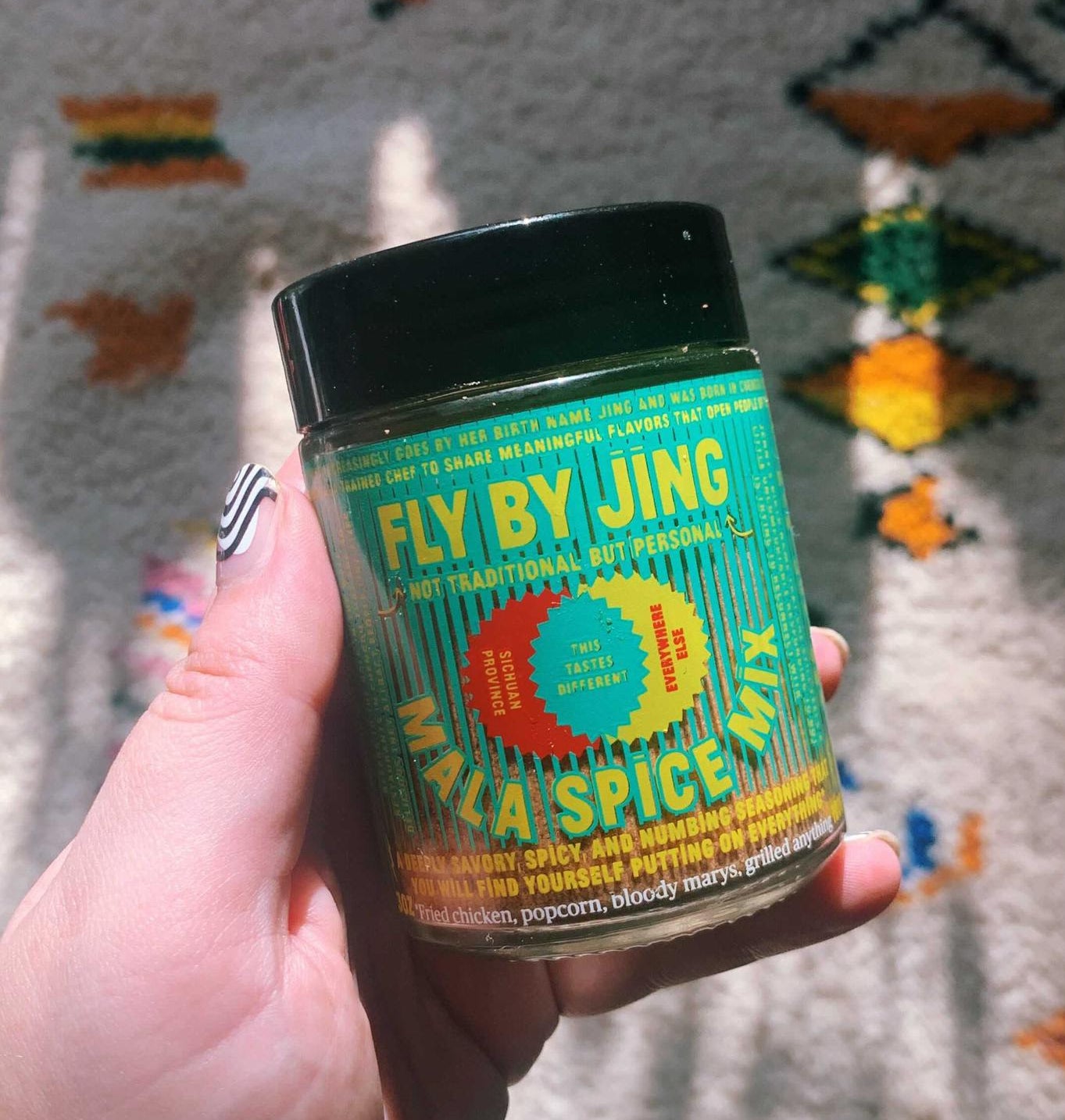 Kristina Bornholtz / BuzzFeed
All of the sauces are vegan! Fly by Jing was founded by Jing Gao, globally-renowned expert on Chinese cuisine creating delicious products inspired by her hometown of Chengdu.
Kristina says: "I'm a sucker for sauces and spices, and Fly by Jing has soared to the top of my pantry must-haves. Founded by Jing Gao, Fly By Jing is inspired by the flavors of her hometown of Chengdu, China. If you love Sichuan food (or any heat to your food *period*), you'll love this lineup. Pictured above is the Mala Spice Mix a savory-spicy powder that is truly good on everything from beef bowls to roasted cashews. My other favorites are the Zhong Sauce (great for marinading and dipping) and the Sichuan Chili Crisp (also good on everything, even ice cream). Go ahead and just buy the trio." —Kristina Bornholtz, BuzzFeed Staff
7.
A jar of The Pink Stuff to clean basically anything. Scrubbing will be a thing of the past. And the future? Sparkly clean items as far as the eye can see. 
Promising review: "Oh my gosh — this stuff is a life-changer! Used it to get my fiberglass shower totally clean. Nothing else would get it done and this stuff brought my shower back to near new in one use. We've since cleaned a weird chalky film off our garage door, removed wall markings, and cleaned my storm door. We'll never be without a jar (or three) of this stuff. Worth every penny." —Nancy F.
Get it from Amazon for $5.97.
8.
A mini fabric steamer that'll ease the wrinkles out of your squished clothing faster than it would have taken to pull out the ironing board. It's also great for steaming curtains or your mattress in between sheet changes.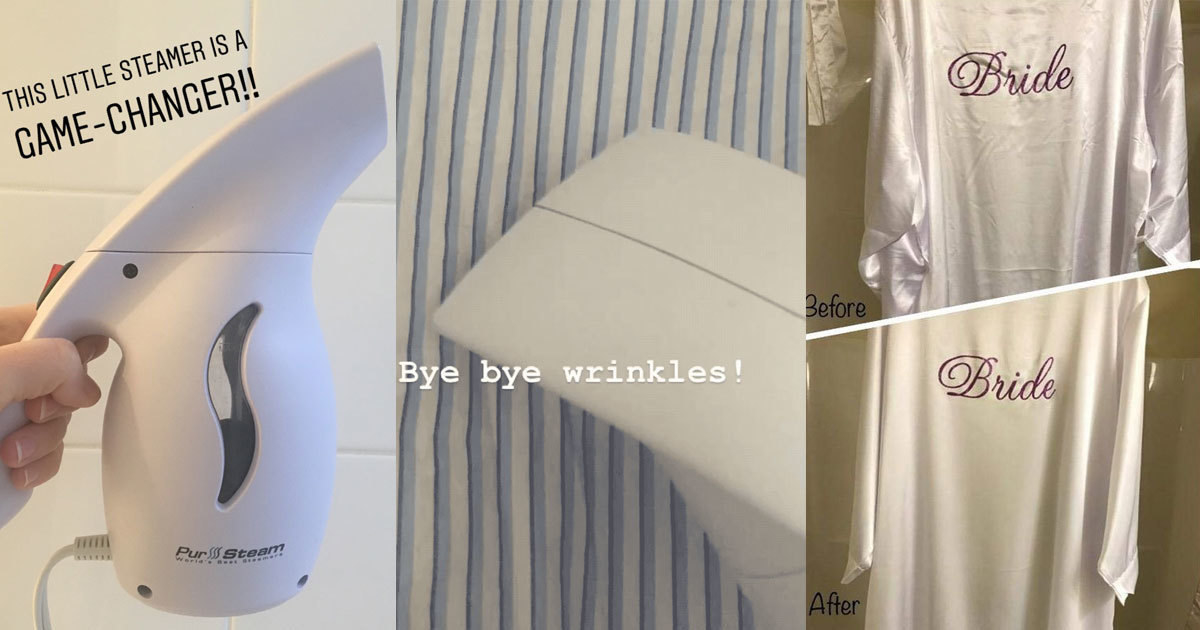 BuzzFeed / https://www.amazon.com/gp/customer-reviews/R25DE7IMZRA1KQ/ref=cm_cr_getr_d_rvw_ttl?ie=UTF8&ASIN=B00MG2OOHK
It heats up in 90 seconds so this thing is FAST!
Promising review: "This product has changed my daily routine in THE most positive way!! I don't go ANYWHERE in clothing that is not crisp, clean and professional looking, but the time, and money, that I have to invest to look this way can be VERY time consuming and costly. NOT ANY MORE!!! I love the size, portability and ease of use. I can now lessen my trips to the dry cleaner (and the requisite hunting for dry cleaner coupons). If this pup even acts like it's getting ready to stop working, I'll be online ordering a new one to be delivered STAT!!" —Snowdenr
Get it from Amazon for $27.47.
Read our review for all the details!
9.
A magnetic meal planning pad with a detachable shopping list so you don't have to hem and haw about what to make for dinner.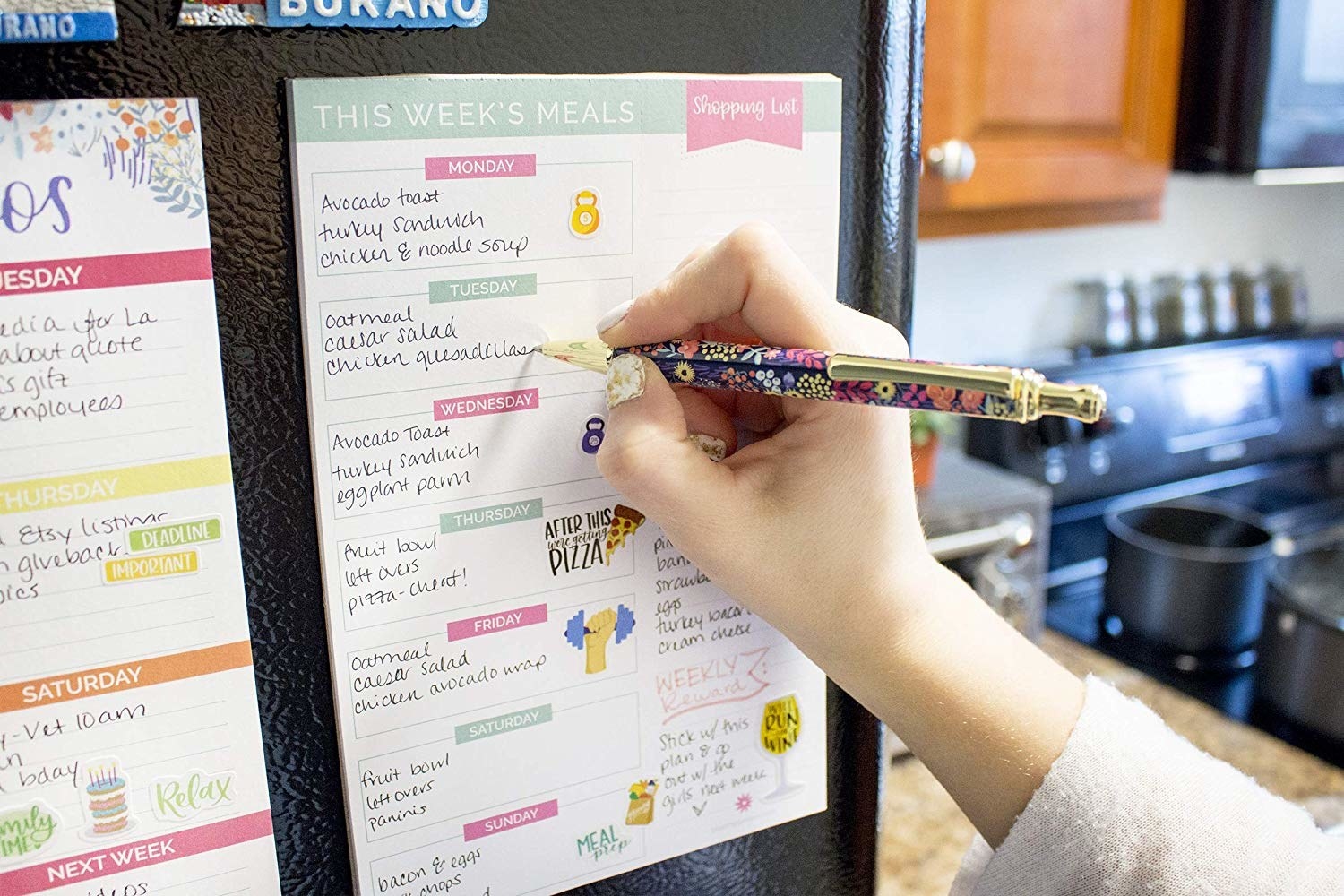 Promising review: "So cute, and helpful to keep on track with meal planning. I liked the first one I ordered so much that I just ordered a second one. I love that it has magnets on the back so that I can put it on my fridge and the whole family can see what's for dinner each night. Perforated for easy list removal that doesn't affect the menu side." —Elizabeth Jeter
Get it from Amazon for $9.95.
10.
A hand-powered chopper that will make quick work of your veggies with just a few pulls. It'll feel like a fun game, and you can avoid wasting time on prep work. 
Promising review: "This chopper is amazing!! I love cooking, but used to absolutely HATE chopping onions...until someone gave me this chopper! Now I simply have to quarter the onion, throw it in the chopper, pull the handle about 10–15 times, and they're ready to be used! No more teary eyes or spending a long time chopping onions. The cup is big enough to fit a whole onion...I think the capacity is 3 cups. There's tons of other uses to this as well...you can chop pretty much anything from herbs, veggies and fruits, to making salsa and guacamole." —Valjulia
Get it from Amazon for $18.18+ (available in two colors).
11.
A pair of Command broom-holding wall mounts so those things can stop falling out of the closet and bopping you on the head. You can also use them to hang curtains, pool cues, or — according to some reviewers — lightsabers!
12.
An Oxo under-appliance flexible sweeper that's thin and long so you can reach nooks and crannies both high and low. 
Promising review: "So, I never thought about cleaning under our sectional when we purchased it. It's huge, heavy, and unmovable — and the kids like to eat nearby, so food is constantly rolling/sliding/migrating underneath and it gets disgusting. Too low-profile to vacuum; broom won't fit. Was using one of the static dusters for ceiling fans that was doing a meh job — this little thing got yuck out from under there from...*shudder* let's not talk about it. Great little tool. Fit under my washer, dryer, and fridge, too, which was an added bonus. Cleanup is easy, too." —mmj
Get it from Amazon for $16.95.
13.
A paper trimmer, but for food! Now you can guillotine anything from cucumbers to huge hunks of cheese with a satisfying "thwack!" Way better than using a normal kitchen knife. 
Promising review: "This thing is a champ. It's completely revolutionized my cheese and sausage game. The adjustable stop block is terrific; you can really speed through a block of cheese or a long summer sausage with clean and consistent cuts. I've only used it a handful of times so I can't vouch for its long-term durability, but at just over $20 you really just can't go wrong." —LeffelMania
Get it from Amazon for $29.99.
14.
An under-cabinet drawer so you can quickly grab what you need when you need it.
Promising review: "These are nice pieces that helped me organize underneath my bathroom sink! They fit perfectly! After organizing everything, I was so surprised I had so much more room that I grabbed more items out of the linen closet to fill it up. I still have a lot of room left. I bought these based off the high ratings and they hold true." —Brad J. Leahy
Get it on Amazon for $24.97 (also available in bronze).