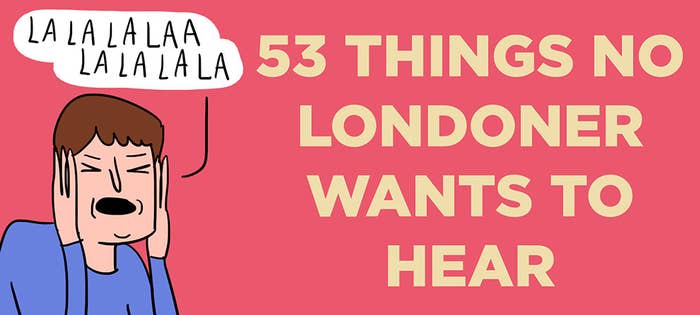 1. "A rail-replacement bus service will be running instead."
2. "Two pints? That's £12 please."
3. "Unexpected item in the bagging area."
4. "Let's go to Upper Crust."
5. "Last orders."
6. "Will you come for dinner at our new place in Catford?" (When you live in Walthamstow.)
7. "Will you come for dinner at our new place in Walthamstow?" (When you live in Catford.)
8. "Do you have five minutes to chat about the rainforest/child abuse/cancer?"
9. "Two flat whites? That'll be £8 please."
10. "Let's go to Angus Steakhouse."
11. "I can't be bothered to walk down the escalator."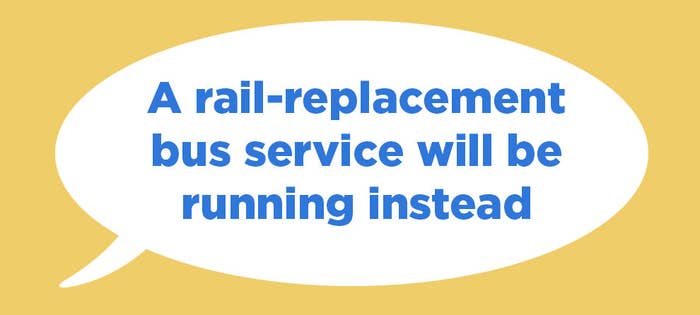 12. "There are severe delays on the Piccadilly line."
13. "There are severe delays on the Northern line."
14. "There are severe delays on the Central line."
15. "There are severe delays on the Victoria line."
16. "Let's go to Garfunkel's."
17. "There are leaves on the track."
18. "We bought it before the area was trendy."
19. "It's currently about £450k for a one-bedroom flat."
20. "Let's go to Bella Italia."
21. "Let's meet at Piccadilly Circus."
22. "I'm afraid we don't take reservations."
23. "Let's go to M&M's World."
24. "This train will be terminating here."
25. "Oxford Circus station is closed due to overcrowding."
26. "The Pizza Express 2-for-1 deal isn't on tonight."
27. "Please check if your bag is trapped in the doors – this train won't be going anywhere until the doors are clear."
28. "Foxtons are opening up there."
29. "Let's go to Giraffe."
30. "The station is closed due to an alarm condition."
31. "We've seen a few things we can afford in Zone 6."
32. "Let's meet at Leicester Square."
33. "It's been turned into luxury flats."
34. "It's a vaping shop now."
35. "The Victoria Line is running with severe delays due to a signalling failure at Finsbury Park."
36. "Let's go to the Slug and lettuce."
37. "TFL will be holding a three-day strike from Tuesday at 6pm."
38. "Watch the dogshi... Too late."
39. "It's turning into a Starbucks."
40. "This bus will terminate here."
41. "Due to a broken-down train up ahead…"
42. "One Staropramen? That'll be £5.70 please."
43. "Freddos cost 70p now."
44. "We can certainly add your name to the list for a table. There are 12 people ahead of you..."
45. "We have a table free at 6pm and one at 11pm."
46. "Let me explain the concept of the menu to you…"
47. "The area where you're flat-hunting is in this week's Evening Standard property section."
48. "Tickets are available in 2017."
49. "We've got two tickets left in the upper circle, but they're not together."
50. "Let's go to Scotch Steak House."
51. "Let's go to Madam Tussauds."
52. "It's turning into a Tesco Metro."
53. "You can only get a mortgage for four times your annual salary."