1.
If you've checked the news today, you've probably cringed so hard you felt like your skin might turn inside out.
But the La La Land team, god rest their souls, weren't the first people to be mistakenly crowned the winners.
Let's take a look back, through parted fingers, at some other people who were told they won and then, er...sorry....they didn't win.
Watch as modelling hopeful Kelsey runs the gamut of emotion from "Yay I won!" to "Oh my fucking life I lost and there's nowhere to hide."
Basically, host Sarah Murdoch didn't hear the winner in her earpiece SO SHE DECIDED TO GUESS which girl won.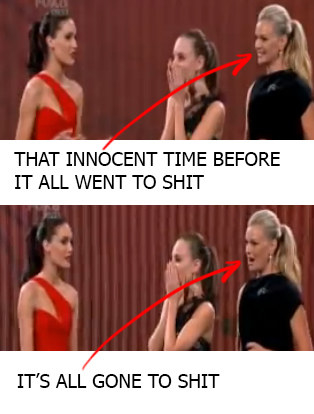 3.
Michael Jackson accepting an award that didn't exist in 2002.
Britney Spears was meant to be presenting Michael Jackson with a birthday cake and gift, but he misheard her and thought he'd won the award for "Artist of the Millenium."
He went on to give some low-key thanks to a few people:
He also thanked Quincy Jones, Diana Ross, Gladys Knight, James Brown, his mother, and magician David Blaine, and it wasn't awkward at all.
Somehow, host Steve Harvey misread the card and crowned runner-up Miss Colombia the winner.
Let's watch the crown being taken off Miss Colombia's head some more times.
5.
The time when Terry Wogan and Fearne Cotton announced two different acts had won the competition to represent the UK at the Eurovision Song Contest.
Scooch did some gracious loser clapping.
Until the inevitable moment of realisation.
And finally there was this not-in-any-way-comforting message to Cyndi:
6.
The time violinist Lee Ji Yoon did a giddy bow because she thought she'd won a prestigious music award in Brussels.
Look at her.
Except the actual winner was Lim Ji Young.
*TFW when you run off the stage in shock after accepting an award you didn't win*
7.
This drunk bloke DJ Brandon Block trying to accept the Best Soundtrack award at the Brit Awards in 2000.
Security tried to drag Brandon off stage.
And then Ronnie Wood threw water on him and called him a cunt.
But honestly, all those guys can rest easy because this year's Oscars has outdone them and every other awards show gaffe until the end of time.