Chicken Fajita Sliders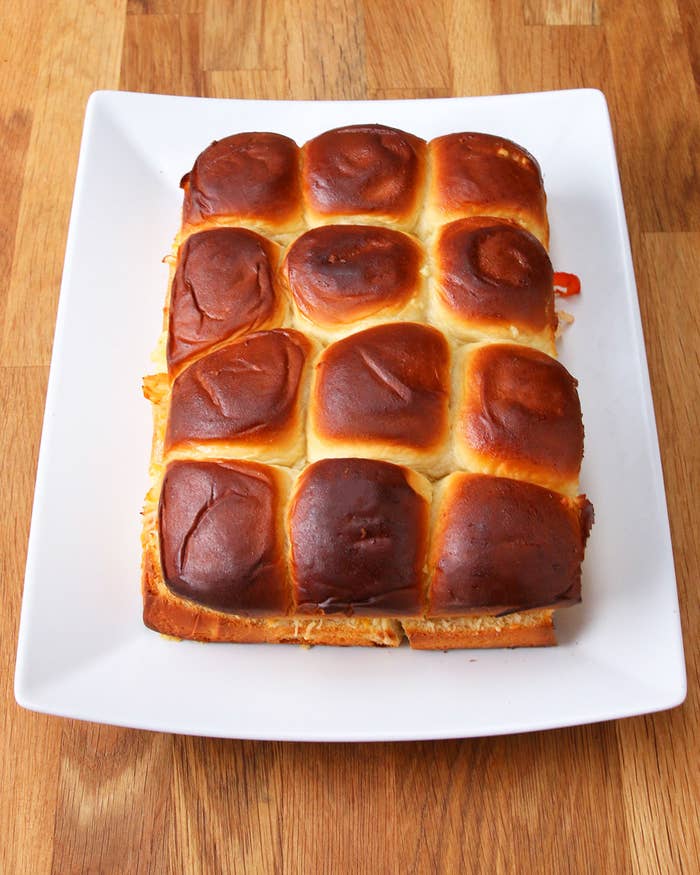 INGREDIENTS
Servings: 12 sliders
½ onion
1 red bell pepper
1 garlic clove
1 tablespoon vegetable oil
2 heaping cups shredded rotisserie chicken
1½ tablespoons taco seasoning
½ lime, squeezed
3 tablespoons water
1 tablespoon butter
1 clove garlic
Pack of 12 dinner rolls
2 cups Mexican cheese blend
PREPARATION
1. Preheat oven to 425 F/220ºC.
2. Heat vegetable oil in a large skillet.
3. Thinly slice onion, red bell pepper, and 1 garlic clove.
4. In heated skillet, sauté onion, peppers, and garlic on medium-high. Cook for 4-5 minutes until onions are slightly translucent and tender.
5. Stir in the chicken, taco seasoning, and a squeeze of lime. Mix together well. Remove skillet from heat and set aside.
6. Cut the dinner rolls in half and place the bottom layer on a parchment paper lined cookie sheet.
7. Sprinkle a thick layer of cheese on top of the rolls. Then scoop a layer of the chicken fajita mixture on top. Finally, sprinkle another layer of cheese. Place on the dinner roll tops.
8. Microwave butter for 20 seconds, or until fully melted. Mix in minced garlic, and brush the tops of the dinner rolls.
9. Bake sliders for 5 minutes.
10. Enjoy!
Want BuzzFeed Tasty right in your inbox? Sign up for our newsletter!
If you can't see the signup box above, just go here to sign up for the BuzzFeed Tasty newsletter!