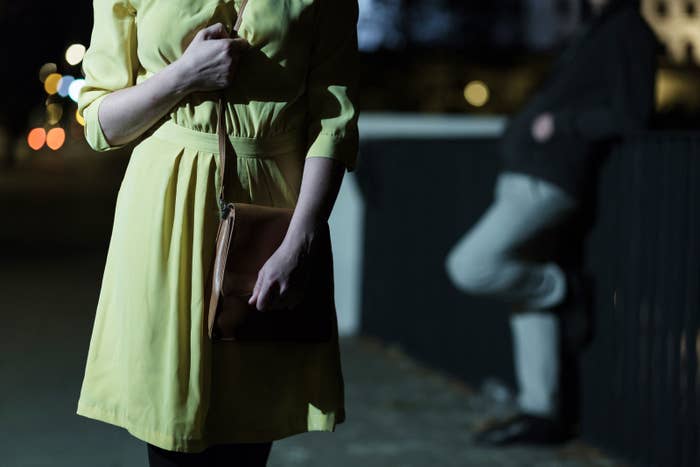 Many women adopt certain routines in order to stay alert and feel safe. These habits — which most men may be unaware of or rarely think about — can become common rituals, especially on a night out.
To better understand how universal these habits are, BuzzFeed Spain surveyed female friends and readers for the biggest things they do on a typical night out to feel safe. Of course, this isn't a definitive list — instead, we encourage readers to think of it more as a starting point for conversation about the routines women all over the world maintain and what they have in common.
How many of these things have you done while going out at night?

Made specific plans to meet friends beforehand so you wouldn't have to walk into a bar or nightclub alone.

Rejected a drink from a stranger because you didn't see it made in front of you, or you didn't want to be hassled.

Made a point to keep your eyes on your drink all night.

Took a drink with you into the bathroom so you could keep an eye on it.

Checked in on friends while they were in conversation with a stranger.

Told someone who you aren't interested in that you already have a significant other, instead of just saying you aren't interested.

Told a friend the whereabouts of your Tinder date beforehand.

Checked in with friends in the middle of a date to tell them things are going well.

Used a code word to let friends know that your date wasn't going well.

Rounded up friends to go to the bathroom together.

Gone looking for a friend in the club when you realized you hadn't seen them in a while.

Avoided poorly lit streets.

Taken the long way home on purpose, because there were more people around.

Avoided eye contact with members of the opposite sex while walking home.

Crossed the street when you saw a large group of members of the opposite sex walking toward you.

Crossed the street to avoid walking by a drunk person.

Crossed the street when someone was walking too closely behind you.

Lowered the volume or turned off the music on your headphones completely, to be more aware of your surroundings.

Kept your headphones on, even when you weren't listening to anything, so you could ignore people trying to talk to you on the street.

Walked with your keys in your hand way in advance.

Asked a friend to walk you home.

Rehearsed in your head how you'll respond to catcallers, if at all.

Enabled the Emergency SOS function on your phone, or have an app that lets you call 911 quickly.

Pretended to be on the phone with someone while walking home.

Gotten off a bus or subway because someone was staring and made you feel uncomfortable.

Decided to take a cab, instead of public transportation, based on the area you were in.

Looked at a cab's license plate number and tried to memorize it, in case you needed it.

Texted friends to let them know you got home safely.
This post was translated from Spanish.