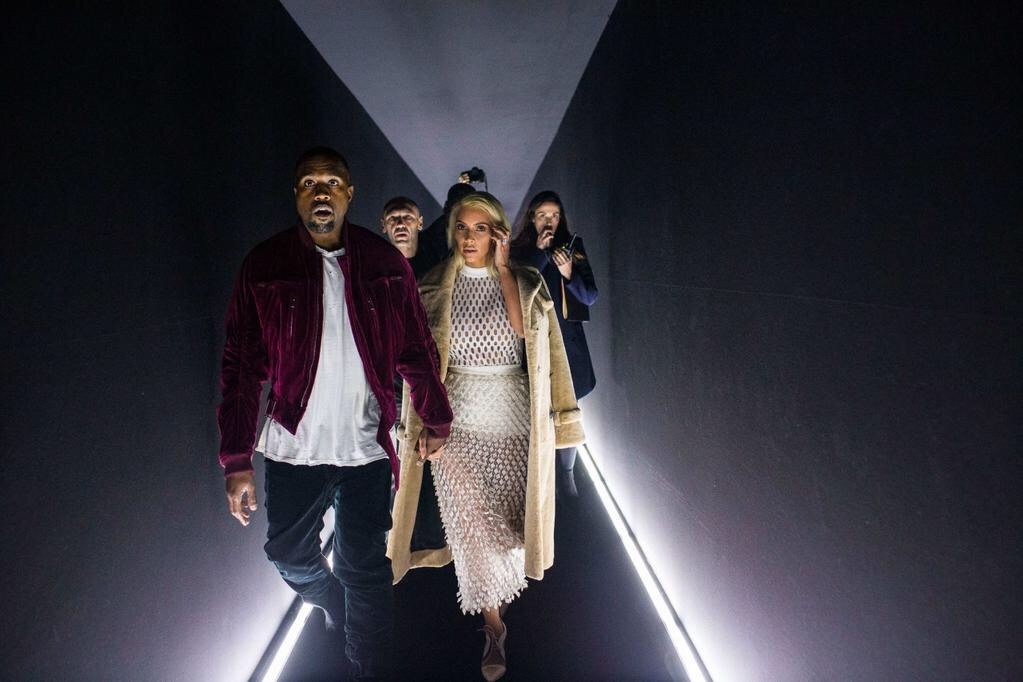 The first four songs of Young Thug's fun Barter 6, in particular, on an album reveling in the brooding, yearning, bass thumping beats similar to his tour mate Travi$ Scott with Barter goofiness, are rather good. This lane that Kanye West has carved out for this kind of hip hop, this seething, stripped down minimilism that burns through speakers like steam whistling out the sides of a boiling pot, has been around since 2008. Since 808's & Heartbreak. Its led to his ability to express himself how he sees fit, earn millions of dollars, and, after all of this time, a tradition by which others can make millions too - from those on his G.O.O.D Music record label or Roc A Fella or Def Jam affiliates, like Big Sean or Pusha T, to people who picked up his brand of hip hop from afar like Drake or the G.O.O.D expat Kid Cudi.
Kanye West's current style is a glaring deviation from the plush sweetness of his earlier work, something many of his self-titled 'original fans' that are sudden and far more enthusiastic detractors base their (musical) dislike of him. Those feeling as though West has left them, to West, one might imagine, are like strands of hair off the back of a dog. He sheds you like the excesses of his production acumen, no longer encumbered by expectation or technical wizardry, standing as himself in his work. His passion rang through 808's, but the artistic worth, or melodic pleasure, did not land for most of his fanbase. It confused listeners, prompting West to take a step back to create more easily digestible music but leaving the door cracked with Cruel Summer, Watch The Throne and My Dark Twisted Fantasy before finally ripping it open with the world class, genre erupting Yeezus. West shrouded his passion in Wes Anderson cinematography levels of instrumental saturation, unleashed it in it's nakedness for all to see with quirky, moody melodies on 808's, covered it back up, slowly brought it back into the light and let it breath, inhaling to exhale whatever is necessary, whatever facet of the human experience that needed exorcising. Hip hop is enlightened.
Its been seven years since West's 808's started all of this, a few classes have graduated from his school. The new students, the Young Hegelians, the Young Kanyesians with a new sonic economy founded on a tradition of amenability and introspective exploration, they can scream at the top of their lungs or whisper at the top of a record without untangling any preconceived notions of hip hop sound. West has done the work. Thug and Scott compliment one another tremendously; both from the south, both bounding with energy at shows, both have unorthodox deliveries that toy with conventional hip hop lyricism, both kicking up the rubble from West's tearing down of hip hop's jazzy, rhythm and soul template temple. Listening to the fun of Thug's new album, aware of his tour with Scott while the later finalizes his debut album after loudly introducing himself with two pulsating, moshpit inducing mixtapes, one considers how aware the two artist are of each other. Of course they are, but to what degree? How much will it be evident on their later work? It's like they are secretly Louis and Clarke. When I listen through all of Scott's music, and want more, as I am want to do, I turn to Thugger, and visa versa. This sort of musical exploration with two young talents in such close proximity is exciting. While on the third track of Thug's Barter 6, "Can't Tell", my thoughts of hip hop minimilism crystallized with how simply T.I. approached the beginning of his feature, nailing precisely what the bare-boned but jaunty beat called for in skipping along with it, allowing it to breath before filling in his thoughts.
West, starting out his career, was many a paradox in his polo, backpack and production background, but the tone and subject of the phenomenal work that sparked his meteoric rise are not wholly unprecedented. It charted territory that Q Tip, Yasiin Bey or Common once set foot.
West didn't initially break off entirely from the tradition of hip hop in a way none had before. Tonally, others can say they are in the ballpark of Kanye or precede him entirely, but, sonically, he started alone. Those that wish West never took the sharp turn to wherever exactly he is headed pine for the ostensible 'good days' of hip hop, a style of borrowed cultural currency that culminated during the early 1990's (this '90's obsession is going to end soon, that day is real). The days of Sugar Hill Gang borrowing CHIC's melodic authority and musical ethos were that of simple, fundamental, slap-the-baby-on-the-bum-so-it-cries-and-breaths, genre birthing that is mistaken for purity - which is a vapid, nebulous notion anyhow. Hip Hop didn't have to earn its own cultural foothold, it could just step in and stand in the ditches dug by jazz, rhythm and soul, and funk artists. West rolled up his sleeves like the people guys that lose presidential nominations talk about. West could no longer stand idly by and be one of those guys that borrows the credibility of others to gain some for himself. He reckoned with what hip hop means alone, from within himself and his sentiments first, like Descartes shedding scholastic complacency and the centuries old philosophical canon observing his hand by the fireplace, and published it for the rest of us to deal with, to reconcile with this notion of existence, of hip hop. I cut up soul records and therefore I am hip hop: West refutes this. Supere aude. He carpes all the diems.
Layered on top of this entire conversation is that of the opportunity for a black man to express himself entirely in this nation, of whether or not people will bother to dare. The 1990's are celebrated as a time of expression, gaiety and liberalism. Black culture, on television screens and radios, at least, seemed to be more generally accepted as much as it ever has. But, soon enough, the pendulum of political and cultural sentiment in this grand two-party country swung the other way. A conservatism, a nostalgia for a more buttoned down culture came with it, a fantasy that includes sublimating black everything, among so many other things, swept the land in the subsequent decade. The country has moved left again, continuing its ebb and flow, all of which, West as a black man and the trajectory of the genre a few decades on in particular, are factors in the way about how he arrived at his minimilism, why it was necessary and how it matures, but, none of this matters to a transcendent talent like West, who, now after Yeezus, appears to be in a zone concerned singularly with achieving whatever sound satisfies him.
The metaphor of West as a one man enlightenment, a microcosm of a movement within the short amount of time the genre has been around, is a bit forced. West's nouveau work is much more like that of the painters of minimilism. There is no simplicity in the shades of solid color from Barnett Newman or Mark Rothko's hand, in the subtly of each shades richness and consistency, in the emotional mine of encountering work so straightforwardly labored upon, without distractions. It appears as though they aim to express emotion without worrying about if the shade from the tree is natural looking or if that matters. They have succeeded. West's 808's and Yeezus show that a hip hop artist can shed more than a thug personae or wear backpacks and polos or whatever but that hip hop doesn't need to sound like anything. The hip hop artist can shed all of it. The future of hip hop is lit. He's given the art form a vitality many rockists or pop cynics wish their respective iterations of rote guitar music could have.
This post was created by a member of BuzzFeed Community, where anyone can post awesome lists and creations.
Learn more
or
post your buzz!