In case you haven't realized it yet, Toronto turns 183 years old today.
I mean, Canada is cool and may be celebrating 150 years but it ain't got nothin' on Toronto's 183.
Remember when Toronto was just a little baby?
Just look how cute and small it was.
And remember its awkward teenage years?
We've loved watching it grow.
There is a lot to be proud of here.
We're even proud of how fresh it looked in the 80's.
Whether Toronto is actually your home or it just feels like home...
...to say we like it a lot is an understatement.
Toronto is a city that looks good from all angles.
TBH, you don't look a day over 182, Toronto.
And even though it can be moody at times...
Toronto is a great place to live, play, and work.
From the moment little baby TO was born, it's been a light.
And it's changed a lot over the years.
From your first mayor to the most recent...
Happy Birthday, Toronto. We love you <3
What will you write in your birthday card to Toronto?
.5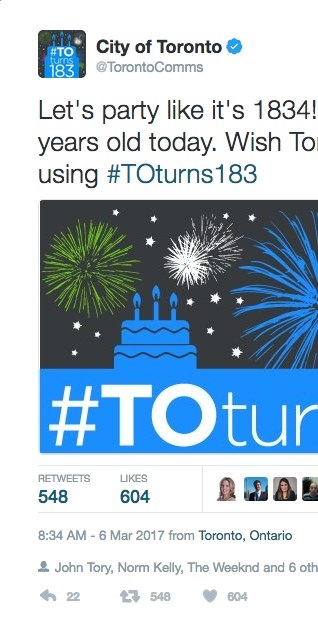 This post was created by a member of BuzzFeed Community, where anyone can post awesome lists and creations.
Learn more
or
post your buzz!