The Try Guys Gave Each Other Facials
"Beauty is pain, pain is temporary, beauty is forever!"
by
,
In the name of mastering skin beauty regimes, Eugene and Ned will be the aestheticians for the day.
Eugene got to work on Keith, while Ned worked on Zach, and that's where the fun began.
Keith has very sensitive skin, so for his facial, aesthetician Katie Laster suggested a general men's facial with light enzymes and a cool globe treatment.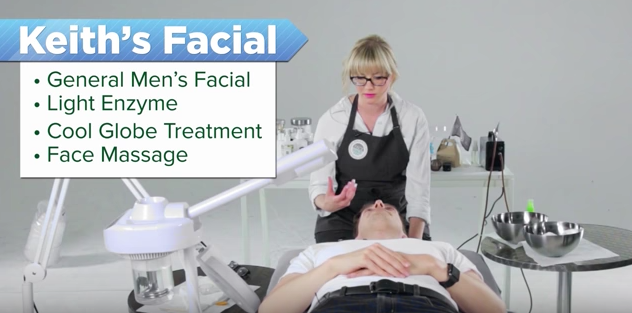 Zach, on the other hand, had a few blackheads, so Katie recommended a blueberry detox peel to cleanse his pores.
First up, Zach's facial started with a creamy cleanser to hydrate his skin and cleanse his pores.
Katie then used a professional strength blueberry enzyme peel to exfoliate the dead skin cells*.
As the enzyme peel started working, Zach's face started turning red and burning.
Up next for both guys was the extraction, which consists — exactly as it sounds — of extracting dirt and grime from the pores.
Following the extraction, both were treated to a strawberry rhubarb mask.
After that, Keith got a cool globe massage to lower inflammation and tighten pores, while Zach got high frequency shocks to bring oxygen to the surface and kill bacteria.
Finally, both of our Try Guys finished off with soft, moisturizing massages to relax the skin.
Moral of this Try Guys story: Beauty is pain!