Coffee Donut With Baileys Icing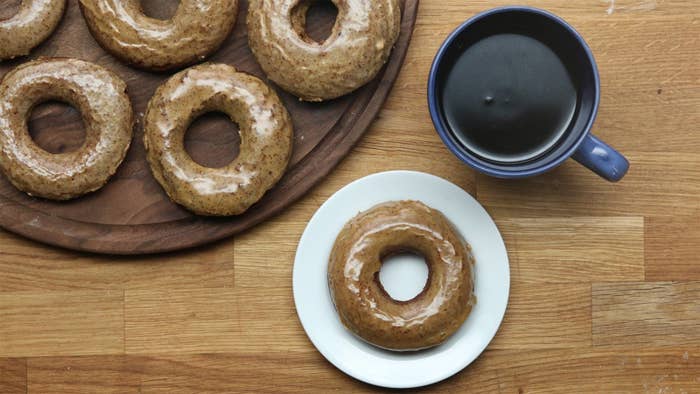 INGREDIENTS
Servings 9
1 cup all-purpose flour
2 Tablespoons + 2 teaspoons espresso powder
1 Tablespoon cocoa powder
2 teaspoons baking powder
2 Tablespoons butter, melted
1/2 cup of sugar
1 egg
1/2 cup + 1 teaspoon of powdered sugar
1 Tablespoon Baileys Original Irish Cream liqueur
2 Tablespoons water
1/2 cup of milk
PREPARATION
1. Sift flour, baking powder, cocoa powder, and 2 Tbsp. espresso powder together into a medium bowl. Set aside.
2. In a large bowl, beat together butter and sugar. Add the egg and beat until well-blended. Gradually add the milk and continue to beat until all ingredients are well-combined.
3. Add in half of the dry ingredients (from your medium bowl) and beat into the wet ingredients (in your large bowl). Once well-blended, add in the second half and continue to beat until well-combined.
4. Cover your bowl with plastic wrap and chill the dough in the fridge for 1 hour. (You can also refrigerate the dough overnight, then finish making the donuts the next morning.)
5. When dough is finished chilling, cover your hands in flour and transfer dough from your bowl onto a floured surface. Roll out to 1/2 inch thickness (be generous with your flour if you're having trouble with the dough sticking). Cut into donut shapes (using either pastry cutters or use a mason jar lid/large cup and a shot glass). Let dry for 10 minutes.
6. Fry in hot oil (350°F/180°C) for 1 1/2 - 2 minutes on each side. Place on paper towels to drain excess oil. (For donut holes, fry for half the time.)
7. To make the glaze, combine icing sugar, water, Baileys Original Irish Cream liqueur, and 2 tsp of espresso powder until smooth and well-blended. Dip each donut 2/3 of the way into the glaze, shake off excess, then transfer to a cooking rack to allow excess glaze to drip off and the glaze to dry.
8. Store in the refrigerator for up to one week. Enjoy!