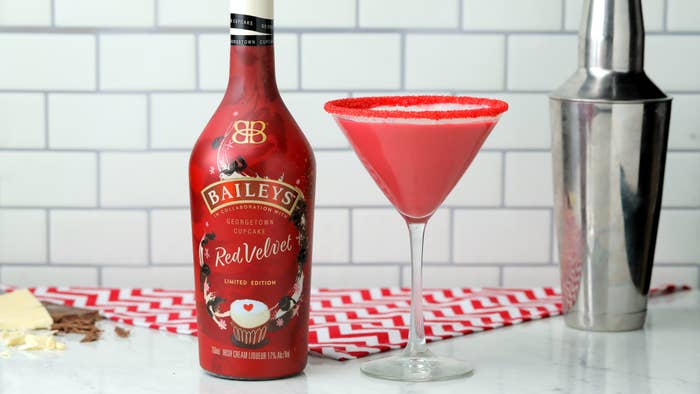 Ingredients
1⁄4 cup red sanding sugar
1 cup white chocolate chips
1 tablespoon coconut oil
3 ounces Baileys Red Velvet
4 ounces milk
2 teaspoons red velvet cake mix
1 tablespoon chocolate syrup
Red food coloring, optional
Preparation
1. Spread out red sanding sugar on a small plate. Place white chocolate chips and coconut oil in a microwave-safe bowl. Microwave in 30-second increments, stirring in between, until fully melted and smooth. Dip the rim of 2 martini glasses in the chocolate, then dip in the red sugar to coat the rim. Set glasses aside.
2. In a cocktail shaker, combine Baileys Red Velvet, milk, red velvet cake mix, chocolate syrup, and a handful of ice. Shake well. (For a deeper red color, add a few drops of food coloring along with the ice.)
3. Strain into the 2 prepared martini glasses. Serve immediately.