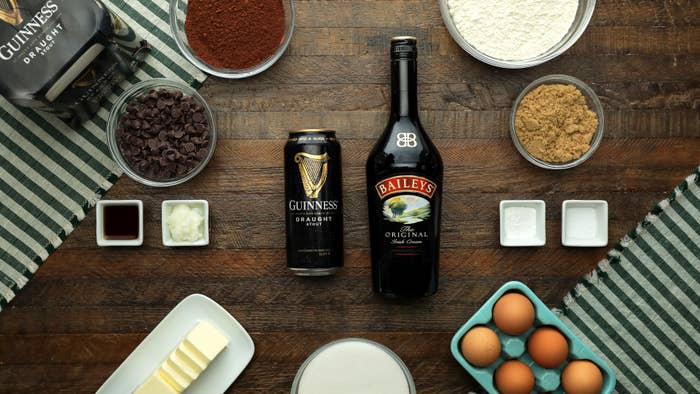 Ingredients
2 cups all-purpose flour
3⁄4 cup dark cocoa powder
1 teaspoon baking powder
1 teaspoon kosher salt
3⁄4 cup unsalted butter, room temperature
1 & 1⁄2 cups granulated sugar
1⁄2 cup packed brown sugar
1 cup sour cream, divided
2 teaspoons vanilla extract
3 large eggs
1 cup Guinness Draught Stout
1⁄4 cup Baileys Irish Cream
1 & 1⁄4 cups melted vanilla ice cream
2 cups heavy whipping cream
1 cup semi-sweet chocolate chips
1 tablespoon coconut oil
Preparation
1. Preheat oven to 350oF (325oF for convection ovens). Coat a 9x13-inch baking dish with nonstick spray.
2. Whisk together flour, dark cocoa powder, baking powder, and kosher salt in a medium bowl. Set aside.
3. Combine butter and both sugars in a large bowl. Using a hand mixer, beat on high for 2–3 minutes. Beat in 3⁄4 cup sour cream and vanilla extract. Beat in eggs.
4. Mix in half of the flour mixture. Mix in Guinness Draught Stout. Mix in the rest of the flour.
5. Pour cake batter into prepared baking dish. Bake for 30–35 minutes or until a toothpick inserted into the middle comes out clean or with only a few crumbs attached.
6. Remove from oven and let cake cool. Using the handle of a wooden spoon, poke holes all over the cake.
7. Whisk together Baileys Irish Cream and melted vanilla ice cream. Pour mixture over cake, being sure to fill the holes. Use a silicone spatula to spread liquid evenly.
8. Combine heavy whipping cream and 1⁄4 cup sour cream in a bowl. Using a hand mixer, beat on high until soft peaks form. Spread whipped cream evenly over cake.
9. Refrigerate for 3 hours.
10. Combine chocolate chips and coconut oil in a small bowl. Microwave in 30-second increments, stirring in between, until smooth. Drizzle cake with melted chocolate.
11. Slice and serve!