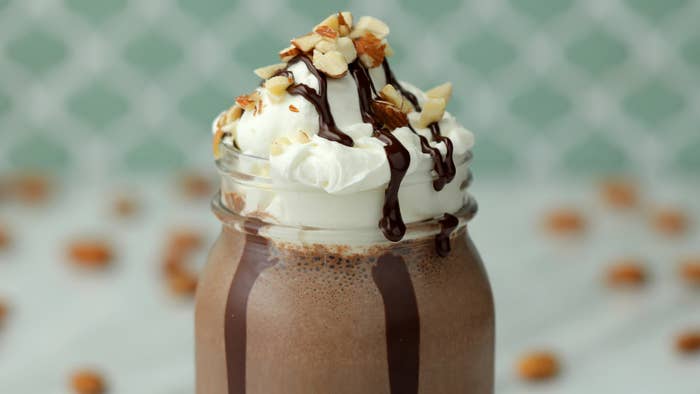 Ingredients
1 & 1/3 cups dairy-free chocolate chips
2 tablespoons coconut oil
1 teaspoon flaky salt
6 ounces Baileys Almande
12 ounces cold-brew or iced coffee
1 quart dairy-free chocolate ice cream
1 & 1/2 cups coconut cream
Chopped almonds
Preparation
1. Combine chocolate chips, coconut oil, and flaky salt in a microwave-safe bowl. Melt the chocolate by microwaving in 30-second increments, stirring in between, until chocolate becomes a smooth sauce. Set aside.
2. Pour Baileys Almande, cold-brew coffee, and chocolate ice cream in a blender. Blend on high until smooth.
3. Beat the coconut cream in a bowl with a hand mixer on high until it looks like whipped cream.
4. Drizzle a hurricane glass with the chocolate sauce, then pour the mudslide into the glass. Top with whipped coconut cream. Drizzle with more chocolate sauce and sprinkle with chopped almonds. Repeat with the other glasses. Serve!