Boozy Fairy Bread Cheesecake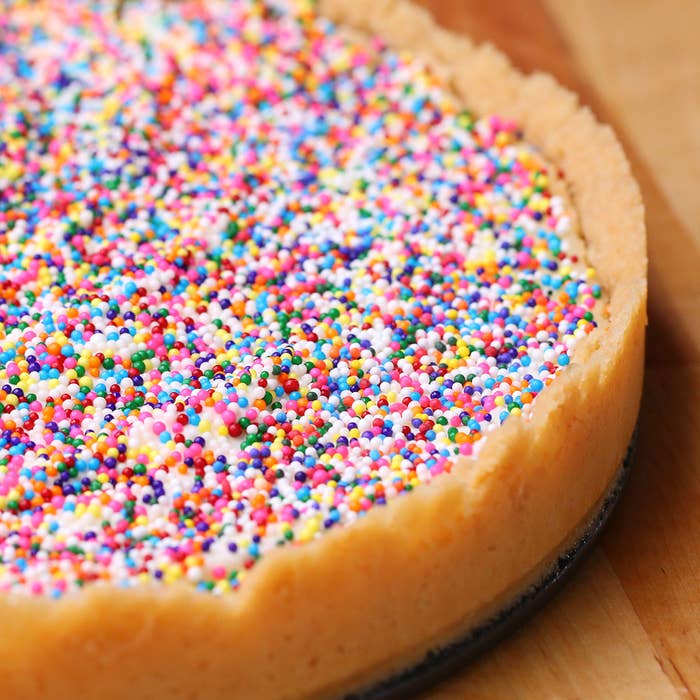 INGREDIENTS
Cheesecake
36 shortbread biscuits, finely crushed (300 grams)
150g butter, melted
500g cream cheese, room temperature
150g sugar
½ teaspoon of salt
60ml butterscotch schnapps
2 eggs
120g sour cream
15g flour
Frosting
120g icing sugar
120g butter, softened
30ml butterscotch schnapps
Hundreds and thousands
PREPARATION
1. Preheat oven to 150ºC/300ºF.

2. Grease 30cm springform pan. Mix together biscuit crumbs and butter. Press mixture into bottom of pan to form an even layer, then press the rest of the mixture up the sides of the pan evenly. 

3. Using a handheld mixer, mix together cream cheese, sugar, and salt in a large bowl until smooth. Mix in butterscotch schnapps until combined. Add eggs and mix until just combined. Add sour cream and flour, and continue to beat until fully combined and smooth. Pour the filling into the crust. 

4. Bake for 1 hour. Turn off oven, crack oven door open and let cheesecake cool entirely in the oven. Chill in refrigerator for at least 3 hours.

5. Frosting: Using a handheld mixer, beat the frosting sugar and butter until fully combined. Add the butterscotch schnapps and mix for 1 more minute, until smooth.

6. Frost top of cheesecake and decorate liberally with hundreds and thousands. 

7. Enjoy!